August 18, 2021
by Luke Auburn
NIH recognizes RIT for enhancing faculty gender diversity in biomedical and behavioral science
RIT is one of 10 institutions nationwide to earn a $50,000 prize from NIH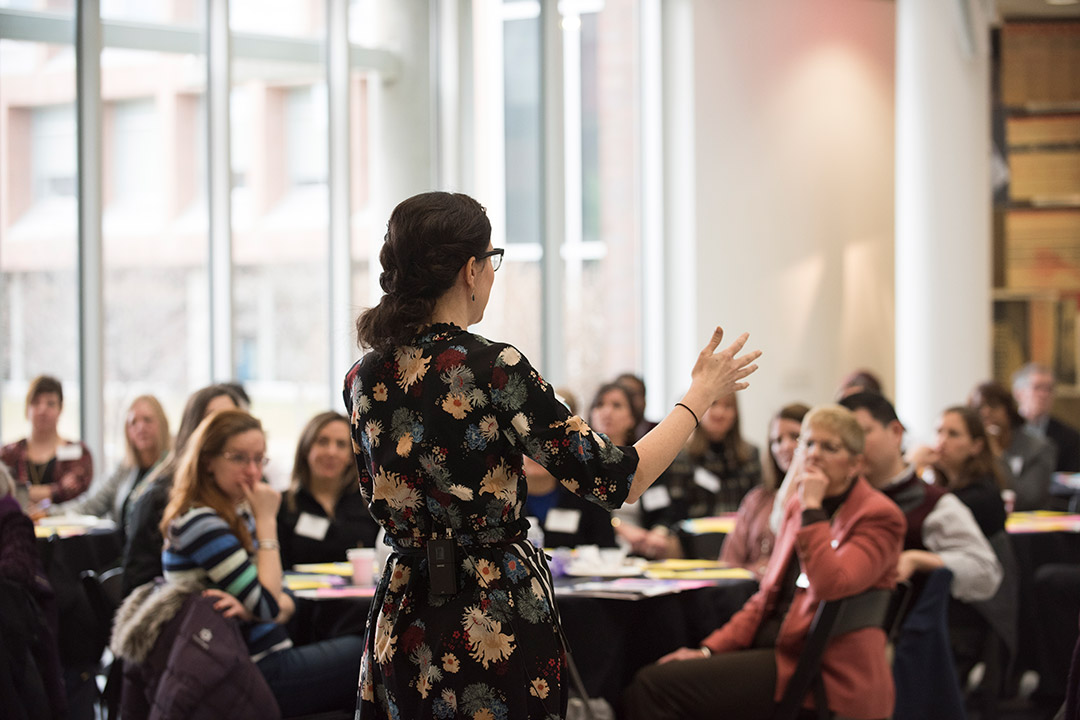 The National Institutes of Health has awarded Rochester Institute of Technology the NIH Prize for Enhancing Faculty Gender Diversity in Biomedical and Behavioral Science. The prize went to 10 institutions that have acted to effect systemic change in gender diversity and equity among faculty members within their biomedical and behavioral science departments, centers, or divisions. Each university receives a $50,000 award as part of the recognition.
AdvanceRIT submitted the award application in collaboration with Personalized Healthcare Research (PHT180) and with additional input from other groups on campus including Women in Science, the HHMI Inclusive Excellence team in the College of Science, and the Diversity and Inclusion Committee in the Kate Gleason College of Engineering. 
"We're really proud to be recognized for the work we're doing to promote gender equity," said Betsy Dell, director of AdvanceRIT and a professor in RIT's Department of Manufacturing and Mechanical Engineering Technology. "We know that it takes a long-term approach that involves targeted support for faculty, creating opportunities, and changing the culture. The work of AdvanceRIT has impacted many of our faculty through our Connect grant funding, professional development workshops, and other programming."
AdvanceRIT's mission is to enable all faculty at RIT, particularly women, to contribute their full potential, to increase their representation and retention, and to advance their careers. Dell said that RIT has a multifaceted approach to improving faculty gender diversity that includes top-down support from organizations including AdvanceRIT and the Division of Diversity and Inclusion, as well as grassroots efforts started by faculty across the university that are equally as important.
Dell said that the work of AdvanceRIT started as a grassroots effort before receiving funding. AdvanceRIT started through ADVANCE Catalyst and Institutional Transformation grants from the National Science Foundation secured by Professor Margaret Bailey in 2008 and 2012, respectively. In 2018, AdvanceRIT was institutionalized as a formal office.
Dell noted that the PHT180 group, led by Professor Linwei Wang from the Golisano College of Computing and Information Sciences, promotes gender diversity in healthcare and biomedical research throughout different career stages. Specifically, PHT-180 focuses on encouraging participation in research of women students, promoting the success of early-career women scientists, and furthering the leadership roles of women scientists.
Dell said RIT will use the award money to create a mini grant program to support faculty in biomedical and behavioral science, and to host additional professional development workshops and speakers to support gender and equity diversity of faculty at the university.
On Oct. 5, the NIH Office of Research on Women's Health will host a forum, Effective Approaches to Fostering Faculty Gender Diversity, Equity, and Inclusion: Celebrating Progress. The forum will formally recognize the winning institutions and share their effective, evidence-based practices to enhance faculty gender diversity and equity. For more information about the event, go to the forum registration page.
Topics