Imagine RIT: Creativity and Innovation Festival returns in-person April 23
More than 250 exhibits and more, all free and open to the public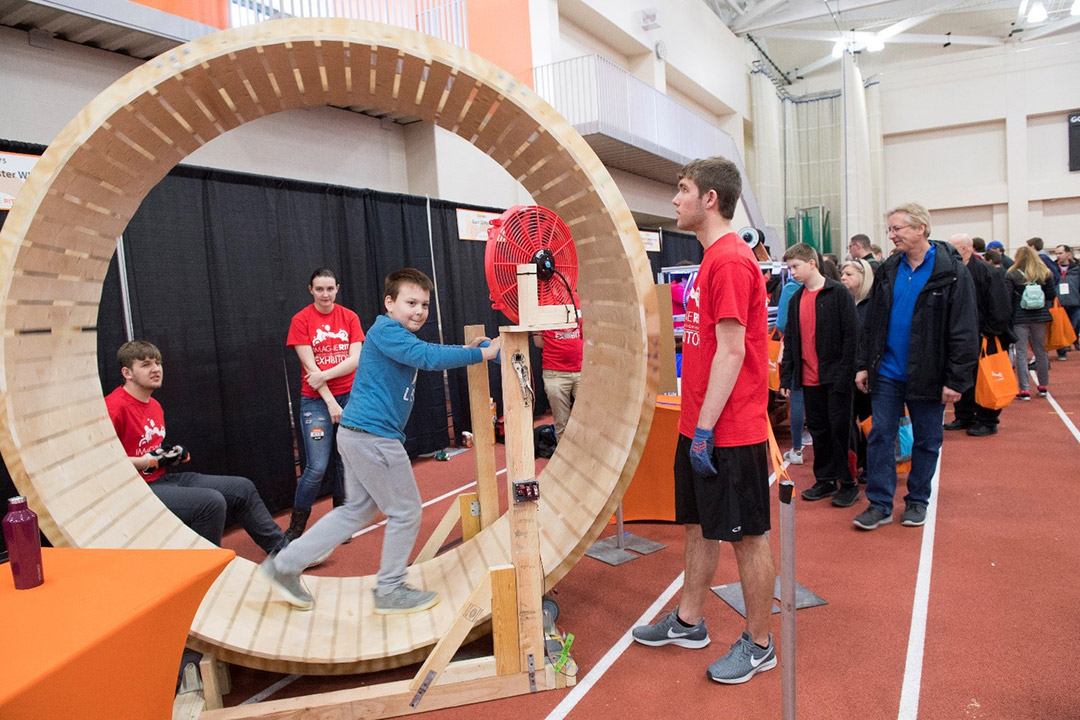 After going virtual for 2021, the Imagine RIT: Creativity and Innovation Festival is back in person and virtually, planned from 10 a.m. to 5 p.m. on Saturday, April 23, on the Rochester Institute of Technology campus in Henrietta and online at the Imagine RIT website.
More than 250 exhibits from more than 1,800 exhibiting students and faculty are planned this year, encompassing the various areas students are studying, varying from robotics, cybersecurity, the arts, biomedicine, performing arts, education of the deaf, and more.
Admission is free and open to the public, as will be parking on the RIT campus. Shuttle buses will also provide free transportation to and from Monroe Community College.
"Although COVID-19 might have paused many things around the world these past two years, it didn't stop the creativity and innovation that occurs daily on the RIT campus," said Ann Miller, director of Imagine RIT and special events. "We are so happy to once again invite the public to see what our brilliant students and faculty are doing to solve problems, start businesses, expand the boundary of possibilities, and make our world a better place."
Following current RIT protocols, all campus visitors age 5 and over are required to be vaccinated; masks are optional. Those 4 and younger are welcome. Upon arrival, visitors will go to a welcome center to provide proof of vaccination and photo I.D. —either their actual cards, a photo of them, a New York Excelsior Pass or the SpiRIT Pass for RIT students, faculty, and staff.  Once documentation is shown, they will receive a wristband, which will clear them to enter facilities on campus.
More than 90 percent of the exhibits are indoors.
Those unable to attend in person may still participate. There are 77 virtual exhibits this year, and three events will be live-streamed from the Imagine RIT website. A one-hour show at 10 a.m., hosted by television personality Scott Hetsko, a meteorologist on 13WHAM News, and radio personality Kimmy Coffey from WCMF's "The Break Room," will help kick off the festival with interviews and exhibits.
The Futurists Symposium with distinguished RIT alumni is planned at 11 a.m., with Erin Sarofsky '98 (graphic design), '00 (computer graphics design), executive creative director and owner of Sarofsky Corp.; Franklyn Athias '85 (computer science), CTO and senior vice president for Xfinity Mobil Retail Convergence – XMRC; and Aaron Gordon '13, (film and animation), founder and CEO of Optic Sky Productions. The symposium will also be streamed live on the Imagine RIT website. No registration is necessary.
And new this year will be the TAD competition for students with exhibits showcasing the intersection of technology, the arts, and design. Three $5,000 prizes will be awarded to top exhibits at 2 p.m. in the Gene Polisseni Center. It will also be streamed live.
The festival's premier sponsor this year is Rochester Regional Health.
"Imagine RIT has opportunities for everyone of all ages," said RIT President David Munson. "This is an interactive festival. So, don't be afraid to try something and ask the exhibitors lots of questions. Let's inspire the next generation of problem solvers by connecting young people to the wonders of science, technology, engineering, math, design, business, health sciences, the liberal arts, and the arts."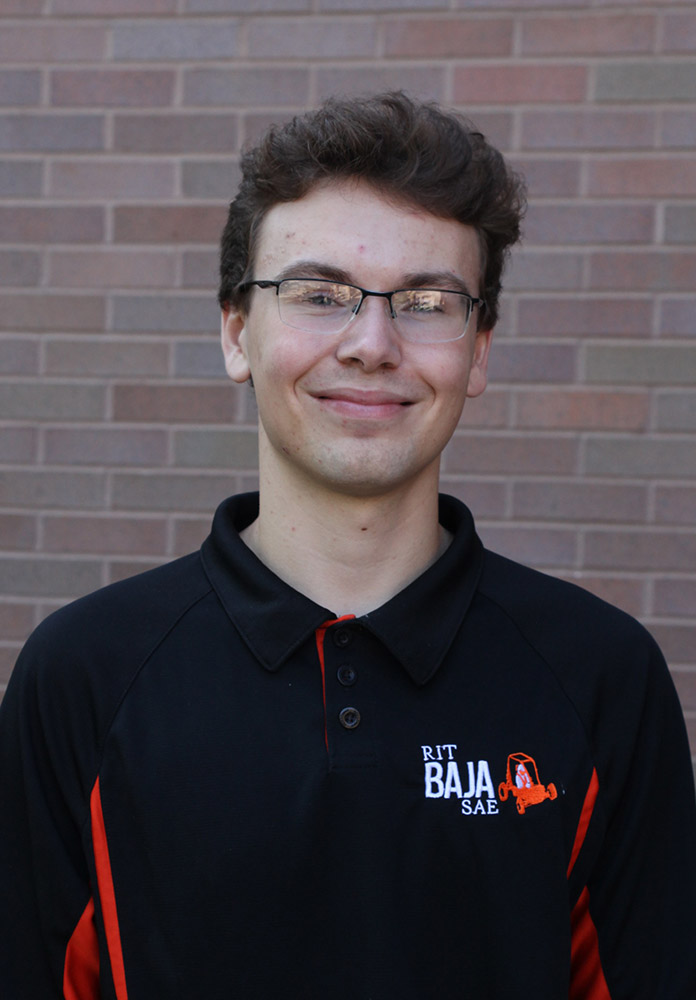 There will be exhibits for everyone, varying from a sustainable portable latrine, the RIT Beekeeping Club, a human hamster wheel, even interaction with a coral reef.
RIT Baja Project Manager Mike Borodzik, a fourth-year mechanical engineering student from Depew, N.Y., is looking forward to showing off his team's latest off-road racer as well as interacting with all of the Imagine RIT visitors.
"It's a pretty important event," he said. "It's a way to show off all the time and dedication it has taken to make this engineering marvel, and to show that students are able to do high-level stuff like this."
Borodzik said the event is also a good way to network with the visitors, whether they are people who may offer a sponsorship, machine shops, even employment for the students. And he likes that Imagine also can inspire youth to become more interested in STEM fields.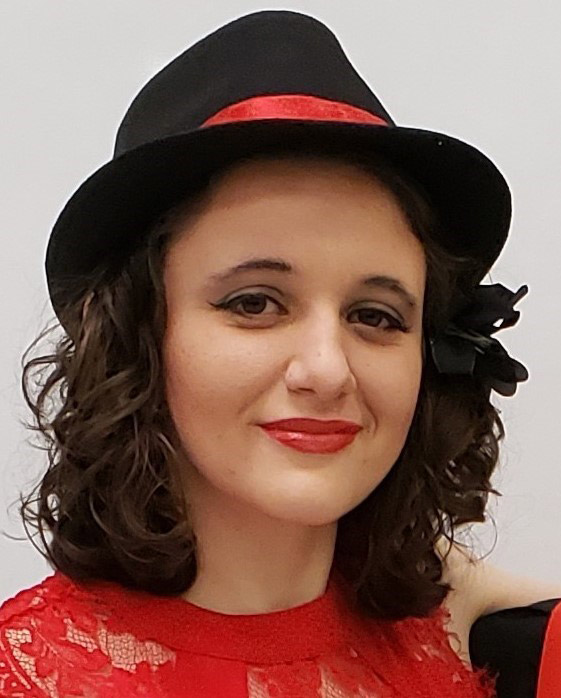 "It's great even talking to the little kids and have them sit in the car," he said. "It's always fun to see their eyes light up. It's always something we are passionate about and it's nice to share that passion with people."
Viktoria Koscinski, a computing and information sciences Ph.D. student from Utica, N.Y., is the performance team captain for the 20-member Latin Rhythm Dance Club, one of 19 performing arts exhibits scheduled at the festival, including drumming, jazz, a capella groups, improvisation, gospel, and other instrumental music.
"I'm really excited," Koscinski said. "I've heard a lot of people talk about it being a great experience. One member of the team said she decided to go to RIT after she saw Imagine and saw what RIT was all about. So I'm looking forward to performing and being part of having that impact."
On the design front, Michelle Passe, a fourth-year new media design major from Eagan, Minn., is one of the designers of an eight-member team that produced Coral Canopy, which will be taking visitors through an interactive experience using ceiling projection mapping and color tracking to show a coral reef.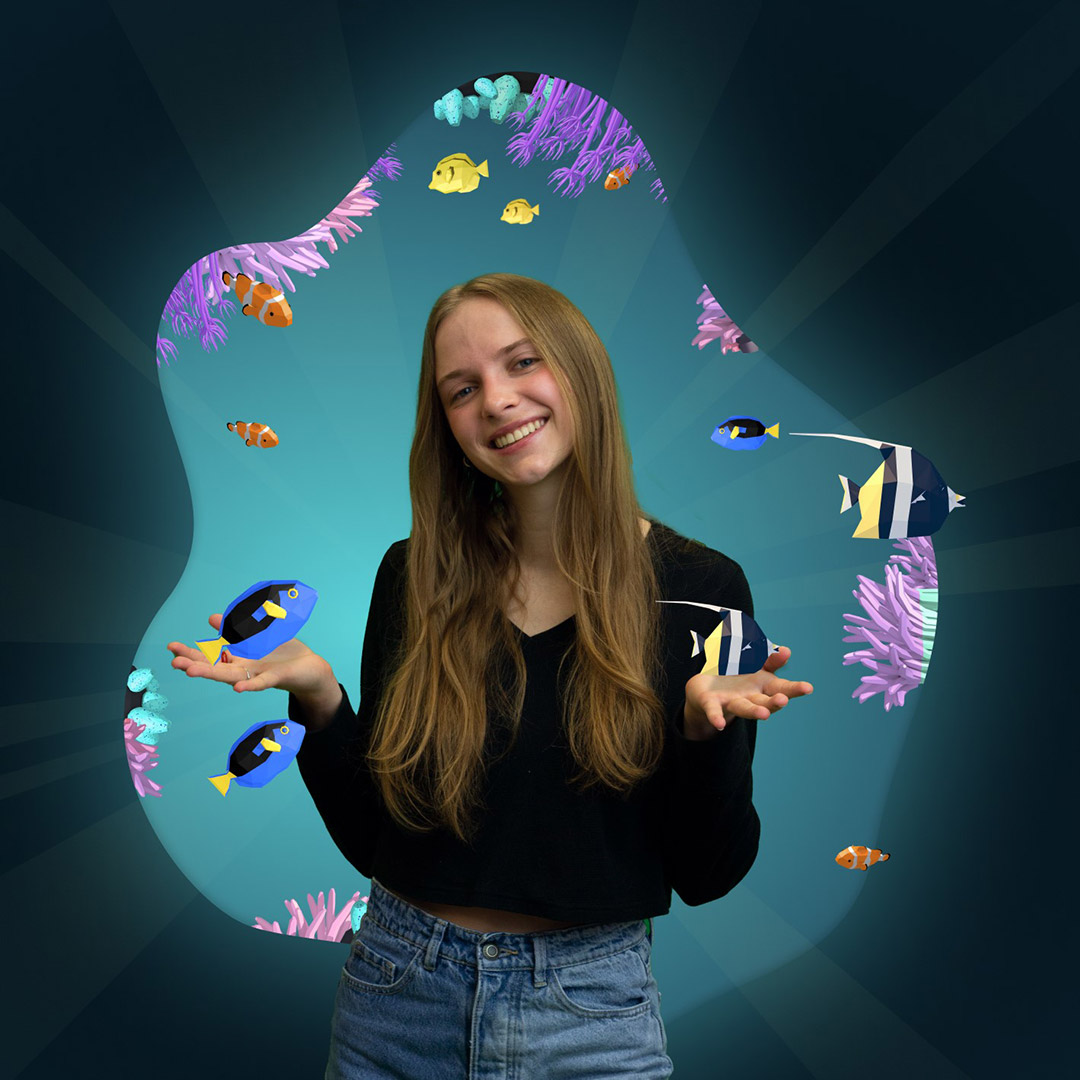 It will be located in Booth Hall, room 1400, and features information about the clown fish, blue tang fish, manta rays, whale, shark, octopus, and jellyfish shown in the display. She said the exhibit is intended for children, adults, and groups.
"We wanted to give them the surprise factor when they walk into the room," Passe said. "They'll discover that this coral reef is opening up above them."
The team has worked on this capstone project every day since November, when they were simply given the directive "smile" from their professor to base their project on.
"I'm really excited," Passe said. "This is something our team has been looking forward to, sharing our talent."
Visitors can receive a free festival poster while supplies last. This year's design, of a 3D, futuristic jack-in-the-box, was created by Sara Neff, a second-year new media design major from Waterbury, Vt.
And dining areas will open across campus where food may be purchased, as well as 16 food trucks offering a wide variety of fare.
Topics