Winner announced in Imagine RIT poster contest
5,000 copies to be printed and distributed at the May 2 festival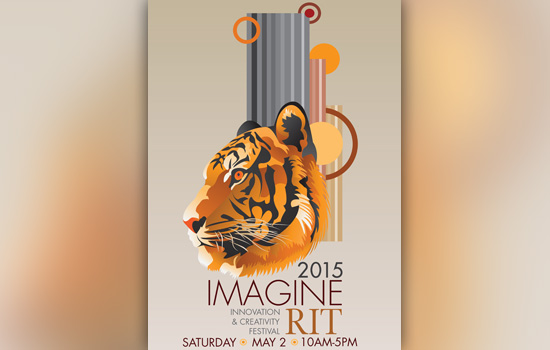 The winning design in this year's Imagine RIT poster contest was created by Meagan Daymont, a fourth-year student majoring in media arts and technology at Rochester Institute of Technology.
Her design, a tiger profile in RIT colors, was chosen by RIT President Bill Destler from among 85 entries in the contest, after an initial voting period determined the top five posters. There were nearly 10,000 votes cast.
For her winning entry, Daymont—a resident of Lowville, N.Y.—will receive $500 in Tiger Bucks. The poster will be used to promote the Imagine RIT: Innovation and Creativity Festival, set for 10 a.m. to 5 p.m. May 2 on the Henrietta campus.
For more information about this year's festival, go to the Imagine RIT website.
Topics