RIT president charts vision for future during State of the University Address
President Munson highlights achievements and ambitious plans for RIT's continued excellence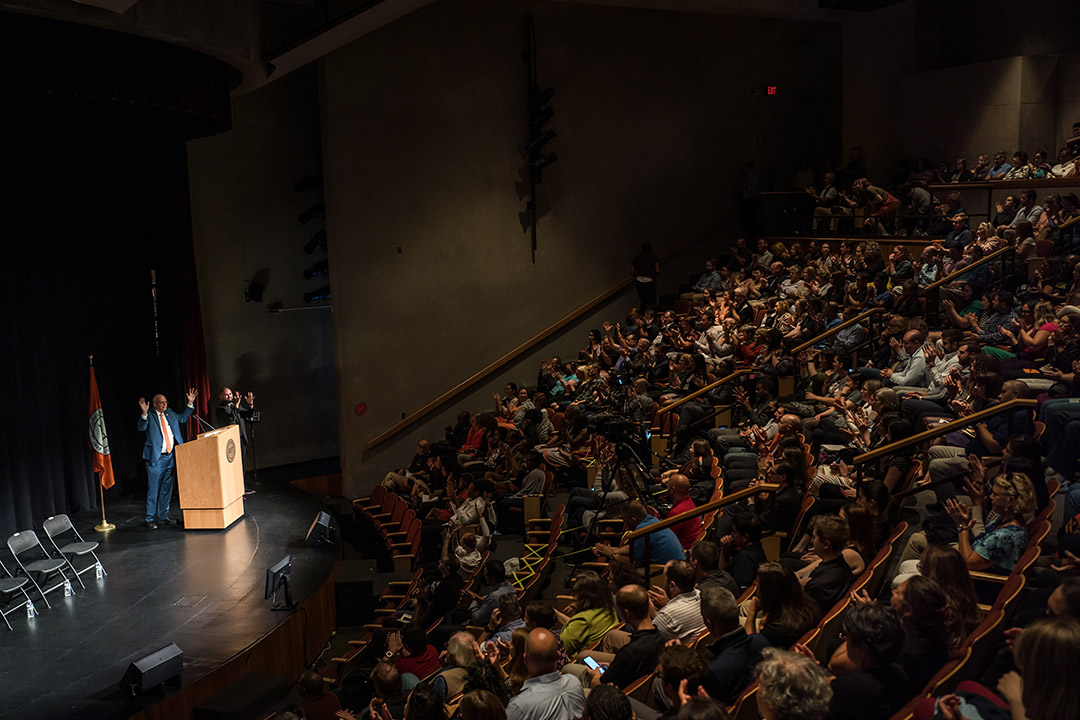 In his welcome to the community for the start of a new academic year, Rochester Institute of Technology President David Munson asserted the university is well positioned to thrive while laying out "challenges, opportunities, and vision" for RIT's future.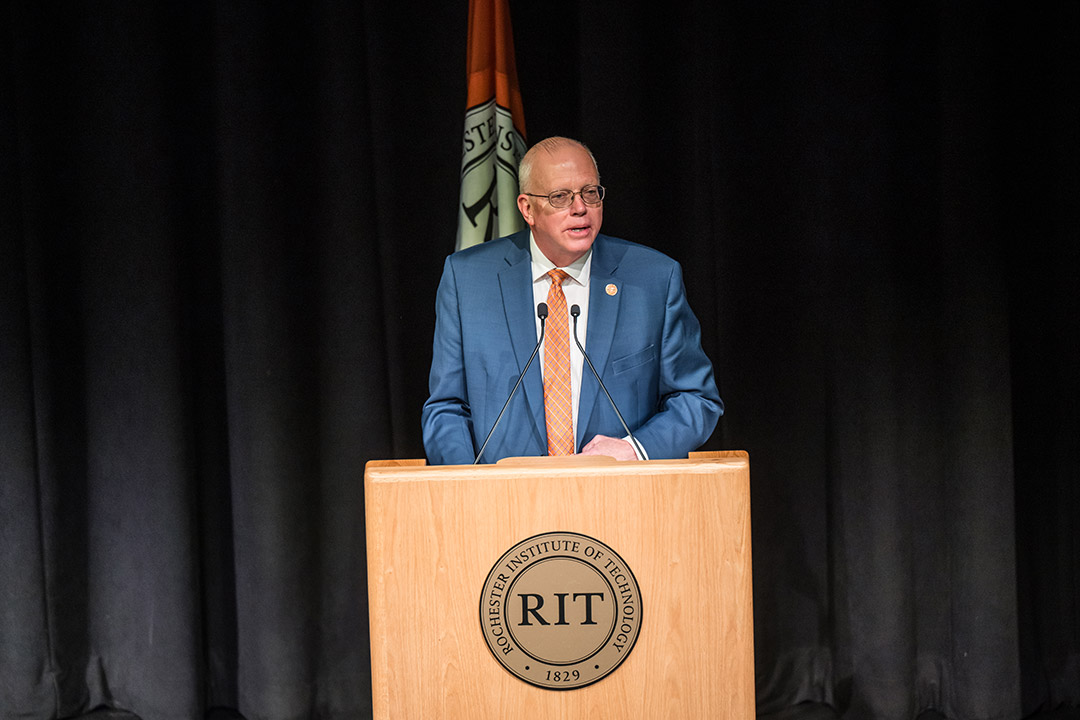 Traci Westcott/RIT
During his annual State of the University Address in Ingle Auditorium Tuesday, Munson covered a wide array of recent accomplishments in what he described as "an extraordinary time for RIT."
"Embracing challenges brings out the best in RIT. We are operating from a position of strength," he said. "We are always on to something new that is embracing and designing the future."
Among RIT's recent successes, Munson cited a number of key achievements, including:
Looking ahead academically, Munson said the College of Health Sciences and Technology is in the planning stages to develop a Doctor of Physical Therapy as well as an Occupational Therapy Doctorate.
"As healthcare demands surge, RIT can be an active player in contributing to the healthcare system locally, nationally, and globally," he said.
RIT continues to take its place on the international stage, Munson said, as one of six U.S. universities named as part of an international USA-Japan partnership that was announced in May at the G7 Summit in Japan to advance semiconductor development.
The university also is contributing to the development of high-profile technology hubs across New York state that can impact economic development across the Finger Lakes region, state, and nation, including:
A historical site on Governor's Island that will be home to "The New York Climate Exchange," a new world-leading climate solutions center that will position New York City as the global leader for one of the most pressing issues facing the world today.
A major national initiative that secured more than $63.7 million to establish upstate New York as a national hub for battery research and manufacturing, which will include RIT's Battery Prototyping Center and New York Battery and Energy Storage Technology Consortium.
In response to unprecedented federal funding opportunities because of the recently passed Chips and Science Act, Munson said, RIT also is part of a proposed joint Buffalo-Rochester-Syracuse consortium whose goal is to turbocharge workforce development throughout the region to benefit RIT students and meet the growing needs of the semiconductor industry.
"It's early in the funding process, but I hope to have some good news to share about this later this year," he said.
Here on campus, Munson cited construction projects such as the SHED that will further technology, the arts, and design at RIT, along with the expansion project for Saunders College of Business, and a 750-seat music performance theater designed to support musical theater productions, expected to open in 2025. Among other projects, $50 million for renovations in the residence halls, which includes adding air conditioning and updating hallways, restrooms, and lounges—a multi-year project—are all part of designing RIT's future as the university charts what the campus will look like in the next 25 to 50 years with a new Campus Plan.
"We are transforming RIT by building places and spaces for thinkers, creators, and makers unlike any other university in the nation. Big ideas can turn into reality. And we want that message to energize our students," Munson said.
Remarks were also given from new RIT Provost and Senior Vice President for Academic Affairs Prabu David, Staff Council Chair Brendon Strowe, Faculty Senate Chair Atia Newman, Student Government President Darcie Jones, and Vice President and Associate Provost for Diversity and Inclusion Keith Jenkins.
Munson concluded by saying that the university would not be in the position it is today if not for Transforming RIT: The Campaign for Greatness, which officially surpassed its $1 billion goal in March. He invited the community to join him the evening of Thursday, Oct. 12, as RIT officially celebrates the campaign with a ribbon cutting and tours of the SHED—part of the biggest Brick City Homecoming and Family Weekend RIT has ever planned.
"Thank you all for moving this great university forward. I am honored and humbled to be your colleague," he said.
Read the full text of President Munson's address.