Burnette, AEOP nominated for RIT Presidential Award for Outstanding Staff
Ceremony at Ingle Auditorium on March 22 will feature nominees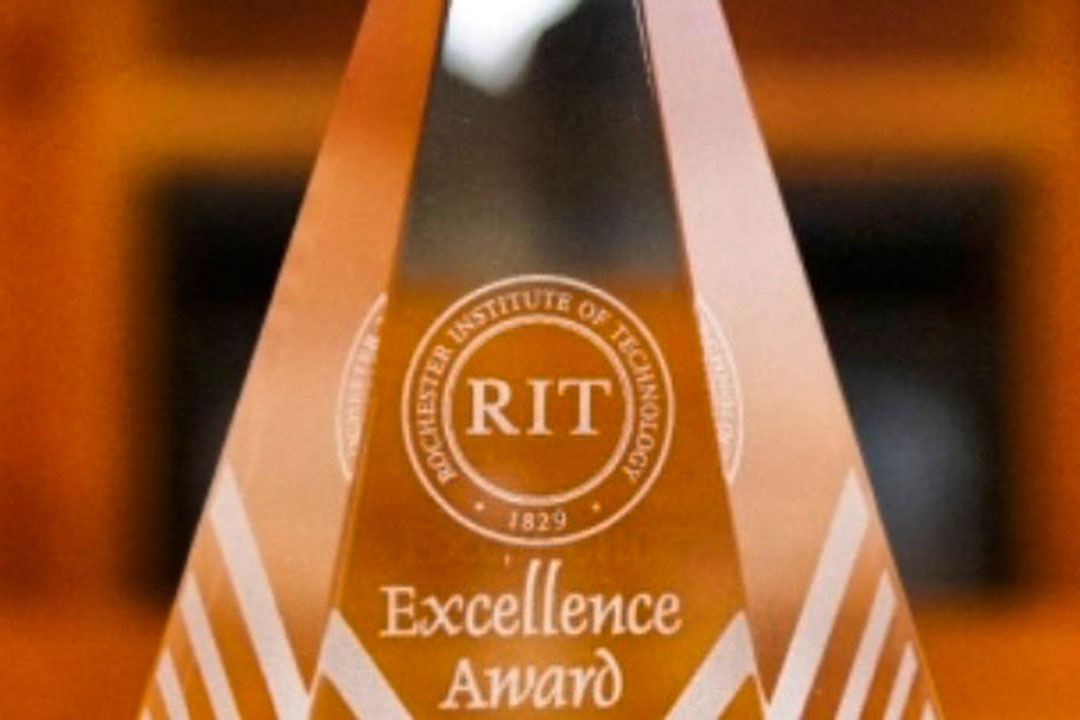 The Army Educational Outreach Program Apprenticeships and Fellowships team was nominated for a 2022 Presidential Award for Outstanding Staff at Rochester Institute of Technology. Awards will be announced at a ceremony on March 22. Its director, who is also the executive director of RIT's K-12 University Center, was nominated for an individual award.
"What's great about working with this team is their readiness to learn and support each other as we learn about the many aspects of AEOP Apprenticeships and Fellowships," Assistant Director Heather Storti said. "We are a growing team that has taken on so much over the last year and it just makes me excited to see the great work this team is going to do in the future."
The apprenticeships and fellowships branch of AEOP is administered by RIT's K-12 center on behalf of the U.S. Army, with a staff including three fulltime employees in Storti, and outreach specialists Kierra McInnis and Miranda Salsbery. Others among the team and who provide program support include Christa Abugasea, Lisa Brent, Fran Brigham, Yancey Moore and Jess Small. Donna Burnette, executive director of the K-12 center, is also the program's director, and credited with bringing in the largest research grant in the history of RIT to support AEOP at the university.
The apprenticeships and fellowships program provides paid, interactive STEM opportunities to high school through postdoctoral individuals with real-world, hands-on innovation and research at Army-sponsored facilities and partner universities across the country, working alongside some of the world's best scientists and engineers – without the commitment of joining the military – and fostering education, growth and passion in science, technology, engineering and math.
RIT's K-12 center also oversees other grant-funded programs such the Liberty Partnerships Program, and Science and Technology Entry Program. Additionally, Kids on Campus provides opportunities to local youth on campus through nontraditional admissions events, Camp Tiger and more. Annually serving more than 5,000 students from kindergarten to career, K-12 has gained a reputation on federal, state and local levels for being an agent of transformative change, which Burnette said is a goal through strategic vision, collaboration and heart. 
She came to RIT in 2016 from Virginia Tech where she helped lead AEOP's first consortium. Following her husband, who also worked at RIT and helped bring her back home, she accepted a position at the university – now, as executive director of the K-12 center that manages the RIT-Rochester Prep High School partnership, provides campus experiences for local youth, and facilitates RIT's largest and oldest summer camp experience. She's also the principal investigator for all RIT K-12 grants.
As executive director, Burnette oversees the strategic development for all programs within the K-12 center and advises the RIT community on best opportunities through the center for students, families, teachers, schools, organizations and others the unit connects with. She also develops and oversees funding sources, and the implementation of programs. The common thread to Burnette's work, she said, "is nurturing the problem-solvers and change-makers of the future."
The RIT community is invited to join the celebration. For those who cannot attend, the event will be live-streamed.
Topics