K-12 University Center prepares for Imagine RIT with youth visits to festival
Annual family-friendly event slated for 10 a.m. to 5 p.m. April 29 on Rochester Institute of Technology campus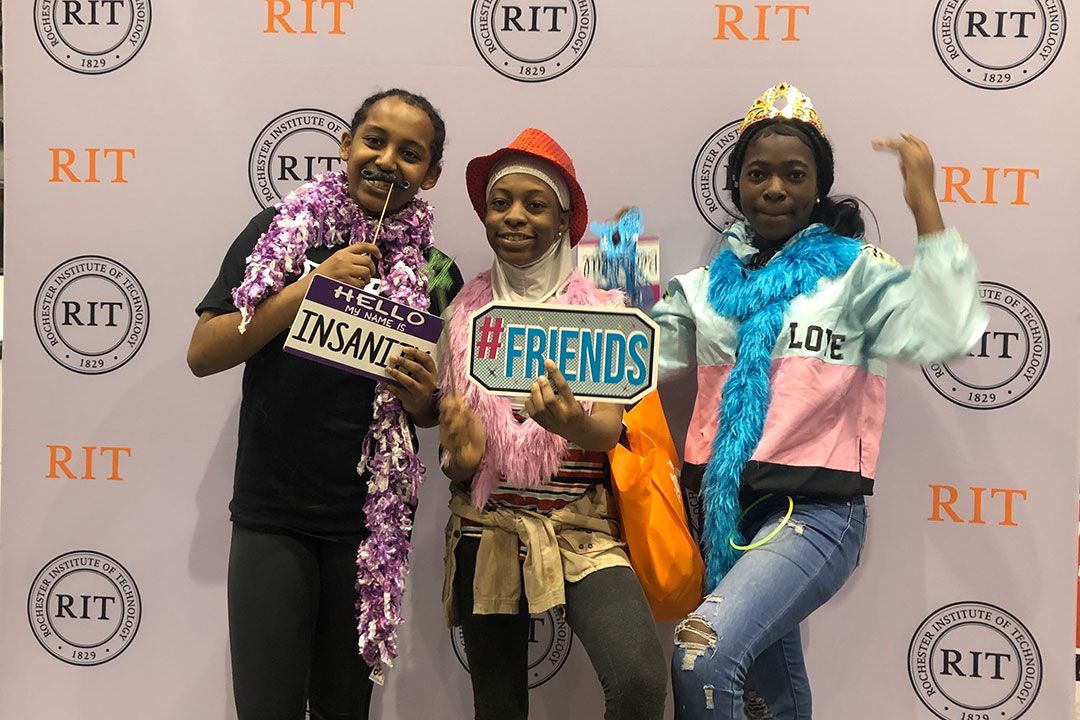 Imagine RIT aims to promote student work from those attending the university, but every once in a while, local youth have the opportunity to also highlight their own projects, thanks to efforts by organizations such as the Science and Technology Entry Program, also known as STEP, administered by the K-12 University Center at Rochester Institute of Technology. Just a year before the pandemic, they were even featured on the news when Greece Athena Middle School students were given the chance to show an interactive science display they created, and chatted with the media during an early-morning press conference.
The pandemic forced the festival to cancel in 2020, but the following year went virtual to accommodate its reintroduction to campus, while following COVID-19 mitigation efforts. Last year, Imagine RIT welcomed back guests for in-person exhibits and programming, and this year hopes to attract upwards of 30,000 visitors – with nearly 2,000 RIT students featured at more than 350 exhibits.
"The main goal for the students exhibiting at Imagine RIT is to make their exhibits interactive and engaging, so there is a balance of information and hands-on activities from just about every area of study on campus," said Ann Ielapi, director of Imagine RIT and special events through the Division of Government and Community Relations.
This year's program invites the community 10 a.m. to 5 p.m. April 29 at Rochester Institute of Technology's campus for the annual festival intended to showcase RIT student work. Held rain or shine, the free family-friendly event allows guests to learn more – and interact with – students featuring projects they've been working on throughout the school year in a variety of disciplines including design, engineering, performing arts and more.
It will also include three new exhibits from RIT's global campuses in Croatia, Dubai and Kosovo.
Agri-tourism
Digital Weaving
Race to Victory
"It's an event we take a lot of pride in," Ielapi said. "It's part of the RIT culture and something students look forward to. It's whimsical, educational and fun, and showcases the hard work students have put in for an audience outside of the classroom."
While the Imagine RIT mission is to promote RIT students, there is also a K-12 component that includes the youth community and the center on campus, which creates transformative opportunities for youth and educators in science, technology, engineering, art and math; by fostering collaborations among the university and community to provide high-quality education and workforce development experiences that will shape the changemakers and problem-solvers of the future.
Donna Burnette, executive director of RIT's K-12 center, is one of three university-based committee members who represent the K-12 community and its relationship to the event she called "a staple of RIT." The goal, she added, is to voice needs of K-12 groups and find ways to bring youth on campus for a unique experience.
This year, students involved in programs administered by RIT's K-12 center will be present at the festival. They include students from Rochester Prep, and other youth involved in Liberty Partnerships Program, and the Science and Technology Entry Program. The K-12 center facilitates the RIT-Rochester Prep partnership that was created more than 10 years ago, in addition to hosting grant-funded programs such as LPP and STEP that provide a variety of academic and personal support services with partner schools across Monroe County.
"I think K-12 exists at the interface between the community and RIT, and Imagine RIT directly aligns with what we do," Burnette said. "It's a fun way kids can interact with RIT that puts them hands-on in opportunities with near peers they can relate to."
Imagine RIT, according to Ielapi, is in a year-round planning cycle to prepare for the following year. She said as the event wraps up, organizers debrief with each other and committee members from eight areas of focus to continue to make it a success.
Topics