Ribbon cutting celebrates K-12 University Center's move to downtown Rochester
The K-12 University Center will foster closer connections with Rochester youth at 40 Franklin St. location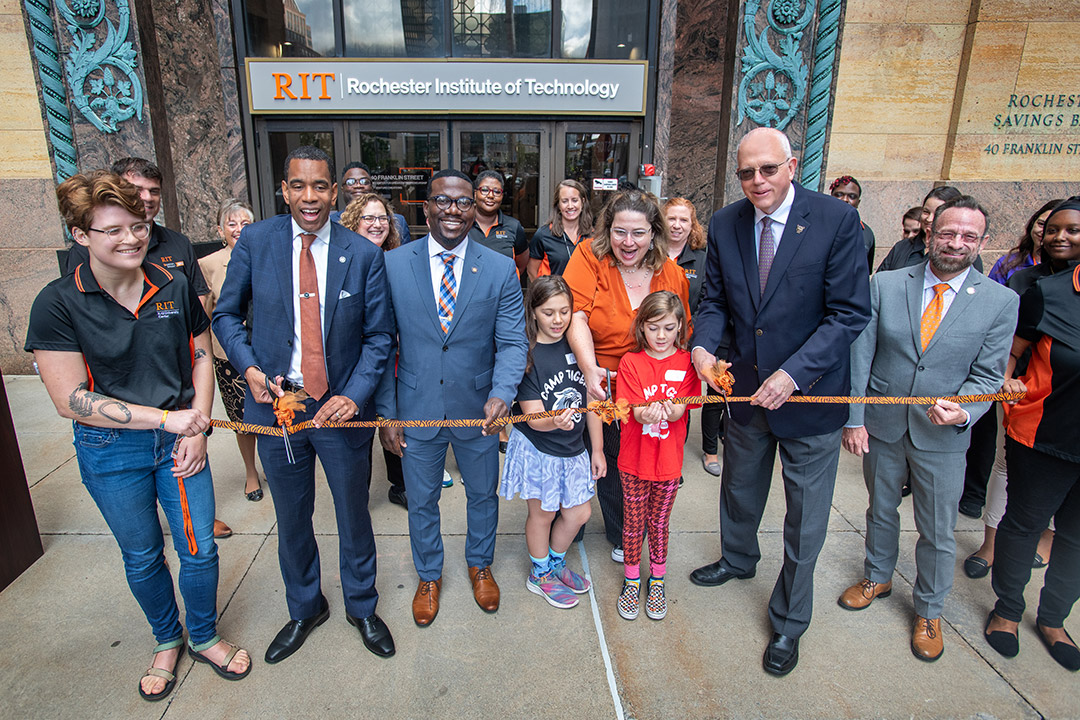 On Wednesday morning, RIT President David Munson, K-12 University Center Executive Director Donna Burnette, and Rochester Mayor Malik Evans cut the ribbon in front of the K-12 University Center's new home at 40 Franklin St., in the heart of downtown Rochester. This move from RIT's Henrietta campus to the city will allow the center to greatly expand the connections it has already forged with the Rochester community.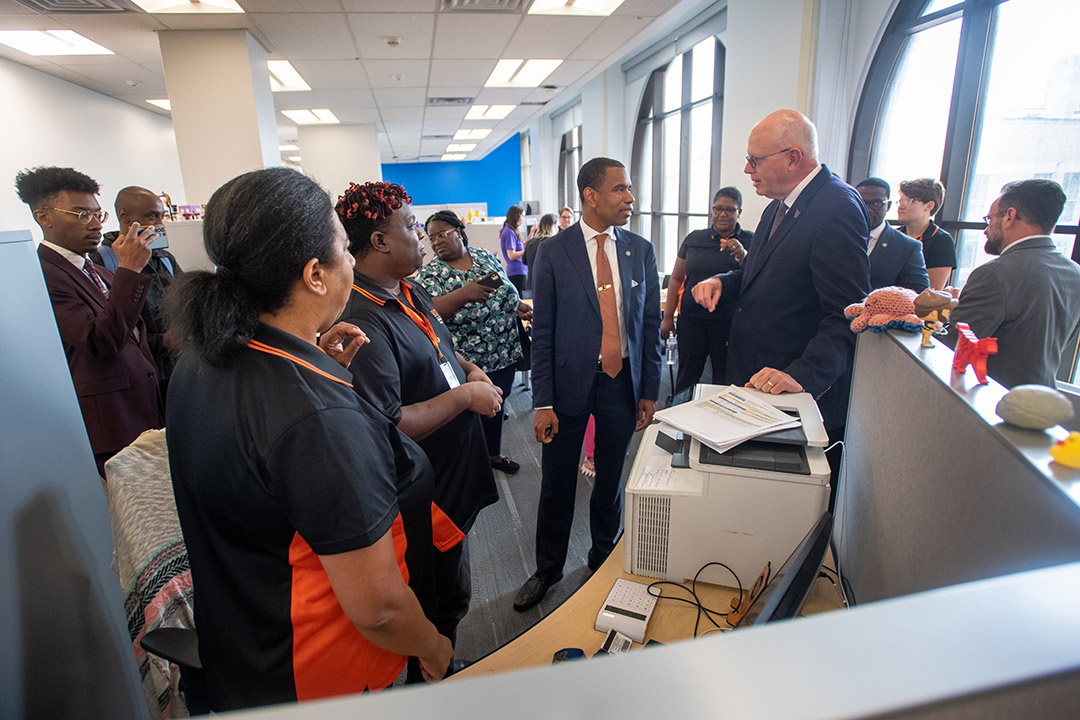 Carlos Ortiz/RIT
The building is also home RIT's Center for Urban Entrepreneurship, a co-working space that supports low- to no-tech businesses that are invested in revitalizing and growing the economy in downtown Rochester, and Venture Creations business incubator, which helps startups commercialize their products and prepare for outside risk capital. In addition, the building was the original home of the Rochester headquarters of Datto, a global provider of Total Data Protection Solutions, founded by RIT alumnus and donor Austin McChord. With these establishments, RIT has already created a hub of local economic development in the historic former Rochester Savings Bank building, just off the Liberty Pole plaza. The addition of the K-12 University Center complements this goal through its mission to foster the next generation of STEAM innovators.
"This is an exciting day for RIT, not only because of the programming we'll be able to offer or the youth we can serve, but because this continues a commitment I made to then Mayor-Elect Evans when we met in this exact spot in 2021," said Munson. "Mayor Evans challenged us to remember the Rochester in RIT, and I am proud to have you here today to witness this come to fruition."
Since its first iteration in the 1990s, the K-12 University Center has been building bridges in Rochester and across the United States, serving more than 5,000 youth each year before the COVID-19 pandemic. Administrators say they are on track to reach that number again this year.
"As an extension of RIT, we're unique in that we're engaging with youth before they're in college," said Burnette. "We are ambassadors to the community as well as opportunity builders."
The center serves schools through the NYS Science & Technology Entry Program, the Liberty Partnerships Program, and through its partnership with Rochester Prep Charter School to provide research experiences with RIT faculty. It facilitates the Army Educational Outreach Program (AEOP) Apprenticeships and Fellowships initiative, one of RIT's largest grants ever, through which they place high school students through post-doctoral researchers in STEM research internships across the United States. The center also hosts and provides transportation to STEAM summer camps and facilitates visits to the RIT campus for schools and youth-serving organizations in the city. In addition, the center has also brought RIT faculty and students to the city to engage with youth.
The move will make all of this work more efficient. Twenty-three full-time staff and five student employees are a short walk from local schools, and the space creates new opportunities to provide a tutoring drop-in site, after school and weekend programming, and more.
"RIT and the City of Rochester are both in the business of making Rochester bloom by providing hope and opportunity for young people," said Evans. "We share in the journey of providing hope and we both need to stay focused on this proof of hope, proof of promise, proof of a positive future for Rochester and our children."
Added Burnette: "I'm hoping that our move downtown becomes a pathway, not just for engaging with the city, but for more RIT community members to use that space with intentionality. It's great for eliminating physical barriers and serving our students."
Topics