'Spider-Man India' author visits Rochester Prep High School to connect with students
Event made possible with help from Curator Steven Galbraith, in partnership with the K-12 University Center and teacher Kristin Nastav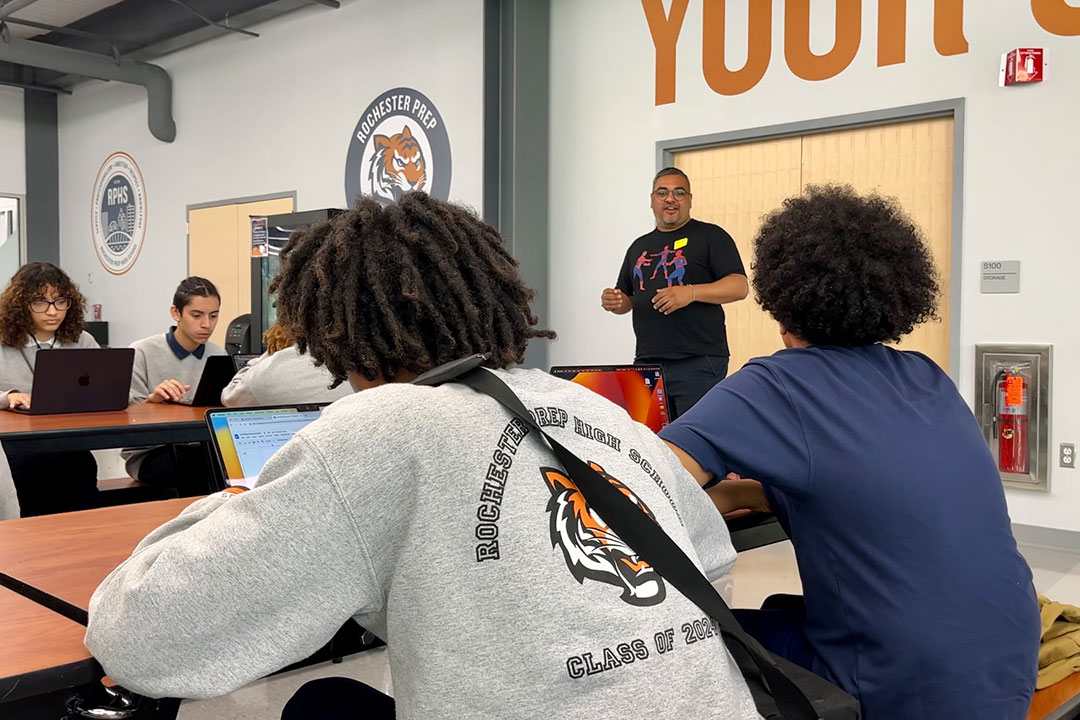 When Nikesh Shukla makes a visit to a new town, one of the things he likes to do is connect with students at local schools. In September, that's just what he did while visiting Rochester Institute of Technology for an event hosted by the Cary Graphic Arts Collection and Wallace Library.
The morning of the event on Sept. 21, the author connected with students from Rochester Prep High School to talk about his journey, inspire future writers and answer questions. The hour-long presentation included students from classes such as graphic design, photography and Advanced Placement art and design, along with other students interested in pursuing higher education studies in English and writing.
Some questions included, "When do you know when you're done writing?" "What's the most difficult part of the creative process?" and "What tips do you have when you're in a creative funk?"
Shukla answered them all, while also highlighting the early struggles of being a minority writer.
"There was just something about seeing a book with a brown person as the author that made it feel like this was possible," he said. "I felt like a monster growing up because I just didn't fit in living in suburban London. It was all about hiding who we were, but suddenly I felt understood."
Calling himself "authentically Asian," Shukla uses his story to also help break barriers through his passion in his heritage and love for the work he does.
"I'm still the only brown person in the room," he said. "I got the golden ticket, but why not others like me?"
Shukla is the author of the comic book series, "Spider-Man India," in addition to other work such as "Brown Baby," "The Boxer" and "The Good Immigrant."
The event was made possible with help from Curator of RIT's Cary Graphic Arts Collection Steven Galbraith, in partnership with the K-12 University Center that facilitates the university's relationship with Rochester Prep. Shukla was a featured guest for FallFest: Spider-Man India: A Conversation with Adam Kubert and Nikesh Shukla, hosted by the Cary Graphic Arts Collection at RIT's Wallace Library.
Topics