Kamal Shahrabi named RIT Kosovo's new president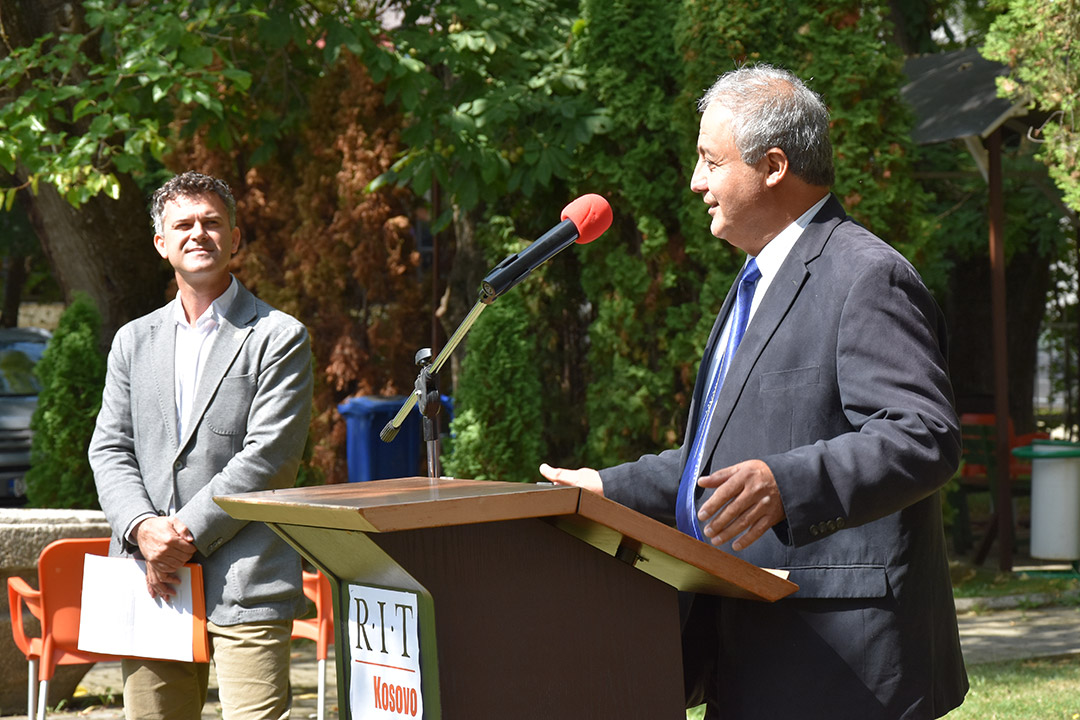 RIT Kosovo's Board of Trustees announced the appointment of Kamal Shahrabi as RIT Kosovo's new president on Monday, June 1. Shahrabi has served as the dean of faculty since 2018, as an interim president since 2019, and will assume RIT Kosovo's top post on July 1.
"We are thrilled to have a person with Dr. Shahrabi's experience, talent, character and passion leading RIT Kosovo (A.U.K) into the future," said Board Chair Ron Cami. "He brings an outstanding record of achievement in higher education, and a deep understanding of the challenges and opportunities to lead RIT Kosovo forward on its path of success. At such a critical time in the college and Kosovo's history, he brings stability, ingenuity, positive energy and a vision that we believe will unite and excite the entire RIT Kosovo family to grow and continue providing the premier education and experiences that students demand."
"Dr. Kamal Shahrabi is a dedicated and very experienced academic leader and professor," said RIT President David Munson. "We are extremely pleased that he will continue to be part of the RIT global family as the RIT Kosovo president. We have great confidence in Dr. Shahrabi's ability to continue to expand opportunities for students in Kosovo to be part of the RIT global community of innovators, makers and leaders."
Shahrabi has worked in higher education for 35 years and came to Kosovo from Farmingdale State College, a campus of The State University of New York, where he had served as the dean of School of Engineering Technology from 2007 to 2017.
"I am honored and humbled to be selected as RIT Kosovo's president, and by the confidence the Board of Trustees is placing in me to continue RIT Kosovo's progress as one of the best institutions of higher education in the Balkan region," said Shahrabi. "RIT Kosovo is such an amazingly strong and energetic institution, and it will have an immense impact on the future of Kosovo and the region. It is such a privilege to join this very special community in this new capacity and to imagine our work together as we write the next chapter in the life of this remarkable institution."
Shahrabi's election by the Board of Trustees follows an extensive presidential search that drew a distinctive group of candidates. The process began with community forums that allowed the Board to hear from students, faculty, staff and trustees about the qualities they were looking for in RIT Kosovo's next president as well as the challenges and opportunities they see in the coming years. He was confirmed by the Board of Trustees by unanimous vote.
Shahrabi was with Kean University for more than 20 years as a professor of electrical engineering technology and the department chair. In 2007 he joined Farmingdale State College as Dean of the School of Engineering Technology, director of Collegiate Science & Technology Entry Program (CSTEP), and the executive director of the Renewable Energy and Sustainability Center (RESC).
Shahrabi has published several papers in various areas of communication, robot tracking in space, wireless communication, the impact of globalization of advanced telecommunication technologies in developing countries, high speed optical satellite communication, femtosecond pulse shaping and renewable energy. Shahrabi has several years of experience in the areas of renewable energy, digital signal processing, tracking in space, communication, and satellite control systems.
Shahrabi received a BS degree in electrical engineering from New Jersey Institute of Technology, an ME degree in electrical engineering from City College in New York, and an M. Phil. and a Ph.D. degree in electrical engineering from City University of New York.