Graduation Ceremony
Thank you for your patience as we continue to navigate our way through the evolving coronavirus pandemic. Ensuring that we can celebrate our graduates in a way that keeps our students and guests safe. RIT Kosovo (A.U.K) practices are aligned and consistent with current local, and government guidelines. For the most up-to-date information on all aspects of the university's operation during the pandemic, please visit the website and check your e-mails.
Mandatory Graduation Rehearsal Day
Tuesday, May 11 @ 1PM
Location for Graduation Ceremony and Rehearsal - soon to be announced!  
If you have any additional questions about commencement, please email academicaffairs@auk.org
 Ceremony Updates
Congratulations to the upcoming Class of 2021!
The entire RIT Kosovo (A.U.K) community looks forward to celebrating this special event in May. The COVID-19 pandemic, however, continues to impact our ability to host our normal activities. At this time, we are happy to announce that we plan to host in-person commencement ceremonies , in accordance with Government measures/regulations. There are many details still to be considered and we will keep you informed on a regular basis as we finalize our plans.
In light of the current measures, it is unlikely we will be able to welcome guests/families to our ceremony. The ceremony will be live-streamed for viewing by family members and friends.
We are very excited to celebrate with the Class of 2021 in person. While our ceremony will look different, we will focus on what's really important – recognizing the accomplishments of the Class of 2021, speeches and other small parts that we think are important for the class of 2021.
And what about the Class of 2020?
We also plan to offer in-person celebrations for the Class of 2020 in May, same day with the Class of 2021 again in accordance with all Government measures. An update will also be shared in April when we have a approval from the Ministry of Health.
We appreciate your patience and understanding as we navigate the complexities related to the pandemic and look forward to celebrating with the Classes of 2020 and 2021.
Sincerely,
Dr. Kamal Shahrabi
President and Dean of Faculty
Graduation Requirements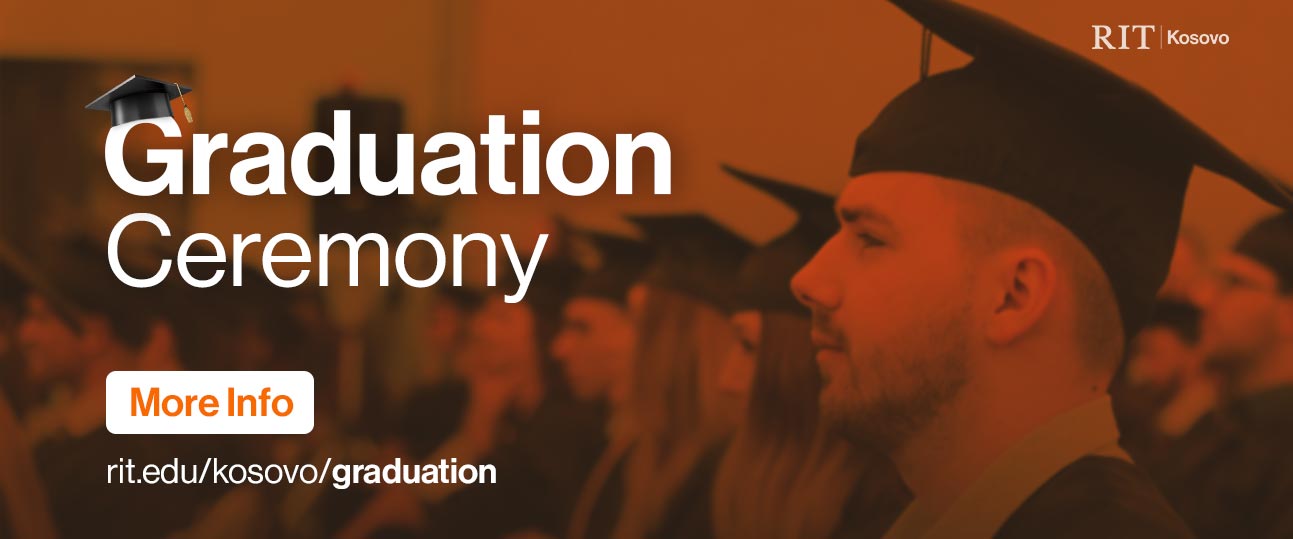 As this is your last semester at RIT Kosovo, we wanted to make sure that you are fully prepared for your graduation and that is why we are providing you with a checklist so that you may go through the requirements and make sure that you have completed them all. Remember, all students who want to walk in Graduation Commencement Ceremony need to complete the steps below. You can find the graduation requirement on page 53 of the Academic Bulletin. You are advised to consult with your Academic Advisor to make sure that you are on the right track. Nonetheless, as a reminder we will briefly go through the requirements.
Bulletin: Academic Bulletin - 2020 - 2021.pdf (rit.edu)
Forms: Academic Forms | RIT Kosovo | RIT
Co-op: Arlinda Hajdari - ahajdari@auk.org
Academic calendar: Academic Calendar | RIT Kosovo | RIT
Certification calendar: view calendar
 Certification process: any delay in the above-mentioned steps will result in the certification being postponed by a semester.
Students are responsible for checking their SIS profile and making sure that all the requirements have been fulfilled. To do so go to: SIS> Academic Records > My Academic Requirement - and make sure all requirements are satisfied. If any of the above-mentioned are not finalized by March 30, 2021, it may affect the certification process and might result in a postponement of the certification to the upcoming semester.
Caps & Gowns
The procedure for ordering a cap and a gown is the following:  
Students will bring a €50 deposit to the Business Office upon which they will receive a receipt of order. 
Students will take their €50 receipts (as proof of payment) to room where they will then be issued their cap and gown. 
Senior Exit Survey – before picking up your cap and gown it is mandatory to complete senior exit survey. 
Student will have the option of returning their cap and gown and receive their money back until May 31, 2021.
On returning the cap and gowns to room they will be provided with a receipt from RIT K's Academic Affairs Office which they will then take to the Business Office in order to get their €50 reimbursed.
Gown Pick-Up Days
Wednesday, May 5 From: 9AM - 5PM (RND LAB)
Thursday, May 6 From: 9AM - 5PM (RND LAB)
Friday, May 7 From: 9AM - 5PM (RND LAB)