Graduation Ceremony 2021
Live Graduation Commencement 2021 on Wednesday, May 12. Congratulations Class of 2021.
RIT Kosovo Campus - Auditorium as per Government Measures on COVID-19.
Graduation Requirements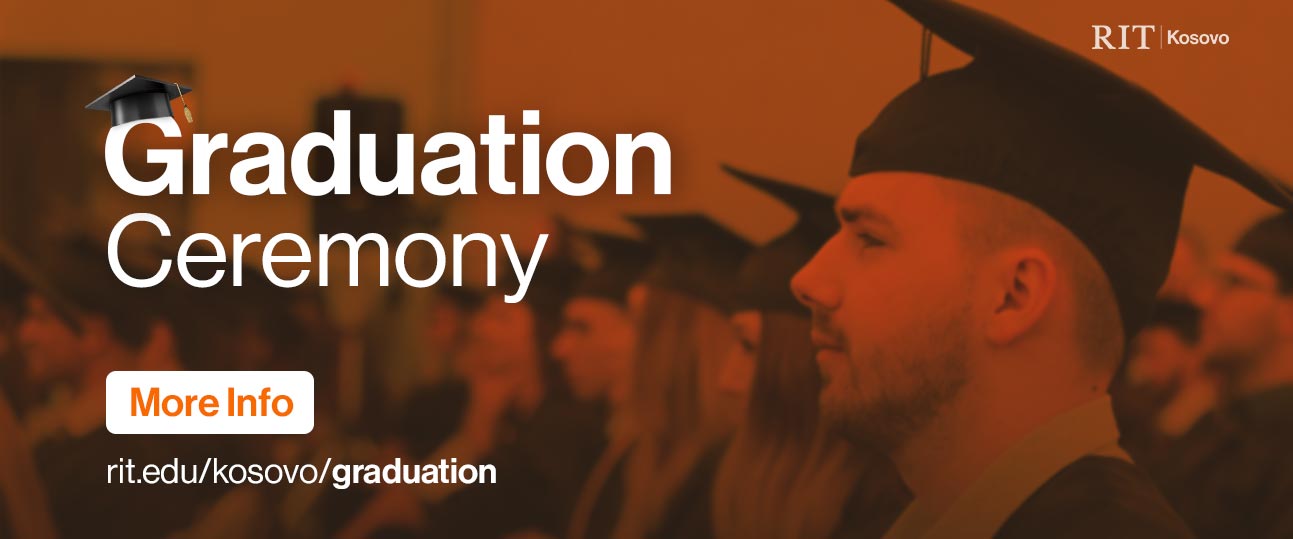 As this is your last semester at RIT Kosovo, we wanted to make sure that you are fully prepared for your graduation and that is why we are providing you with a checklist so that you may go through the requirements and make sure that you have completed them all. Remember, all students who want to walk in Graduation Commencement Ceremony need to complete the steps below. You can find the graduation requirement on page 53 of the Academic Bulletin. You are advised to consult with your Academic Advisor to make sure that you are on the right track. Nonetheless, as a reminder we will briefly go through the requirements.
Bulletin: Academic Bulletin - 2020 - 2021.pdf (rit.edu)
Forms: Academic Forms | RIT Kosovo | RIT
Co-op: Arlinda Hajdari - ahajdari@auk.org
Academic calendar: Academic Calendar | RIT Kosovo | RIT
Certification calendar: view calendar
 Certification process: any delay in the above-mentioned steps will result in the certification being postponed by a semester.
Students are responsible for checking their SIS profile and making sure that all the requirements have been fulfilled. To do so go to: SIS> Academic Records > My Academic Requirement - and make sure all requirements are satisfied. If any of the above-mentioned are not finalized by March 30, 2021, it may affect the certification process and might result in a postponement of the certification to the upcoming semester.
Caps & Gowns
The procedure for ordering a cap and a gown is the following:  
Students will bring a €50 deposit to the Business Office upon which they will receive a receipt of order. 
Students will take their €50 receipts (as proof of payment) to room where they will then be issued their cap and gown. 
Senior Exit Survey – before picking up your cap and gown it is mandatory to complete senior exit survey. 
Student will have the option of returning their cap and gown and receive their money back until May 31, 2021.
On returning the cap and gowns to room they will be provided with a receipt from RIT K's Academic Affairs Office which they will then take to the Business Office in order to get their €50 reimbursed.
Gown Pick-Up Days
Wednesday, May 5 From: 9AM - 5PM (RND LAB)
Thursday, May 6 From: 9AM - 5PM (RND LAB)
Friday, May 7 From: 9AM - 5PM (RND LAB)