Graduation Ceremony 2022
You did it, Tiger!
Congratulations on your amazing achievements and
hard-earned degree. RIT Kosovo is proud and honored to celebrate Graduation Day with you. May you always dare to do great things with your life!
A special thank you goes to our Faculty, Staff, KSF Cadets, Volunteers, and RITK Music Club.
Best of luck with your new beginnings!
Government Measures on COVID-19.

Graduation 2022 Photos & Livestream
Graduation Requirements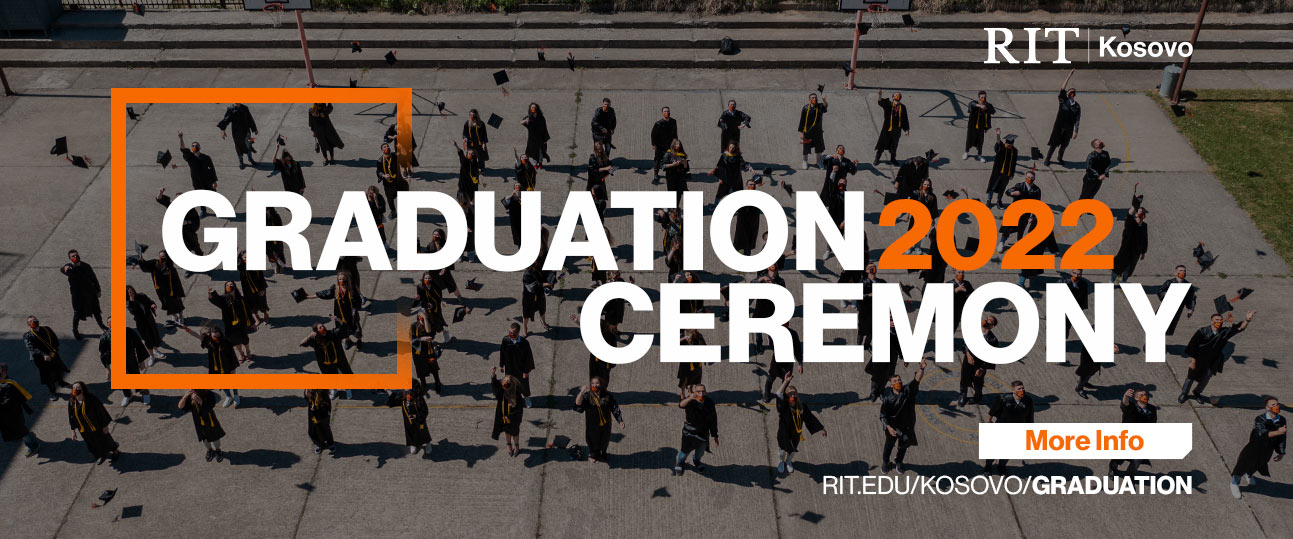 This is your last semester at RIT Kosovo and we wanted to make sure that you are fully prepared for your graduation. Below you will see a checklist that you may go through to make sure you have completed all requirements. You can also find the graduation requirements on the Academic Bulletin. You are strongly advised to consult with your Academic Advisor to make sure that you are on the right track.
All students who want to walk in Graduation Commencement Ceremony need to complete the steps below. 
Bulletin: Academic Bulletin - 2021 - 2022
Forms: Academic Forms | RIT Kosovo | RIT
Co-op: Arlinda Hajdari - ahajdari@auk.org
Academic calendar: Academic Calendar | RIT Kosovo | RIT
Certification calendar: view calendar
 Certification process: any delay in the above-mentioned steps will result in certification postponement by a semester.
Students are responsible for checking their SIS profile and making sure that all the requirements have been fulfilled. To do so go to: SIS> Academic Records > My Academic Requirement - and make sure all requirements are satisfied (collapsed). If any of the above-mentioned are not finalized by March 25, 2022, This may affect your graduation.
Caps & Gowns & Tickets
The procedure for ordering a cap and a gown is the following:  
Students will bring a €50 deposit to the Business Office upon which they will receive a receipt of order. 
Students will take their €50 receipts (as proof of payment) to room where they will then be issued their cap and gown. 
Senior Exit Survey – before picking up your cap and gown it is mandatory to complete senior exit survey. 
Student will have the option of returning their cap and gown and receive their money back until May 31, 2022.
On returning the cap and gowns to room they will be provided with a receipt from RIT K's Academic Affairs Office which they will then take to the Business Office in order to get their €50 reimbursed.

Note: Each student will be given 5 tickets.
COVID-19 measurement: You are required to have the vaccination card and/or the rapid test.
Gown Pick-Up Days
Thursday, May 5 From: 9AM - 4PM 
Friday, May 6 From: 9AM - 4PM
Tuesday, May 10 From: 9AM - 12PM 
Rehearsal Day
Tuesday, May 10 From: 1:30 PM