RIT Kosovo (A.U.K) and Global Entrepreneurship Week 2021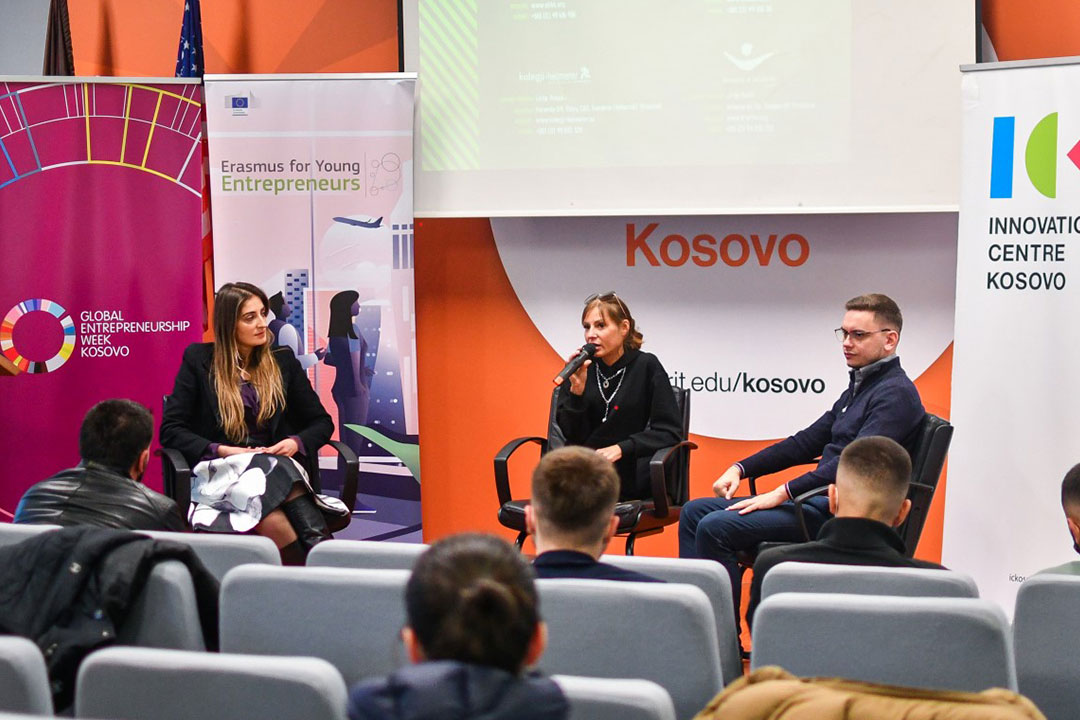 RIT K (A.U.K) faculty and students were part of the many events organized during the Global Entrepreneurship Week (GEW) 2021.

On November 9, Diellza Gashi, lecturer of Management courses participated in the panel discussion "Fostering Entrepreneurial spirit through Education". Other panel members were Arberie Nagavci, Minister of Education, Science and Innovation and Luljeta Demjaha, ASSET Project, and was moderated by Alejtin Berisha, Executive Director at Universum College. The event was organized the American Chamber of Commerce in Kosovo.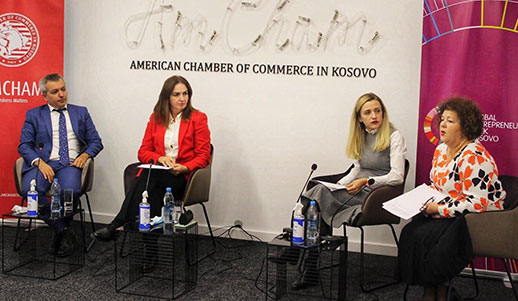 Photo Credit: AmCham 
Thursday, November 11 was an eventful day for RIT Kosovo, both in campus and elsewhere.
Our renowned Professors Dr. Venera Demukaj and Dr. Bernad Nikaj provided their insights at two forums organized by Women in Tech Kosovo as well as AmCham and ICK, respectively.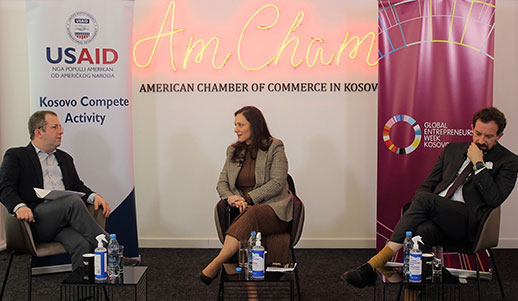 Photo Credit: AmCham 
Professor Venera Demukaj spoke on the "The Future of STEM is female" panel discussion which gathered representatives from academia, businesses, and other organizations in Kosovo, who shared their perspectives on how to increase women participation in STEM. Dr. Demukaj mentioned that gender stereotypes have been influential in shaping educational choices of youth in Kosovo.
Credit: Women in Tech Kosovo
Whereas in the forum focused on "The Impact of Commercial Diplomacy on Business and Exports", Professor Bernard Nikaj, discussed about potentials of strengthening economic diplomacy and the importance of a coordinated effort between actors in Kosovo. The forum gathered former Kosovo ambassadors.

On the same day, in our campus we hosted RIT Kosovo alumni Dorina Grezda from ICK and Dominik Dedaj from STIKK which were joined by Simona Simulyte, founder of the ChangeMakersON held an info-session for the Erasmus for Young Entrepreneurs programme at the Auditorium of RIT Kosovo. RIT Kosovo's young aspiring entrepreneurs had the opportunity to learn more about the programme and its benefits.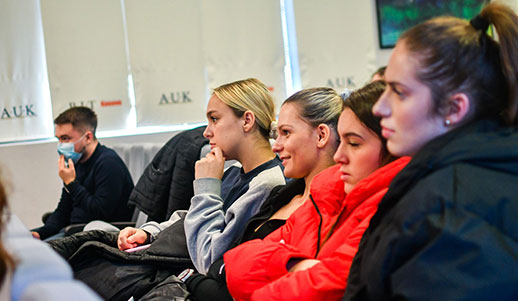 Later that day, students from the Project Management class of Professor Medina Orana had the opportunity to discuss with Ognjen Markovic in the forum on "Youth participation in Decision Making". The guest speaker Ognjen Markovic - Team Leader of Regional Cooperation Council - RCC, Western Balkans Youth Lab talk to the students about the importance of involving youth in policy making. RIT Kosovo students added their input and suggestions on how their initiatives could benefit national level decision making. The event was organized by the American Chamber of Commerce.