RIT Kosovo (A.U.K) announces the Keynote Speaker for the Commencement Ceremony and the Gala Dinner Event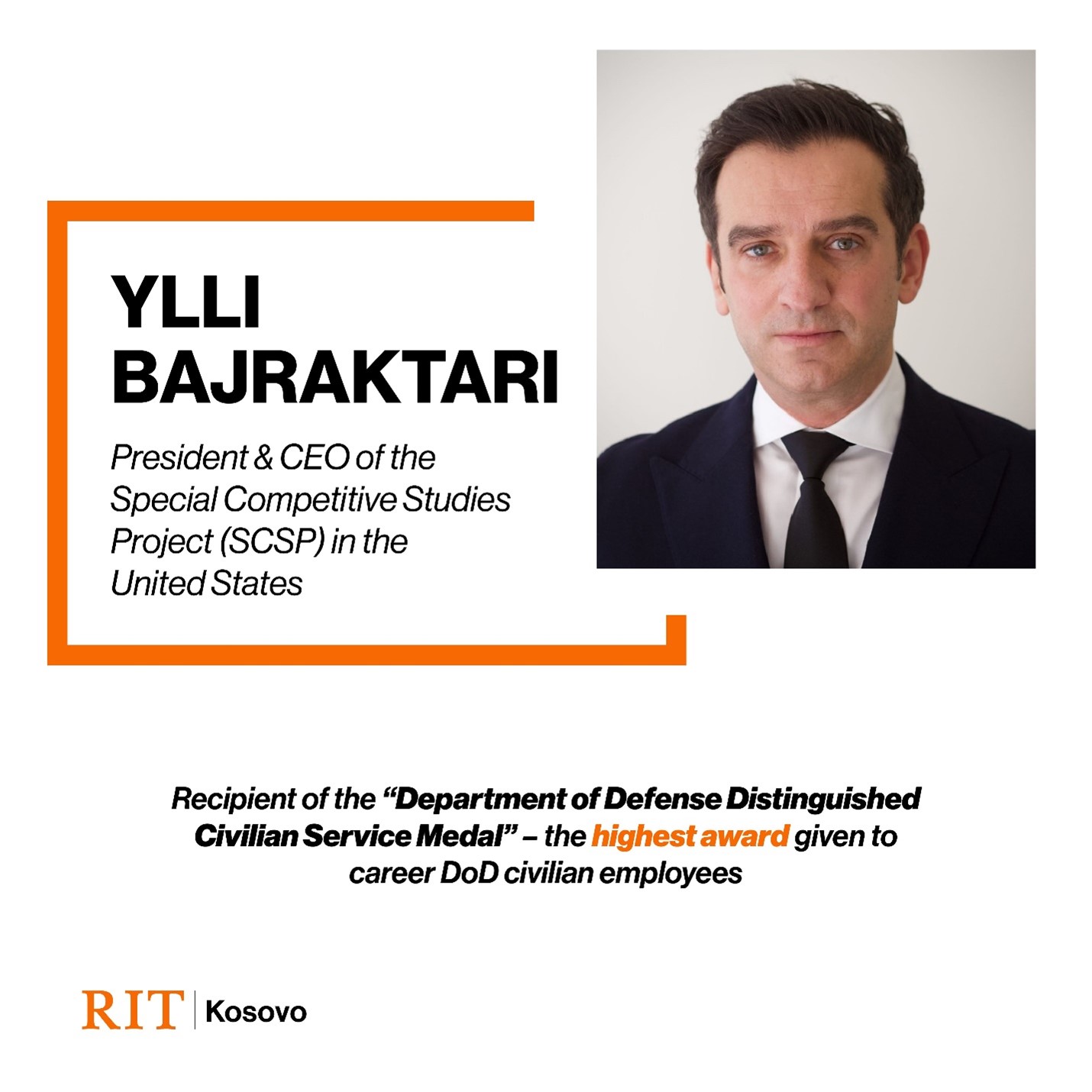 A successful Albanian-American executive in the field of national security in the United States
RIT Kosovo (A.U.K) has the distinct honor to announce that Mr. Ylli Bajraktari, CEO of the Special Competitive Studies Project (SCSP) in the United States will be joining us as our Keynote Commencement Speaker on May 22, 2023 and Keynote Speaker at the Gala Dinner on May 23, 2023. Ylli is a successful and established Albanian-American executive in the field of national security in the U.S., leading the SPCP which is a non-partisan initiative chaired by Dr. Eric Schmidt, the accomplished technologist and former longtime CEO and Chairman at Google.  At SCSP, Ylli is spearheading efforts to strengthen America's long-term competitiveness as artificial intelligence (AI) and other emerging technologies reshape the national security, economy, and society.
Prior to launching SCSP, Ylli served as the Executive Director of the National Security Commission on Artificial Intelligence. Prior to joining NSCAI, he served as Chief of Staff to the National Security Advisor LTG H.R. McMaster held a variety of leadership roles for former Deputy Secretary of Defense Robert Work, and served as Special Assistant to the Chairman of the Joint Chiefs of Staff, General Dempsey. Originally joining the Department of Defense in 2010, he served in the Office of the Undersecretary for Policy as a country director for Afghanistan, and later India.
Mr. Bajraktari is the recipient of the "Department of Defense Distinguished Civilian Service Medal" – the highest award given to career DoD civilian employees. We are thrilled to welcome Mr. Bajraktari as our Keynote Speaker at our two upcoming important events – the Commencement Ceremony and the Gala Dinner where we celebrate our successes, achievements, and the continuous impact in powering progress in Kosovo and beyond.
For more information on RIT Kosovo's 19th commencement go the graduation page, and to get your ticket(s) or become our event sponsor for the Gala Dinner follow this link.
Topics