RIT Kosovo (A.U.K) Celebrates Successful Commencement with Notable Keynote Speaker, Mr. Ylli Bajraktari and Distinguished Participants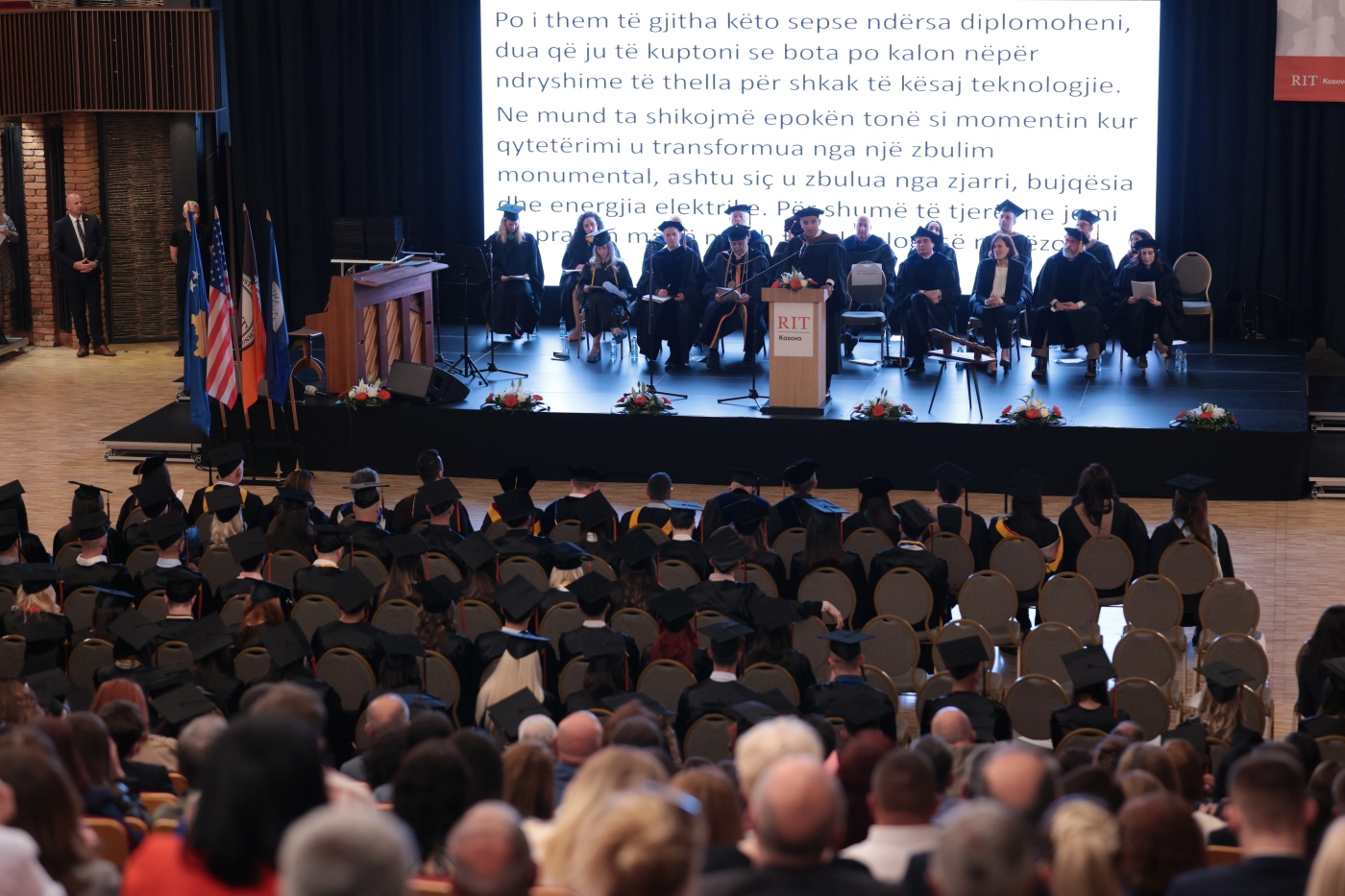 On May 22, 2023, RIT Kosovo (A.U.K) held its annual commencement ceremony, the communication of academic achievement and years of hard work and deciation. The event was marked by the presence of esteemed Commencement Speaker, Mr. Ylli Bajraktari, President and CEO of the Special Competitive Studies Project (SCSP), as well as the participation of honorable guests, H.E. Albin Kurti, Prime Minister of the Republic of Kosovo, Ms. Alyson Grunder, Deputy Chief of Mission at the U.S. Embassy in Prishtina, Ms. Nancy Y. Bekavac, Chair of the RIT Kosovo (A.U.K) Board of Trustees and other distinguished guests.
The commencement ceremony was a momentous occasion that celebrated the academic achievements and remarkable journeys of the graduating class of 2023. The event showcased the dedication and resilience of these talented individuals who have successfully completed their programs of study.
Mr. Ylli Bajraktari, a successful Albanian-American executive in the field of technology and national security delivered an inspiring keynote address to the graduating class. As the President and CEO of SCSP, Mr. Bajraktari shared his remarkable insights and experiences, motivating the graduates to embark on their own paths of success while making a positive impact on society. As part of his remarks, Mr. Bajraktari's shared a powerful message about the profound changes that lie ahead as a result of recent developments in Artificial Intelligence. As he emphasized "The emerging AI revolution will be the most rapid human transformation in the history of the world" and that "the world you are entering today will be different next year and it will be unrecognizable by 2030."
Further, the presence of H.E. Albin Kurti, the Prime Minister of Kosovo, added an exceptional dimension to the ceremony - underscoring the government's commitment to supporting and recognizing the accomplishments of the RIT Kosovo (A.U.K) graduates, as well as their potential to contribute to the nation's progress.
RIT Kosovo (A.U.K) is grateful for the strong partnership it enjoys with the U.S. Embassy in Kosovo, which has enabled RIT Kosovo (A.U.K) to improve information technology and cybersecurity skills for young people in Kosovo, streamline and modernize the institution's curriculum development, and improve teaching and research quality through faculty support. As Ms. Alyson Grunder, Deputy Chief of Mission at the U.S. Embassy in Kosovo expressed "Across all facets of our partnership, what we value most is the high-quality, American education RIT Kosovo provides to its graduates – Kosovo's future leaders." Further, quoting Ms. Samantha Power, who visited Kosovo just a week ago in her role as Administrator of the U.S. Agency for International Development, Ms. Grunder reminded the graduating Class of 2023 that "Your job is to make sure that democracy matures, expands, deepens, and delivers."
RIT Kosovo (A.U.K) extends its heartfelt congratulations to the graduating class of 2023 and wishes them continued success in their future endeavors.
About RIT Kosovo (A.U.K):
RIT Kosovo (A.U.K) is Kosovo's only private not-for-profit higher education institution offering degrees accredited and recognized world-wide thanks to the partnership with Rochester Institute of Technology (RIT) in New York. For media inquiries contact: info@auk.org.
Topics