US Embassy Student Intern candidates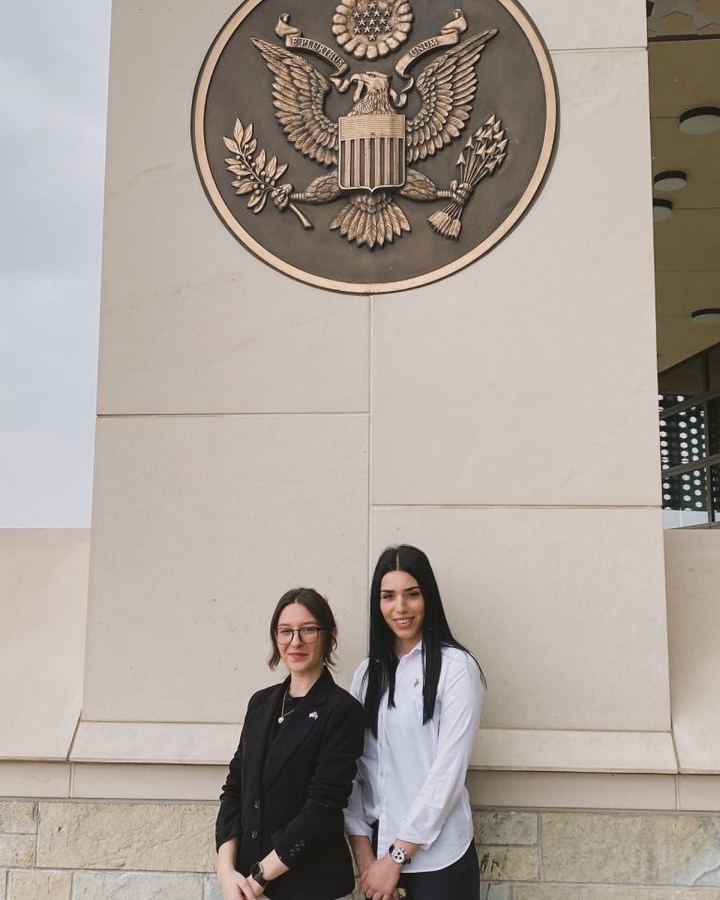 Co-op & Career Office
Knowing the importance of Experiential Learning (CO-OP) for our education system at RIT Kosovo, students are given a chance to gain a professional experience at private, and public companies, and institutions.  We are very happy to announce the recent collaboration with the US Embassy in Prishtina has allowed students to gain first-hand work experience within US Embassy departments. This is the second semester that RIT Kosovo (A.U.K) students are part of the Political/Economic Section and the USAID Economic Growth Unit.
This semester Era and Yllka are completing their Co-op within the US Embassy. Both shared their work experience and stated:
Era Haxhi-Jakupi
"With the assistance of the Co-oP Career Office, I started an internship at the U.S. Embassy in Prishtina during my senior year of studies. I am currently working on complex and challenging tasks that allow me to develop critical skills and expand my scope of work, particularly in the field of Renewable Energy. Through collaborations with experts at the USAID Economic Growth Office, I am gaining invaluable knowledge and hands-on experience that prepare me for a successful career. This experience not only helps me grow as a professional but also opens doors to exciting career opportunities. I feel confident and equipped to tackle any challenge that comes my way! "
Yllka Kastrati
"From the moment I found out that I was accepted for the internship, I knew that it would be an opportunity of a lifetime. As a Political-Economic Intern at the Political Department at the U.S. Embassy, I quickly realized I was part of a team that was making a real difference in the community, and that my contributions, however small, are valued and appreciated.
What I appreciate most about my internship is the opportunity to collaborate with some of the most talented and dedicated professionals in the field. Whether I'm attending a diplomatic meeting or reporting on developments I'm constantly gaining a deeper understanding of the complex interplay of politics and economics in Kosovo and the wider Balkans region."
RIT Kosovo is one of the only institutions that have experiential learning within its curriculum. Therefore, RIT Kosovo is open to all students for assistance in offering support towards their experiential learning careers, by finding partner companies, and institutions offering to take students as interns.
Topics