Award Established to Honor Professor Tina Lent, founding director of Museum Studies Program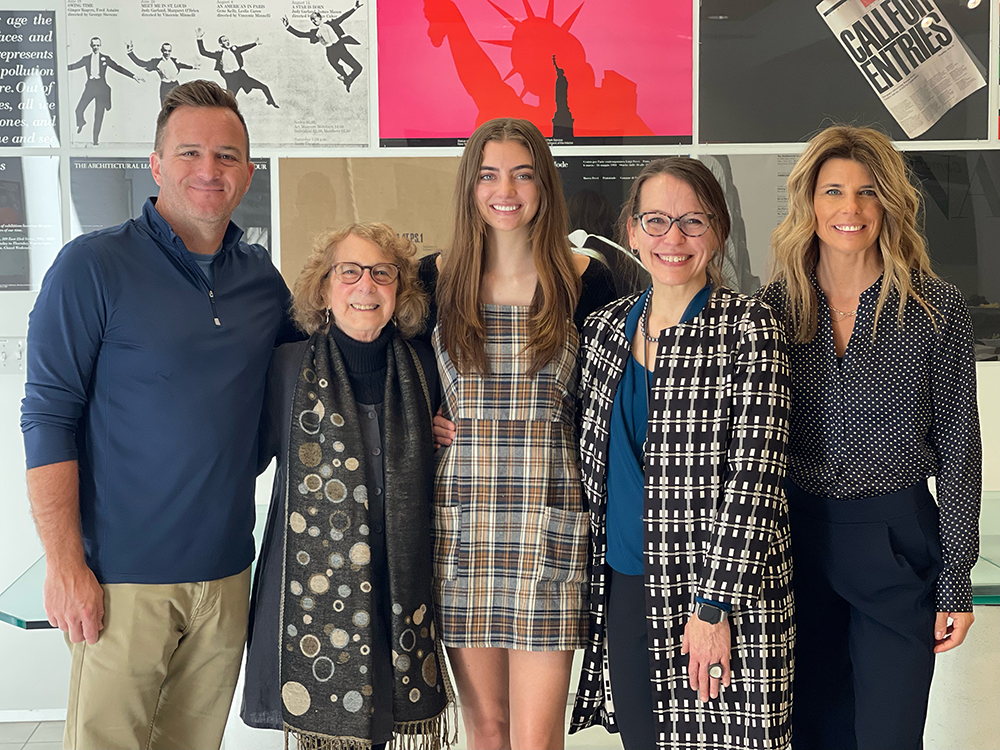 Upon learning that the spring 2022 would be Professor Tina Lent's last semester of teaching at RIT— where she began her career more than 40 years ago—the museum studies faculty sprang into action to create an award in her honor.
Working at the intersections of art history, fine art, and history Tina earned her master's degree in art history from UCLA and her Ph.D. in American History from the University of Rochester. Her involvement in the museum world during her time as a grad student in Los Angeles, working as an intern in Textiles and Costumes at the Los Angeles County Museum of Art and exhibiting her own artwork at California museums (the Oakland Museum) and numerous art galleries. 
Tina moved to Rochester in 1981 to join the Fine Arts Department in the College of Liberal Arts at RIT as an art historian and a practicing artist, and she chaired the department for 25 years. During that time, she was also the founding director of both the Women's and Gender Studies program (2000-11) and the Museum Studies bachelor of science degree program (2008-20). Her involvement with the museum world continued as she incorporated field trips to museums as part of the pedagogy for her courses in Museum Studies, as she hired museum professionals to teach in the program, as she organized several exhibitions, and also continued to have her own artwork exhibited in local galleries and juried shows.
In the early 2000s, there was a great interest within the College of Liberal Arts in developing new degree programs that were interdisciplinary and could apply traditional academic subjects to real-world careers. Thus, the nation's only bachelor of science interdisciplinary museum studies program in the US was conceived. RIT's program was approved by New York State in September 2008 and has graduated nearly 100 students since 2011—many of whom have gone on to graduate and professional programs and careers in museums and other cultural institutions and organizations including National Geographic Society and NASA's Science Mission Directorate.
In describing the journey to create the award and its purpose Dr. Juilee Decker, program director of Museum Studies said, "It has been a pleasure working toward something so rewarding, especially during these pandemic times, to reflect upon and to recognize Professor Lent's role as founding director of the museum studies program at RIT. We aimed to create an award that blends theory and praxis while celebrating academic achievement, as well as promise for the field." To that end, the museum studies faculty worked with University Advancement to create the Tina Lent Award for Outstanding Scholarship in Museum Studies which is given to a graduating museum studies major during their last year of coursework to recognize, encourage, and celebrate academic achievement and promise in the field of museum studies. Selected by the museum studies faculty, the recipient receives a cash award of $500 and a book selected by the faculty and related to the student's areas of interest in the fields of museum studies, public history, libraries, and archives.
The award was given on Friday, March 18, 2022 as part of the College's 42nd Annual Writing Awards Ceremony. The award followed in the tradition of awards named in honor of other College of Liberal Arts faculty, including Stan McKenzie and Mary C. Sullivan, both esteemed former deans of the College of Liberal Arts. The inaugural recipient was Hannah Rachel Riley, a third-year student from Buffalo, NY who is undertaking her thesis this semester and will graduate in May 2022. Hannah receives the award for her capstone project, Capturing the San Francisco Sound: Psychedelic Posters of the 1960s Counterculture, the origins of which may be found in Hannah's experience last summer as an intern at a private collection in Scottsville, NY. This collection— the William C. Miles Poster Archive—consists of more than 1000 posters displaying myriad subjects around music and entertainment (concerts, live music, and bands), civil rights protest and awareness, drug culture, and Vietnam War protest posters. Hannah worked alongside the collection's owner, Professor Cat Ashworth, a professor in RIT's School of Film and Animation, to document, inventory, catalogue, and research the posters. Moving from internship to research and praxis, Hannah's thesis combines a historical overview of counterculture and the role of posters in communicating a message and an exhibition design. Her thesis advisors, Dr. Tamar Carroll of the Department of History and Dr. Steven Galbraith, curator of the Cary Collection at RIT, selected Psychedelia: 101 Iconic Underground Rock Albums, 1966-1970 by Richard Morton Jack for Hannah to receive, in addition to the cash award. 
We extend gratitude to Prof. Tina Lent for her leadership in establishing the program, the donors who have lifted this scholarship off the ground, and to Hannah for her excellent work. Donations may be made to the Tina Lent Award for Outstanding Scholarship in Museum Studies by giving to the Museum Studies Fund.
Topics