October 19, 2021
by Rochelle Allan
College of Liberal Arts student recognized nationally for tennis skills
Sophia Wozniak is one of only two student-athletes to receive HearStrong, NFL Players Association's Professional Athletes Foundation scholarship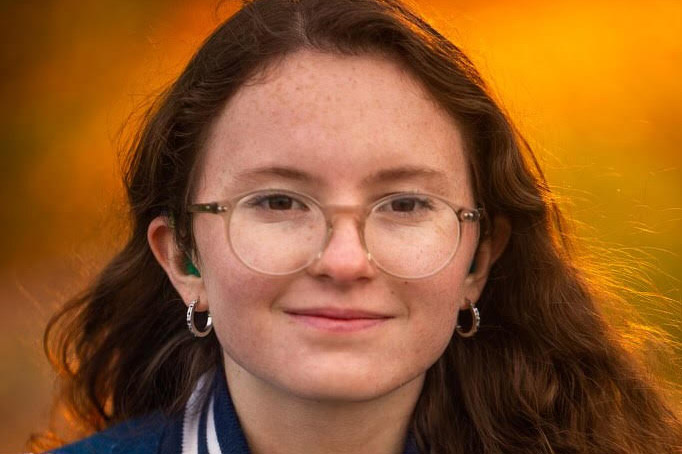 Sophia Wozniak, a first-year psychology student with a concentration in neuroscience, was recently awarded a scholarship for her tennis skills through HearStrong and the NFL Players Association's Professional Athletes Foundation. The NFLPA and HearStrong have teamed up to tackle issues surrounding hearing loss and, this year, Wozniak, who is from St. Clair Shores, Mich., was one of only two outstanding student-athletes who received a $2,500 scholarship to support their respective college educations.
What does receiving this scholarship mean to you?
After doing a lot of research looking for scholarships for students with hearing loss, I came across this opportunity to apply and I wrote an essay regarding the challenges I face, the challenges I have overcome, my ambition, and my passion for tennis. I also talked about my experience playing music as it highlighted different challenges from playing a sport.
Being a recipient of this prestigious scholarship has enabled me to continue my education in a way that helps me achieve my goals as a student and to lead a life of success that I have envisioned for myself for a long time now. Being a student at RIT, where one gets a very accurate depiction of what it is like to work in the real world through how the curriculum is structured, along with co-op opportunities, gives me the confidence I need to put myself out there and achieve my dreams.
What are some challenges you have had to overcome during your academic journey?
During my academic journey, I have learned how to balance multiple things that I need in my life. For instance, in tennis, I initially struggled with communicating with other players, playing more of an offensive position and being a little more aggressive with my approach. Through the time I spent with this sport, and with the help of my coach, I have understood what I can do in it and it has pushed me to be so much better.
I also have a passion for music and I have worked very hard to stay ahead in the band I was part of which, in turn, meant many hours of practicing. Due to difficulties with my ability to hear, this became even more of a challenge, trying to stay in tempo, stay on track with other students, and so on. Listening is a big part of music and I think I had to work extra hard to make sure I was on par with my peers. I am now an all-state musician in both the flute and the saxophone.
What have you loved about studying at RIT?
Being a student at RIT has really helped me get to where I want to go because of the professors and the staff I can connect with. The importance RIT places on hands-on learning is commendable and definitely helps students better prepare for the real world. All my professors were approachable and extremely helpful anytime I needed them, which I am immensely grateful for. For instance, I recently joined the novice rowing team as a coxswain. This means that I sit at the stern or the bow of the boat and make calls to the rowers on that boat. This can be extremely difficult and taxing, especially being deaf/hard of hearing. My coach makes sure that I understand and hear every direction. RIT focuses on making every student feel seen and heard. I can honestly say that this is probably the first time I have felt so accepted.
What does the future look like going forward?
In the future, I hope to study abroad in the RIT Croatia psychology program. I also plan on attending grad school to receive a doctorate in neuropsychology.
Topics