April 27, 2022
by Diana Louise Carter
Honors students spend spring break networking in Washington, DC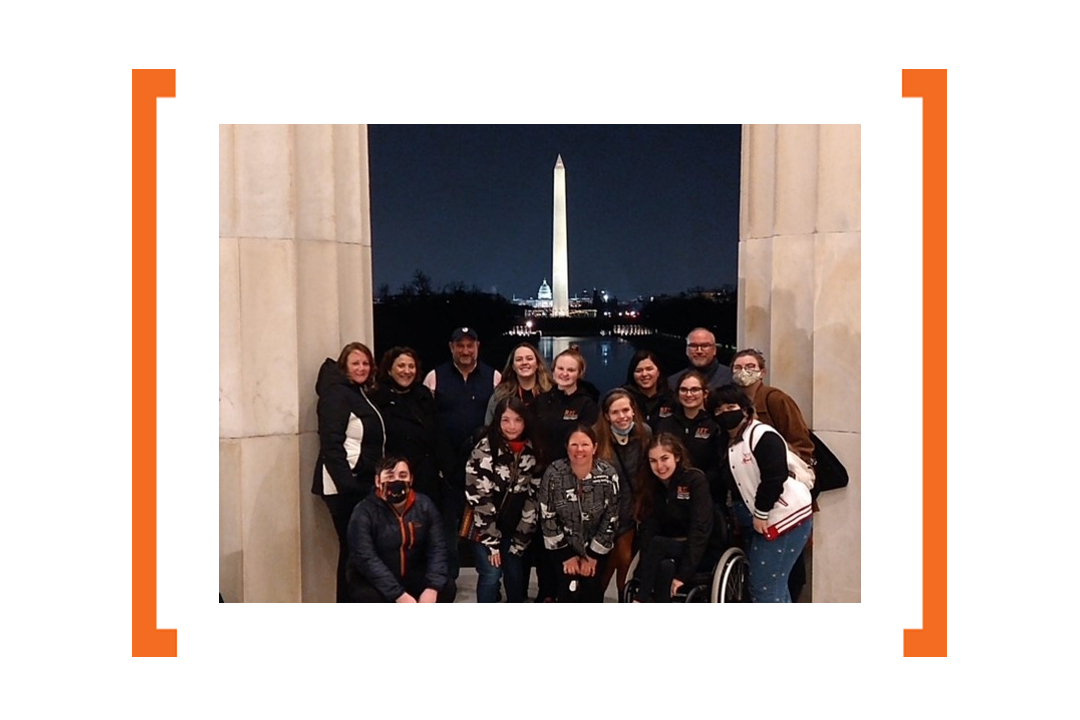 After a two-year pandemic hiatus, the spring break trip for honors students in the College of Liberal Arts has returned in 2022. 
Ten students, accompanied by administrators from the college and university, spent the better part of a week in Washington, DC during spring break, networking with alumni, seeing the sights and gaining tips on possible internships and careers related to their degrees in liberal arts. 
"The honors trip provides invaluable networking opportunities for students to connect with professionals in their field of study," said John Smithgall, assistant dean for the College of Liberal Arts and coordinator of the trip. "Students learn about the career paths of the alumni they meet and establish professional relationships that will serve them well in the future. This visit has inspired students to apply for internships on Capitol Hill and other professional opportunities in Washington."
Indeed, while the students were still on the trip, some issued LinkedIn requests to connect with Kristine Simmons, '90, the day after she spoke with them about networking and offered tips on how to get an internship in Washington. 
"I was proud of them that they reached out," Simmons said.  The vice-president of the non-profit organization Partnership for Public Service, Simmons hosted a discussion at the Roosevelt Group, a lobbying organization where her husband and fellow alum, John Simmons, '91 works. 
"We had gotten their resumes before we met with them. I was impressed with this group before we had even met," Simmons said.  
Networking can seem intimidating, Simmons told the group, especially if your conception involves a room full of strangers and a pocketful of business cards. She told the students that just by participating in the trip, they were already networking. At least several students took her up on her offer to have one-on-one sessions with her and her husband to brainstorm about internships. And when her organization needed to recruit college students to talk about congress, one of the students participated in that, building even more relationships. 
The chance for networking really drew Kaitlin Sommer, a second-year political science student from Rochester in the accelerated 3+3 BS/JD program that pairs an expedited liberal arts degree at RIT with a law degree from Syracuse University. She hopes to have a career in disability law. 
"It just sounded like a really great opportunity," Sommer said. "There was going to be a lot of networking and things that I was really interested in seeing, like museums, so that was really nice." Students were able to break into groups to choose some tour options, so she opted to visit her mother's alma mater, Gallaudet University, and Arlington National Cemetery. 
"We got to do a lot of sightseeing. I had the opportunity to see Ruth Bader Ginsberg's burial place, which is amazing, because I admire her career and her service," Sommer said. The highlight of the trip, though, was the networking, she said.
"A big 'thank you' to the alumni who took their time to really invest in having conversations with us. I know they're extremely busy people," Sommers said.    
 The tour also included:
A night time driving tour of the monuments. 
A visit to the Spy Museum 
A performance of "Jesus Christ Superstar" at the Kennedy Center. 
Behind-the-scenes tours of the Library of Congress and National Geographic, both led by alumni. 
A reception with alumni at the historic Old Ebbitt Grill, the oldest bar in Washington. 
A tour of the Capitol, courtesy of a congressional representative whose district includes one of the students. 
The annual spring break trip for honors students began in 2018, when a group went to Puerto Rico after Hurricane Maria to perform service. The next year saw them visit New York City for networking. 
"It's important for liberal arts students to understand that they can pursue a career in anything. The path is not necessarily linear for them. Hearing from alumni who have gone into work – sometimes related to their majors, sometimes not –  really opens up their minds about what they can do after graduation," Smithgall said.
To help support the trip, RIT staff and administrators from Student Services, Career Services, and Alumni Relations also attended, providing additional resources for students as they met with alumni.
College of Liberal Arts Dean Anna Stenport, who attended the alumni reception, was excited by the opportunity to connect current liberal arts students with many successful alumni across a variety of fields and organizations. "Our College is focused on continuing its legacy of developing leaders who are ready to make a difference, not only through their work, but through their connection to the people and community around them. The opportunity to bring together some of our many successful alumni in COLA with these outstanding Honors students is special–it really showcases diverse career opportunities for our students, as well as highlights the commitment of our alumni to the college and the university."
While the trip's focus is helping students to connect with the larger world, it also gives alumni the chance to connect more deeply with RIT. 
"I just derive a lot of personal satisfaction, engaging with RIT students and seeing how smart and energized they are. I got so much out of my RIT experience," Simmons said. "For me, this is just personally rewarding and it makes me feel connected to the university and the College of Liberal Arts."