RIT ROAR the Vote seeks to engage students
National Voter Registration Day is Sept. 22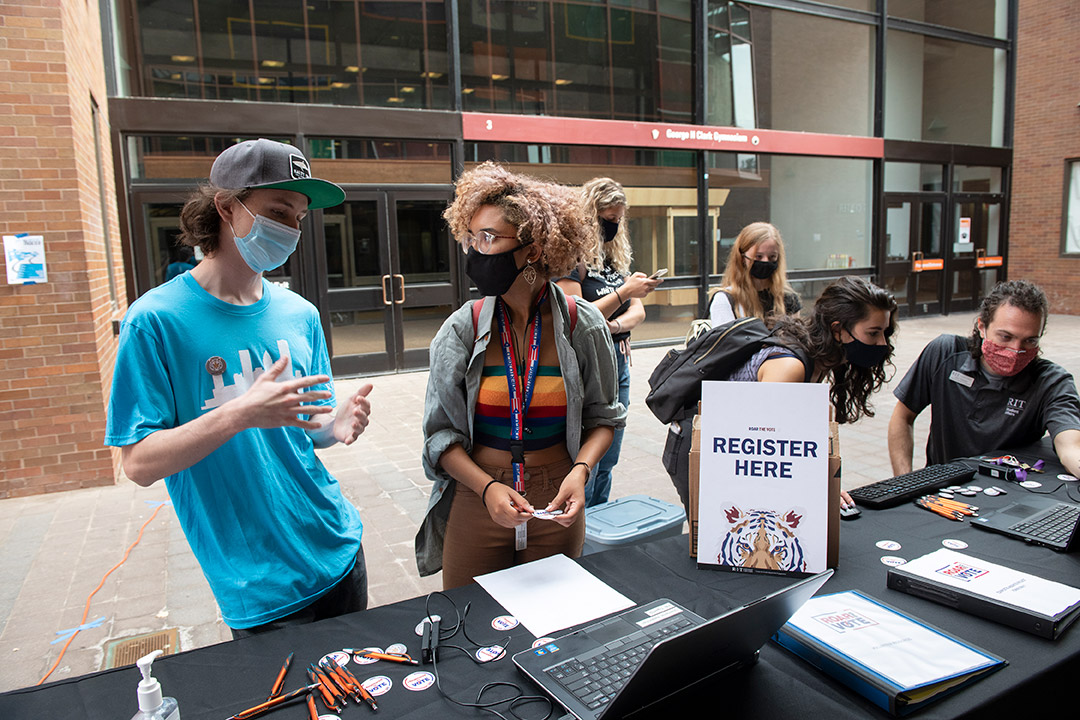 RIT's ROAR the Vote campaign is making it simple for RIT students to become engaged, educated voters this fall through registration drives and presidential election debate viewing parties.
New voters in New York state must register by Oct. 9 to participate in the Nov. 3 general election, and the ROAR the Vote campaign is helping students register, update their registration, and/or request an absentee ballot.
RIT students, faculty, and staff are partnering with the Division of Government and Community Relations, and ROAR the Vote will hold regular events in the breezeway between the Campus Center and Clark Gymnasium into October. Students who live on campus—and register using their on-campus address—will be able to vote in person at a polling site in the Gene Polisseni Center from 6 a.m.-9 p.m. Nov. 3. Students who are registered to vote at this site or any other location in the U.S. are also able to request absentee ballots. Absentee ballot requests from New York state must be received by Oct. 27.
Students are responding well to the ROAR the Vote program, according to Alex Tubridy, civic engagement coordinator in RIT's Center for Leadership and Civic Engagement.
"COVID-19 has changed nearly every aspect of our lives, and being an engaged voter is more important than ever," Tubridy said. "At our first two drives, we have been able to register or request absentee ballots for 40 students. Through RIT 365 sessions, we have been able to do the same for an additional 59 students. For the year-to-date total thus far, we have registered or requested absentee ballots for 179 students."
ROAR the Vote is a non-partisan effort to educate RIT students on the importance of voting in local, state, and national elections. The program is housed in the Center for Leadership and Civic Engagement is supported by RIT students, faculty, and staff.
This year, ROAR the Vote is part of RIT's Moving Forward: Suffrage Past, Present, Future celebration of the ratification of the 19th amendment in 1920 and the 200th birthday of Susan B. Anthony.
"This is an important opportunity to reflect on our history of voting rights and political participation in this country," said Tamar Carroll, RIT associate professor and chair of the history department, and co-chair of the Moving Forward committee with chair Twyla Cummings, RIT associate provost and dean of graduate education.
The centennial of the 19th amendment comes at a time of continued low voter turnout among young people, Carroll said. The fall events in the Moving Forward program are "trying to engage RIT students around the history of voting rights; how hard women, African Americans, Native Americans, and Puerto Ricans have worked to secure voting rights; and why it matters that students participate and cast their votes."
The ROAR the Vote campaign echoes the importance of civic participation and is holding viewing parties for students to watch the presidential debates from 8 to 11 p.m. on Sept. 29, Oct. 15, and Oct. 22, and the vice-presidential debate from 9-10:30 p.m. Oct. 7.
The debates will be shown on outdoor screens near the Gordon Field House to enable students to watch the debates together while maintaining safe physical distancing. This means keeping six feet distance from each other and wearing masks to prevent the spread of COVID-19.
"Casting your vote is the most direct way to have a say in the way our country is governed," Tubridy said. "Even if your preferred candidate, policy, etc., doesn't win the vote, your voice—among many others—is heard and shows our elected politicians that people care about these issues."
More information is available on the ROAR the Vote website.
ROAR the Vote pre-election events include:
Voter Registration Tabling, 11 a.m.-1 p.m. Sept. 15, CPC Breezeway
National Voter Registration Day Tabling, 11 a.m.-3 p.m. Sept. 22, CPC Breezeway
Presidential Debate Viewing Party, 8-11 p.m. Sept. 29, Outdoor Stage (weather permitting)
Voter Registration Tabling, 11 a.m.-1 p.m. Oct. 6, CPC Breezeway
Vice-presidential Debate Viewing Party, 9-10:30 p.m. Oct. 7, Outdoor Stage (weather permitting)
Presidential Debate Viewing Party, 8-11 p.m. Oct. 15, Outdoor Stage (weather permitting)
Presidential Debate Viewing Party, 8-11 p.m. Oct. 22, Outdoor Stage (weather permitting)
Topics