RIT sponsors Radical Reversal performance at Innovation Square on Nov. 3
Radical Reversal is an experimental poetry band exploring music and language through a social justice lens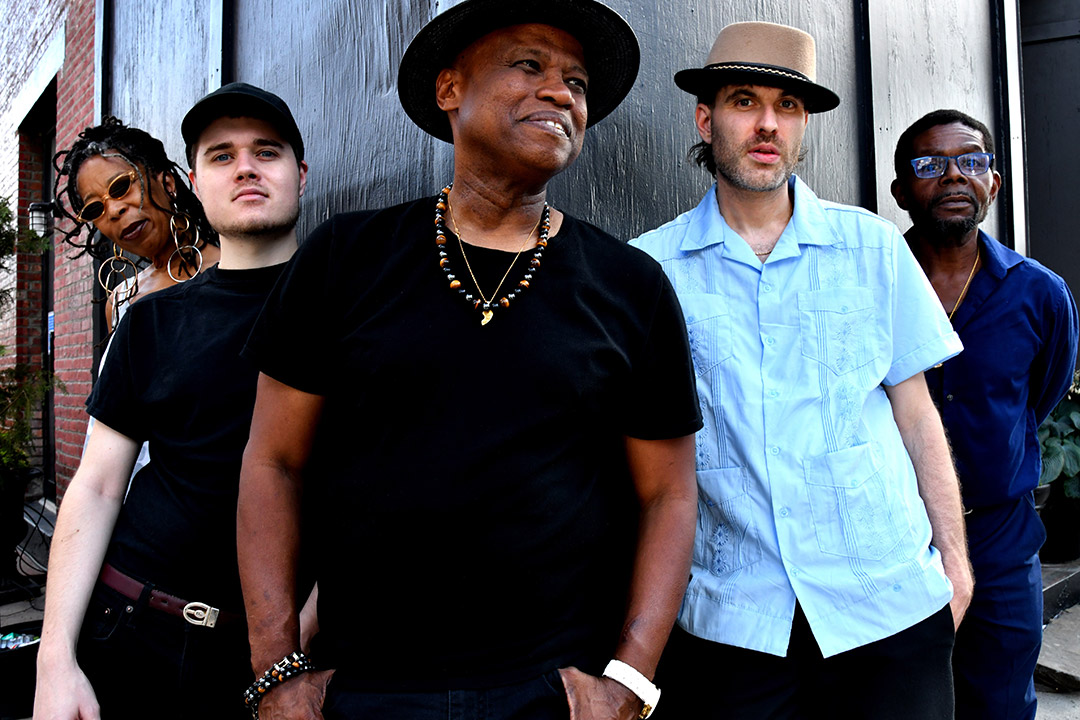 On Thursday, Nov. 3, RIT's College of Art and Design, College of Liberal Arts, and School of Individualized Study invites the community to a performance by Radical Reversal, a five-piece experimental poetry band.
Hosted at The Theater at Innovation Square, located at 131 Chestnut St., the show will be a unique showcase of spoken word poetry and live music. The performance runs from 7 to 9 p.m. and it is free and open to the public, though registration is required.
Radical Reversal explores music and language through a social justice lens and works to empower people to use creativity to express emotions and better their lives. Their sound is motivated by how the penal system impacted poet Randall Horton—the only tenured professor in the United States with seven felony convictions—and is inspired by many genres of music.
Randall Horton to visit RIT
On Wednesday, Nov. 2, Randall Horton will be at RIT to discuss his book, Dead Weight, as part of the Theodore Albert Viehe Endowed Lectureship presentations. The free event is held from 4-5:45 p.m. in the Student Alumni Union.
"When I discovered the value of putting my thoughts down with a pen and legal pad, sitting in my cell and writing about all the things I could never articulate—that one single act began a transition. I started thinking, 'what does it mean to write something? To actually live the life of a writer,'" said Horton. "Writing kept me engaged enough with hope, and it led me on this passionate journey to try something very, very different from what I had ever done in my life."
The show's transformative interaction between poet and band weaves a necessary critique of the justice system using instrument and poetic voice. Horton shares that he hopes people leave knowing the value of expressing themselves through creative outlets and gain awareness of the urgency regarding criminal justice reform.
"Our performances are a total sonic experience," said Horton. "We will perform tracks from our album Not One Real MF, which all critique or talk about the criminal justice system and the prison industrial complex in some kind of way. So, at times, your head might nod, you might groove a little bit, or you might go into this whole meditational mindset."
Creating at Jefferson County Youth Detention Center
Beyond performing, Radical Reversal also works to bring creative resources and opportunities to detention facilities. Listen to some of the songs written and recorded by teens at the Jefferson County Youth Detention Center, located in Birmingham, Ala.
Leadership in the College of Art and Design (CAD), College of Liberal Arts (COLA), and School of Individualized Study (SOIS) believe that exposure to the arts can help build competencies that extend thinking about intractable social problems.
"It is the duty of all members of the RIT community to think deeply about issues of race and justice, and creative articulation or testimony in an artistic discipline are core tools to explaining fundamental justice issues to a broad audience," said deans Todd Jokl (CAD), Anna Stenport (COLA), and James Hall (SOIS), in a joint statement. "Radical Reversal is a dynamic, critical thinking collective that will help all of the Rochester community think, engage, and act with regards to the hardest questions that linger around incarceration, identity, and our shared well-being."
Go to the RIT event webpage for more information and to get tickets.
Special thank you to additional co-sponsors of this performance: College of Liberal Arts' Center for Engaged Storycraft, Monroe Community College, RIT's Division of Diversity and Inclusion, RIT Honors Program, RIT Student Affairs, and RIT University Advancement.
Topics