Students are studying gardening, pirates, and art 'younger than the internet' in the classroom this fall
Students engage with a variety of unique course offerings as the fall semester shifts into full swing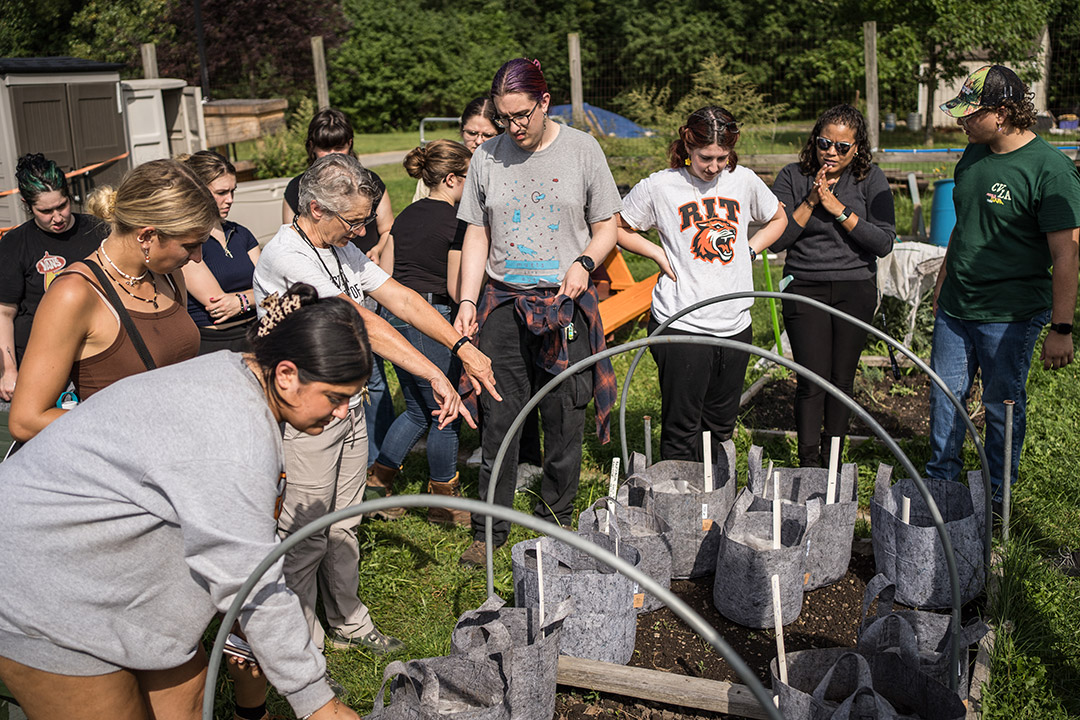 When describing the typical university classroom, some may paint a picture of a quiet lecture hall and lengthy PowerPoint presentations. RIT students, however, are more familiar with an innovative and interactive classroom experience.
Gardening, piracy, and contemporary art are just three of the varied topics students will delve into over the semester as part of RIT's General Education curriculum.
Science in the Garden
Students who sign up for this course should expect to get their hands dirty in pursuit of learning. Taught by Dawn Carter, principal lecturer in RIT's College of Science, the course provides students with introductory-level knowledge about how to design, create, and manage a garden.
Carter explains that the course consists of three main elements: delving into the science of how plants grow, soil composition, and some introductory botany; reflection on sustainable gardening practices; and learning to design a garden.
"Everybody has to grow something for the course. They'll mix some soil up and sow seeds, and then each week they'll record progress as we explore different topics," said Carter.
Science in the Garden attracts students from all majors across the university and has remained a popular course throughout the nine years it has been offered. Carter muses that the course resonates with students because the content is easily applicable to their everyday lives.
"I like to think that when students take Science in the Garden, I'm giving them a life skill," said Carter. "A lot of people will grow plants at some point in their lives, and this course can help get them interested in learning more about the process. It's my favorite course to teach."
Exploration of Human Problems: The Paradox of Piracy Today
In a new course called the Paradox of Piracy Today, offered through RIT's College of Liberal Arts, students will discover the historic ties between piracy, theft, commodification, and intellectual property.
The course is co-taught by Sarah Burns, from the Department of Political Science, and Amit Ray, from the Department of English. The course was born out of an interest to form a connection between Burns' expertise on state-sponsored terrorism and traditional piracy and Ray's expertise on copyright and intellectual property law.
"The idea of copyright—the fact that you can own something that you just created in your own mind—and all the questions around what is profitable, why is it profitable, and what will people do in order to make money are both perennial and evergreen," said Burns. "This has been an issue and question for hundreds of years and we still have no good answers for it, which is why the topic can be engaging to a lot of different people."
Students will study the history and impact of piracy, in part, through gamification. By leveraging elements of live action role play (LARP) in the curriculum, Burns and Ray hope the students will leave the course with a deepened, personal understanding of the issues surrounding piracy and intellectual property.
"It's really interesting to see how piracy and intellectual property move and intertwine, in no small part because of the advent of new kinds of technologies. The latest issues surrounding the training of generative AI brings a lot of these copyright issues to the forefront," said Ray. "Creators have always been caught between content distributors, platforms, and consumers. That tension goes back to the 18th century and is still glaringly relevant today."
Both Burns and Ray look forward to how the new classroom space in the Wallace Library will provide more opportunities for collaboration and gamification in their course this semester.
Themes in Art History: Global Contemporary Art
As part of a revitalized art history curriculum in RIT's College of Art and Design, Assistant Professor Ellen Tani will guide students through the world of contemporary art this semester. The new Global Contemporary Art course will focus on art created from 1989 through present day—or, as Tani describes it, "art that is younger than the internet."
The course, offered through RIT's School of Art, will introduce students to the practices of art history through the study of contemporary art in a global context. Students will consider questions such as how colonization affects the creation and understanding of art, how artworks respond to shifting boundaries of language, culture, and national borders, and more. Ultimately, they will hold a magnifying glass to the ways art is used as an expression and documentation of the human experience under globalization.
"Artwork in the contemporary period is less about the object you make and more about the questions you ask about the world," said Tani. "We are always living with the effects of the question, 'how do we write the history of now?' It's a perplexing question, but that's part of what contemporary artists are doing through their work."
Tani emphasized that art history isn't just a matching game of artworks and dates, and instead it can teach students to think more deeply about the visual world around them. Particularly at a point in time where there is an abundance of media vying for their attention, Tani believes this is an important skill for students to hone.
"One of the stated aims of the class that I share with my students on the first day is that a key goal for me is to deepen the quality of their attention," said Tani. "Your attention is a commodity in this age. People want it, and they want to pay for it. So it's important to understand how you can sharpen and deepen your visual attention skills and fully understand the value that it carries in the world."
Topics