'Spoon River Anthology' finds life at RIT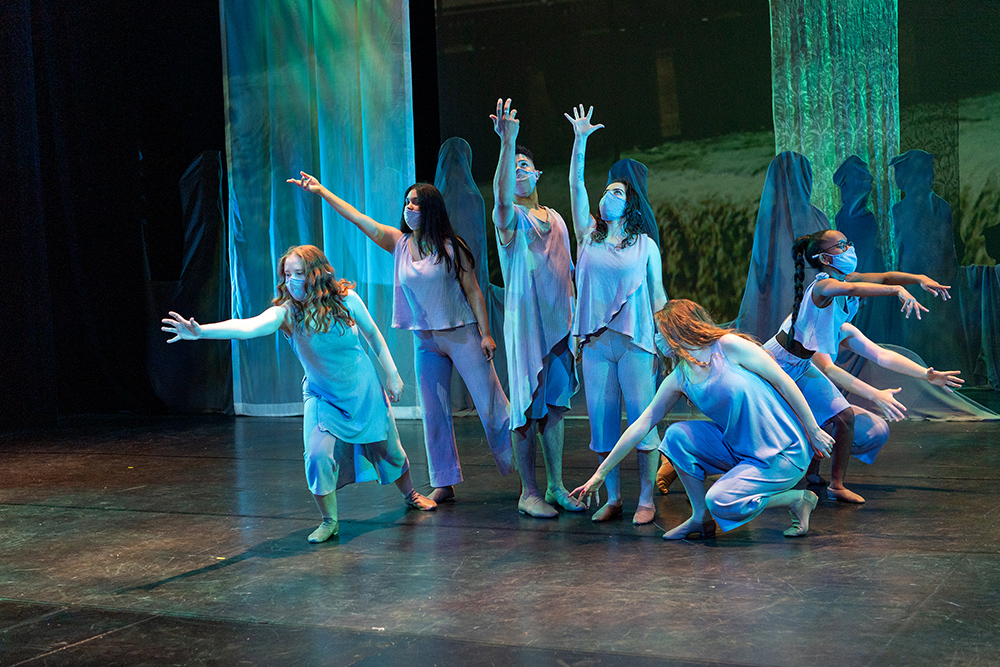 Mike Guinto
A story written 100 years ago featuring epitaphs from dozens of deceased individuals is finding life this week as Spoon River Anthology premieres Saturday virtually on YouTube for the fall production from Rochester Institute of Technology's National Technical Institute for the Deaf.
Watch Online
NTID Performing Arts Presents: Spoon River Anthology, available on YouTube.
The production features nearly 150 RIT students, faculty, staff, and alumni from around the country portraying 72 characters who tell individual stories to create a sense of what it takes to create a community. Just like most NTID plays, each character is portrayed simultaneously by two actors — one who uses sign language, and one who uses a spoken voice. The production is also captioned.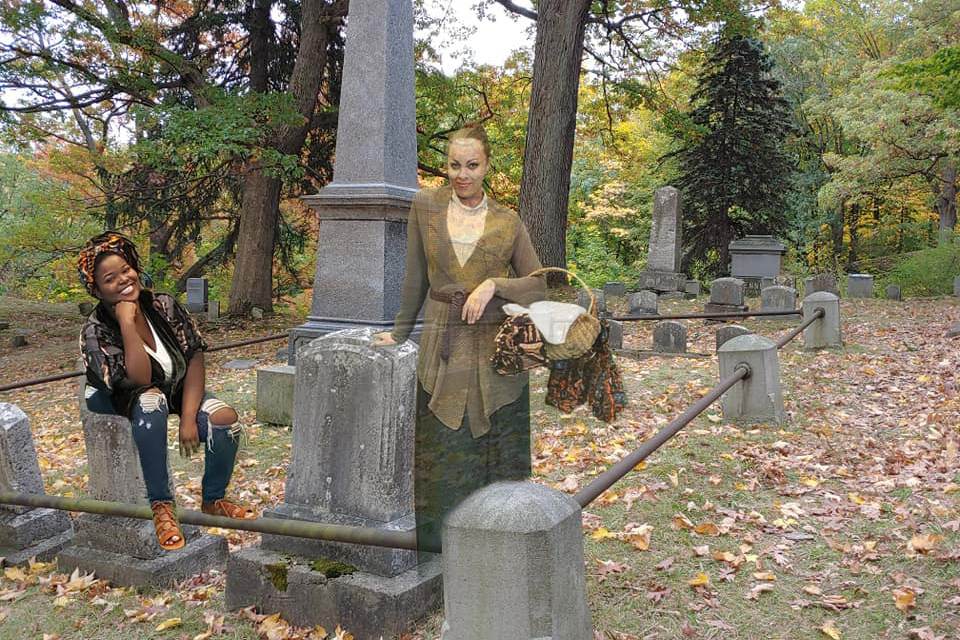 Joseph Fox
But what is different is that most of the actors worked virtually with others, due to the COVID-19 pandemic. That's an ironic aspect not lost on its curator and adapter-director, Luane Davis Haggerty, who chose Spoon River because the characters' spirits can be produced to pop up in cemeteries and other locations with help of technology and green screens.
"It gives a sense of past and present coming together through the magic of theater," she said. "And the monologues look phenomenal with the projection and digital imaging."
Cast members include alumni who have acted in theaters across the country. Even NTID President Gerard Buckley makes an appearance. They rehearsed in various locations, including Mt. Hope Cemetery, parks, a playground, even a goat farm.
Thomas Warfield, RIT's director of dance, dances in the production and sings "Deep River," in homage to his uncle, William Warfield. A troupe of dancers, choreographed by Lecturer Marc Holland, are also featured in transitional scenes.
Susan Murphy, an Ithaca-based composer, wrote the opening theme song, "One Hundred Years," which Davis Haggerty sings.
Noted poet and storyteller Patrick Graybill portrays the gardener and narrator throughout the production, wandering in and out through other people's stories. At the end, he signs a poem, "On His Deafness," written by Robert Panara, whose message is that we all are basically stardust in one big supportive universe.
Years ago, Davis Haggerty first read Spoon River but decided against producing it. "All of the monologues were epitaphs. I read through them and they were all dead people. I couldn't see the value at that point," she said.
Now, she says Spoon River is the perfect choice.
"There's a parallel from when Edgar Masters wrote this piece. They were in the midst of a flu pandemic, they were on the edge of war and in an election year. There were an awful lot of the same concerns, stresses, relationship problems. It is stunningly recognizable."
But, she says there's even more meaning to it.
"It's a message of encouragement. They said then it was an unprecedented time, they had never seen anything like it. Today, it shows that, yes, the world is having a terrible 100-year event, and each generation handles it differently. But, the community doesn't stop because you die. The spirit of the community lives long beyond the physicality. We're going to get through this."
Genny Callejo, a Master of Science in Secondary Education student from Red Hook, N.Y., served as stage manager and assistant, helping Davis Haggerty email the actors, work with the stage crew, videotape, and caption.
"I've always loved theater," Callejo said. "It's always been that thing that got away from me in high school, so it's really nice to be part of the theater in some way, shape, or form."
Although this untraditional production won't feature a physical cast party, Davis Haggerty said there will be a Zoom party on opening night.
"We'll log on and raise a glass of whatever we happen to have and toast the opening of the show and we'll probably all watch it at the same time," she said.