Creative Entrepreneurship
Our faculty are practicing professionals across a number of fields — and in many cases, their creativity merges with an enthusiastic entrepreneurial spirit.
They are successful business owners and freelancers who use their creative knowledge and skills to execute big ideas and help move industry forward. They truly practice what they teach. Entrepreneurial opportunities are widely available for students across RIT, too.
Faculty and students who lead business endeavors in creative fields include:
Workinman Interactive
Many RIT alumni have gone on to work as game artists and designers at Rochester-based game studio Workinman Interactive. The company — started by Associate Professor Jason Arena, co-program director of New Media Design, and Keith McCullough '03 (New Media Design) — focuses on the youth market. Workinman has created more than 1,000 games and interactive experiences for high-profile clients such as Disney, Mattel, Nickelodeon, Nintendo and Sesame Street. Much of Workinman's workforce graduated from RIT, with a host of those employees (past and present) going through programs in the College of Art and Design.
Pictured: a collection of character designs for Workinman games by Bryan Williams '08 (Illustration), artist/animator for the company.

Command+g Design Lab
Command+g Design Lab began in 2019 with four women graphic design students under the guidance of Assistant Professor Keli DiRisio and Associate Professor Nancy Bernardo. Since that time, Associate Professor and Graphic Design Program Director Carol Fillip and Professor Lorrie Frear have joined the leadership team. Command+g has evolved into a viable business with an expanded student team of selected junior- and senior-level students as demand for its work skyrocketed after its formation.
Buoyed by a business plan supported by the College of Art and Design Dean's Office and external donations, Command+g employs students at RIT for all aspects of running the business. It also provides a platform to build team members' portfolios and self-promotion strategies in a professional design studio setting. Command+g is a full-service studio which produces projects including branding and logo development, motion, web, video, and app development.
Command+g has executed design work for numerous clients, with a specific focus on community-minded initiatives that assist nonprofit organizations. A signature project was working with Common Ground Health and teens from across five counties to create a mental health awareness campaign, which was featured in libraries across the area.
Other clients include LIV Golf, Left Brain Consulting, Benicasa, Artists Unlimited, Onyx Spear, Compass Consulting and various departments on RIT's campus. View examples of work on the Command+g website.
Rachel Jerome Ferraro, Assistant Professor, Advertising Photography
In addition to her photographic work being exhibited around the world, Ferraro has been widely published by editorial and advertising clients. Her impressive list of clients includes Amazon, MTV, NBC, The New York Times, TIME, Vogue and The Weather Channel.
Gary Jacobs, Assistant Professor, 3D Digital Design
Jacobs is an architectural illustrator and environment concept artist who owns Jacobs Illustration. While his clients are located throughout the U.S., his design work can also be found locally in the walkway canopy at the Greater Rochester International Airport. He completed the concept design and 3D model used for the structure.
Clay Patrick McBride, Senior Lecturer, Advertising Photography
McBride has photographed some of the biggest names in pop culture for publications such as New York Magazine, Rolling Stone, and Sports Illustrated. His portfolio of portraits includes Allen Iverson, Jay-Z, Kanye West, LeBron James, Metallica and Norah Jones.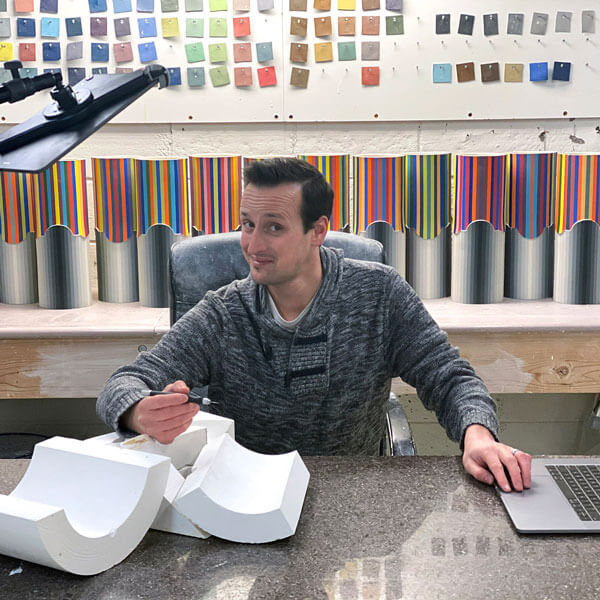 Peter Pincus, Assistant Professor, Ceramics
Pincus runs a studio in Penfield, N.Y., where he creates beautifully colored vessels that wow audiences all over — including his 60,000-plus Instagram followers. He exhibits his work nationally and internationally, and can be found in numerous private and public collections, including the Daum Museum of Contemporary Art and the Everson Museum. Pincus is also a 2017 Louis Comfort Tiffany Award recipient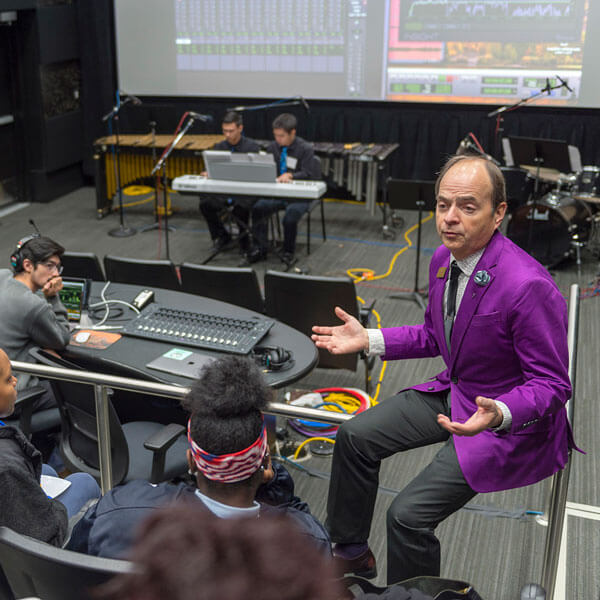 Dave Sluberski, Senior Lecturer, Film and Animation
Through his company West Rush Media, LLC, Sluberski has produced, designed and mixed audio for a wide variety of broadcast media and digital distribution networks. His clients include the Rochester Philharmonic Orchestra, WXXI Public Broadcasting Council, University of Rochester and the Canadian Broadcasting Corporation, as well as independent filmmakers. An expert audio engineer, Sluberski's many accolades include winning a 1994 Peabody Award — which honors the most enlightening and powerful stories in broadcasting.