Alumna leads design of Adobe's new AI software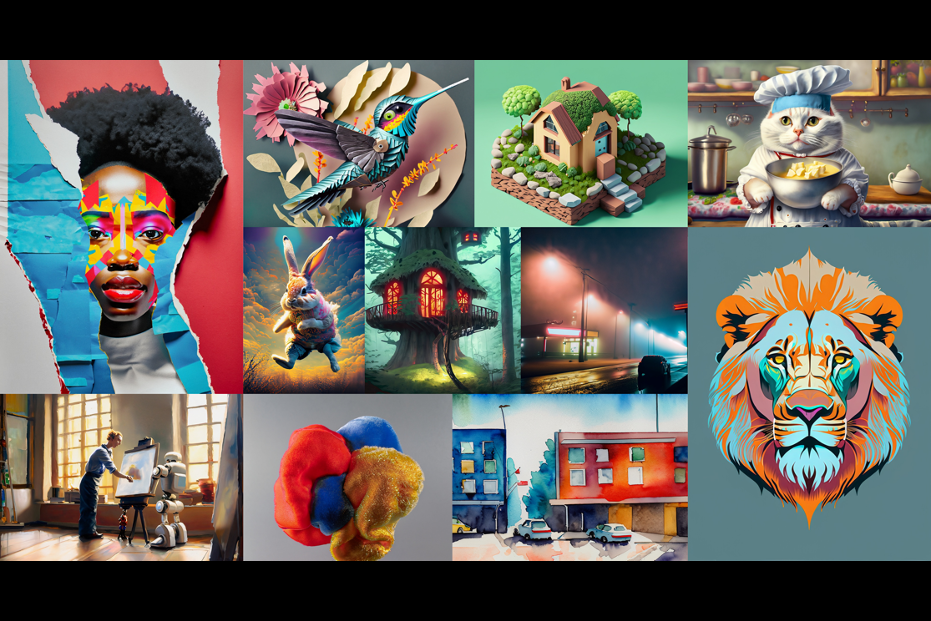 As generative artificial intelligence explodes as a hot technology trend, Kelly Hurlburt '17 (new media design) is doing her part to ensure it is deployed responsibly. 
Hurlburt, senior staff experience designer at Adobe, was a lead designer of Firefly, Adobe's brand-new generative AI software currently in beta mode. 
Algorithm-powered generative AI tools like Firefly allow users to rapidly manifest images based on entered keywords. To Hurlburt, Firefly invites more people into a creative space that can be out of reach. 
"Being a creative professional in the modern world is inaccessible for many people," Hurlburt said. "It requires lots of esoteric knowledge and hours of training on how to use complex, dense software. For many, the time and education needed to express a creative idea is an insurmountably high barrier. My hope for generative AI is that we can reduce this gap between tool and idea, and make previously difficult or tedious creative tasks much simpler."
Responsibility coincides with such technological advancement. 
In developing Firefly, Hurlburt said she and the rest of the design team considered three chief concerns expressed by the creative community about generative AI:
How artists' work is being used to train AI models without consent
What the technology means for the role of creatives in the future
How generative AI influences society at large
To address the worries, Hurlburt said the Firefly team trained the software to only use Adobe Stock and public domain images out of copyright. She also cited a committed focus to integrating AI into the existing workflows to expand, not replace, the role of creatives and applying measures to increase transparency and reduce bias of results of the AI model.
"I care deeply about art and my fellow creatives, so I feel grateful to be in a position where I can tangibly influence the technology in a positive direction," Hurlburt said. "It's some of the most critical work I could be doing in the creative industry, and I take that responsibility very seriously."
Hurlburt was extensively involved with the overall strategy and design of Firefly.
She led workshops with design, product, engineering and business strategy teams to "help define Adobe's approach toward building a generative AI model." In collaboration with a design researcher, she interviewed members of the creative community, all in service of "building Firefly responsibly," she said. 
Along with a teammate, Hurlburt also designed the Firefly beta website and will continue working on generative AI features moving forward. 
"Working in the generative AI space is both exciting and intimidating," Hurlburt said. "There are a lot of unknowns about how the technology may develop and the impact it may have on both the creative industry and society more broadly."
Hurlburt has been at Adobe for nearly six years, starting right after graduating from RIT. She said the new media design program's training in a variety of disciplines — UX/UI design, graphic design, animation, 3D, video and photography — suited her for the role. 
"I feel like new media design perfectly prepared me to work at Adobe in particular," Hurlburt said. "I had a ton of domain knowledge about the industries and workflows reflected across Adobe Creative Cloud. Many other designers don't necessarily have this same breadth of experience. 
"Like RIT, Adobe is also very much an intersection of art and engineering. It was a space that felt right at home. New media definitely gave me the skills to be a competent and thoughtful designer from the beginning."
Hurlburt is among a number of RIT College of Art and Design alumni working for Adobe Design. 
"I love the unspoken ease at which we are able to collaborate together," she said.
Topics