Atiba Jefferson shares his skills and experience with photography students during visit to RIT
Jefferson is a photographer for 'Thrasher' and member of Canon's Explorers of Light program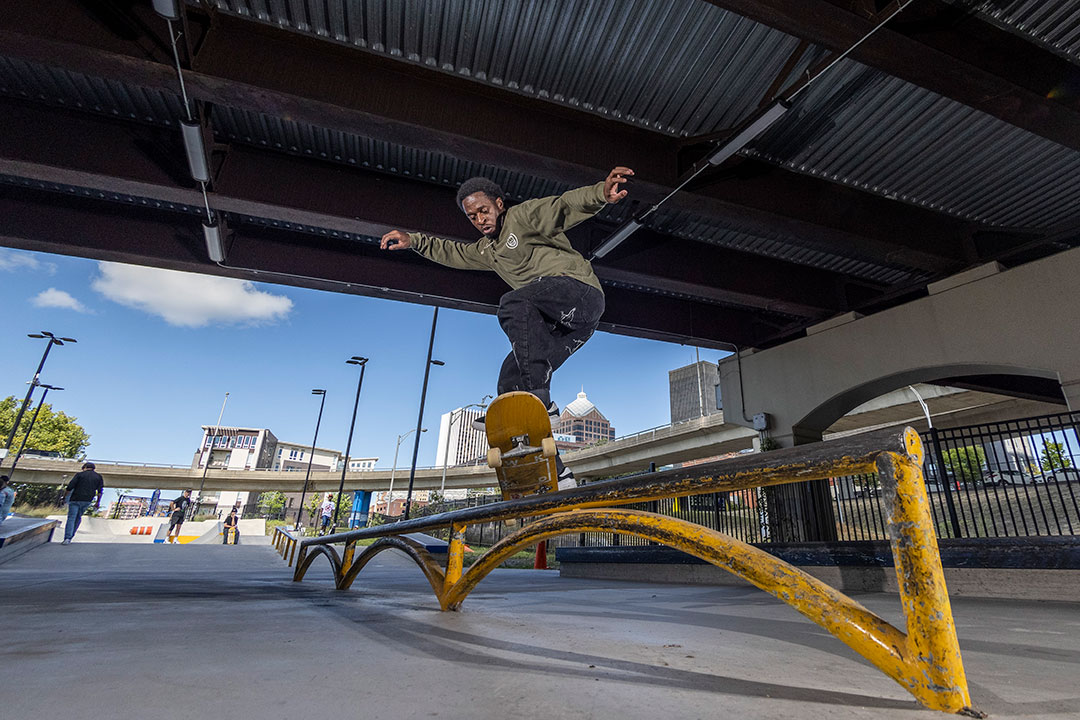 A group of RIT photography students dropped in at Roc City Skatepark last Friday with photographer Atiba Jefferson to practice their photo skills and learn from an industry expert.
Evie Linantud, a fourth-year photojournalism student from Houston, said that participating in the skatepark workshop helped her learn new techniques that will be useful as she begins her own photography career.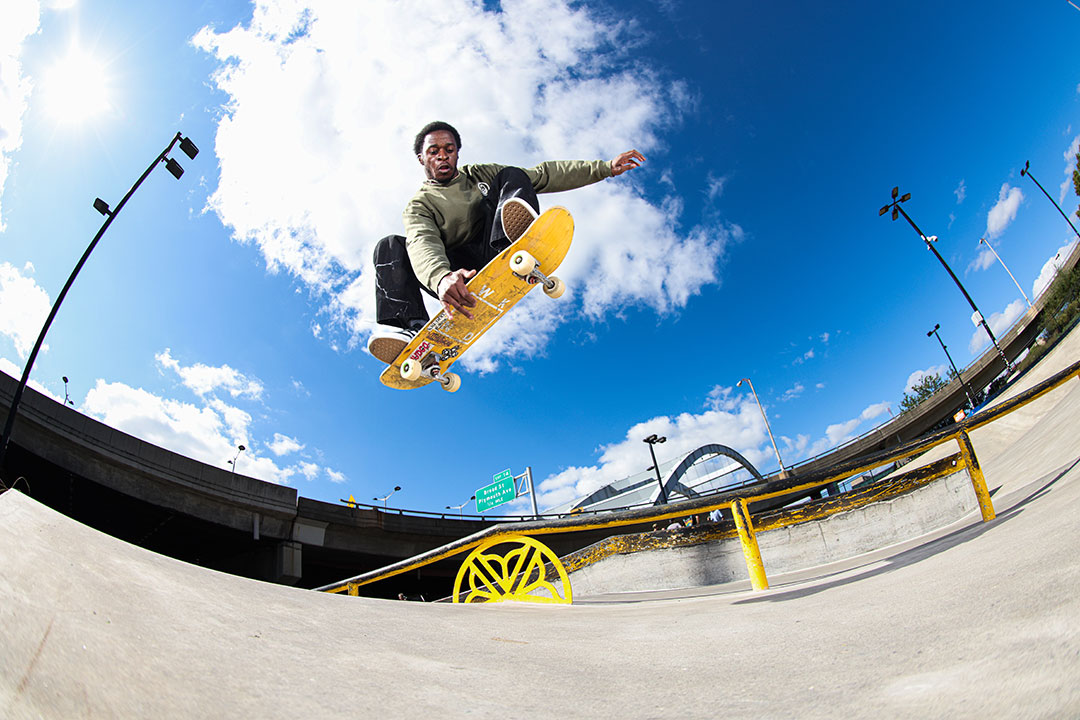 Kayla Bartkowski
"During the workshop we only had two shots at taking a photo, so we had to be really serious about it. It made me think more about what I was doing in the moment rather than just relying on the fact that I could just do it again. Because, really, I couldn't," said Linantud.
Jefferson, photographer at Thrasher magazine, is also a member of Canon's Explorers of Light program. Through the program, he was able to visit RIT for three days, from Sept. 13 to 15, to share his industry knowledge with students.
In addition to hosting two photography workshops at Roc City Skatepark, Jefferson visited several photography classes, gave a lecture about his path to photography, and hosted drop-in sessions where students could come and discuss their work.
"I had a really great time with the students and it's been an amazing opportunity to be here," said Jefferson. "I make time to do these workshops and lectures because I was the same as these students at one point in my life. There were a lot of things I didn't know and people close to me took the time to teach me to be the photographer I am today. I hope that I was able to inspire and help the students this week."
Jefferson is best known for his 25 years of skateboarding photography. In addition to working for all of the major skateboard publications, he also has a deep history in basketball. He assisted the staff photographer for the LA Lakers during the Shaq and Kobe years, and shot more SLAM magazine covers than any other photographer. He has also shot for commercial clients such as Supreme, Adidas, Nike, Converse, Reebok, ESPN, Gatorade, Mountain Dew, Oakley, Pepsi, Canon, and Netflix.
Clay Patrick McBride, senior lecturer in RIT's School of Photographic Arts and Sciences, helped facilitate Jefferson's visit to Rochester. According to McBride, getting students out of the classroom for hands-on experiences like the skatepark workshops is invaluable when it comes to honing their photography skills.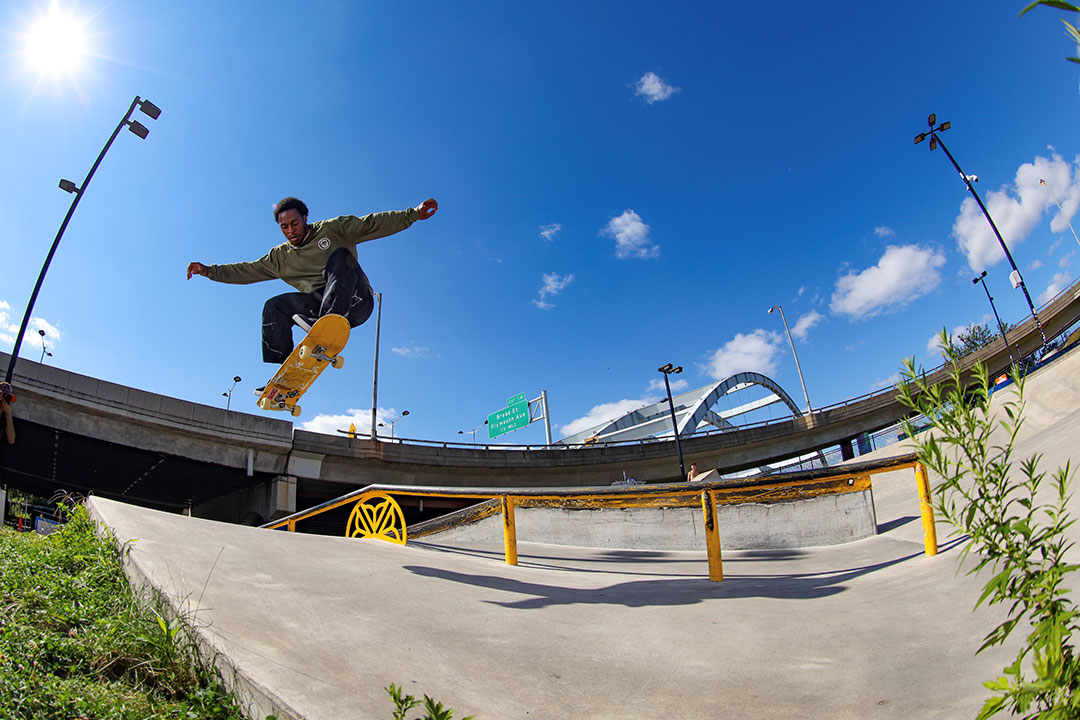 Evie Linantud
"A situation like this is a once in a lifetime opportunity for our students. This is like if Obi Wan Kenobi taught you how to use the lightsaber, or if Michael Jordan taught you how to do a jump shot," said McBride. "This is a master at his craft teaching a younger generation how to do it, and this is a real golden moment that RIT will remember for a long time. We're grateful to the people at Canon for making it possible."
Canon's Explorers of Light group is comprised of dozens of the most influential photographers in the world, each a master of their creative specialty. These photographers aim to share their photographic passions and technical expertise with eager audiences across the nation, including students.
Fourth-year student Kayla Bartkowski, a Rochester local, shared that her excitement for working with an industry professional like Jefferson was only rivaled by the awe she had for the number of ollies local skateboarder and model Brantley Debose did during the workshop. She said the experience at the skatepark helped her learn more about lighting and location-based photography—both skills that are crucial for a photojournalism major like herself.
"As a photojournalist, we have to be able to work in very high energy and intense environments with a lot going on, so I think this was a really great way to practice being aware of your surroundings as well as focusing on the subject and taking the photo," said Bartkowski.
Go to the Canon website to learn more about the Explorers of Light program. See samples of Jefferson's photography on his Instagram, @atibaphoto.

Erin Bonitz