Game design course immerses students in Japanese video game industry
Two-week trip features visits to cultural sites, professional game studio, and a game jam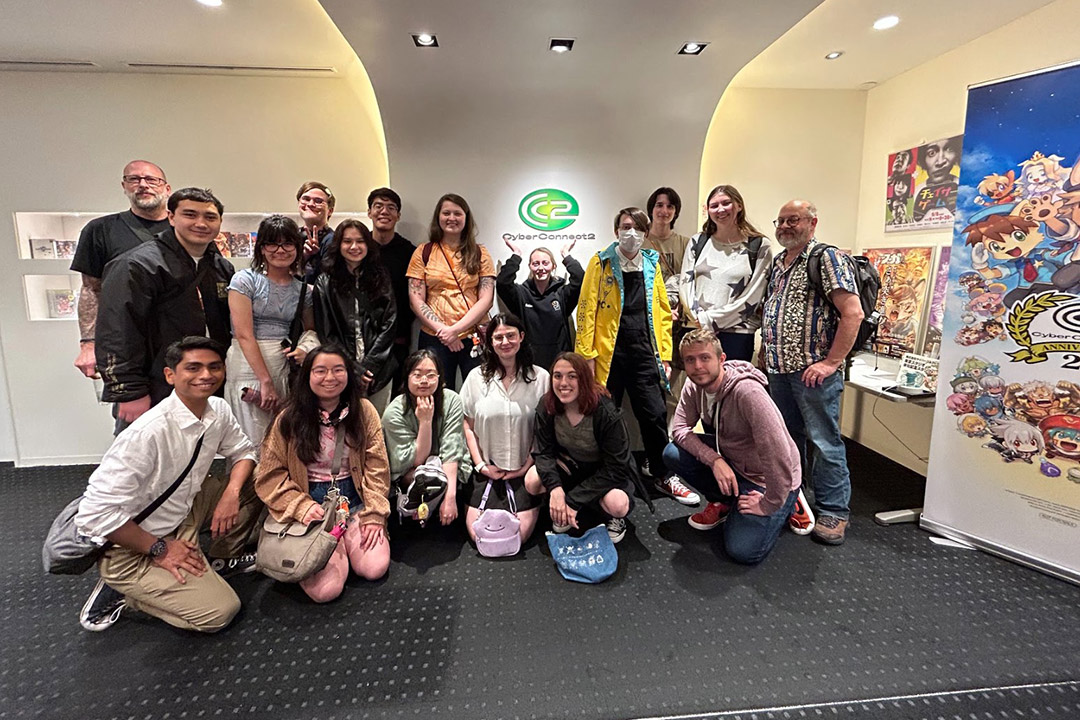 There was an extra two weeks of class for some Rochester Institute of Technology students who ended their semester with a trip to Japan.
The trip was the culmination of a Japanese Game Industry course last spring, where students learned about the world's third largest video game market. For the travel-enhanced course, students immersed themselves in the culture, participated in a game jam with Japanese students, and visited a Japanese game studio.
The 16 RIT students came from a range of disciplines, including 3D digital design, computer science, game design and development, new media interactive development, new media design, film and animation, and photographic and imaging arts. The trip went through the Japanese cities of Kyoto, Hiroshima, and Tokyo.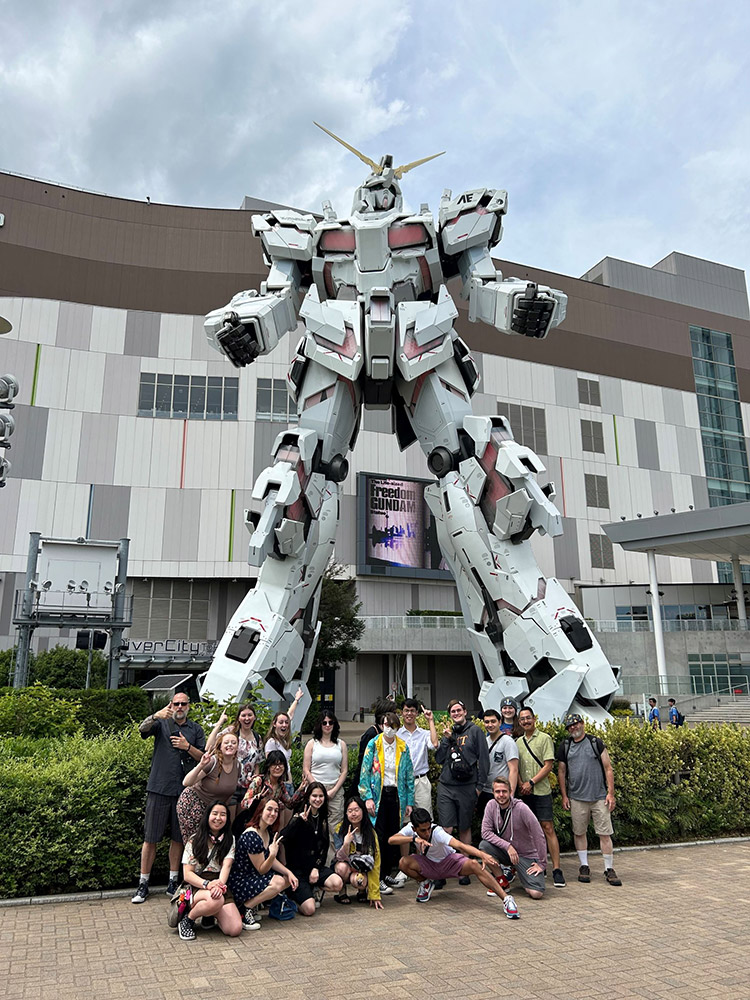 Stephen Jacobs
Japan was a bucket list destination for Fabian Sanchez, a fourth-year film and animation student who took the class. Leading up to the travel-enhanced course, he even took Japanese language courses at RIT.
"I didn't know if I would ever go, but once I saw the study abroad course, I knew it was a perfect reason," said Sanchez, who is from Tappan, N.J. "What better way to visit a country than with people I know and a reason to learn."
While in Japan, RIT students visited the Kyoto Computer Gakuin (KCG) to collaborate with Japanese students who are in the school's digital games and amusements programs. For one weekend, the students teamed up for a game jam to create video games from scratch around the theme of collaboration across cultures.
Leading up to the trip, Sanchez and his team members from RIT and KCG began brainstorming their game ideas over Discord and using translation apps. His team created a two-player, 3D-puzzle platforming game where two aliens from different planets must work together in order to advance. Sanchez was in charge of animation and 3D modeling, working to create the main characters and their special abilities—one had super strength, while the other had a blaster arm.
"Getting the chance to work with people who come from different cultures and places is really valuable, because it's going to happen again outside of college," said Sanchez. "Learning how to communicate and interact with people effectively and jump over those barriers is really important. It can help foster a connection that makes working together easier and opens new doors and opportunities."
At the game jam, students also created a game to teach Japanese and English language. Another game called Godfoot allowed players to battle a boss monster that was Godzilla on the top and Bigfoot on the bottom—created by RIT animation student Emma Oshio.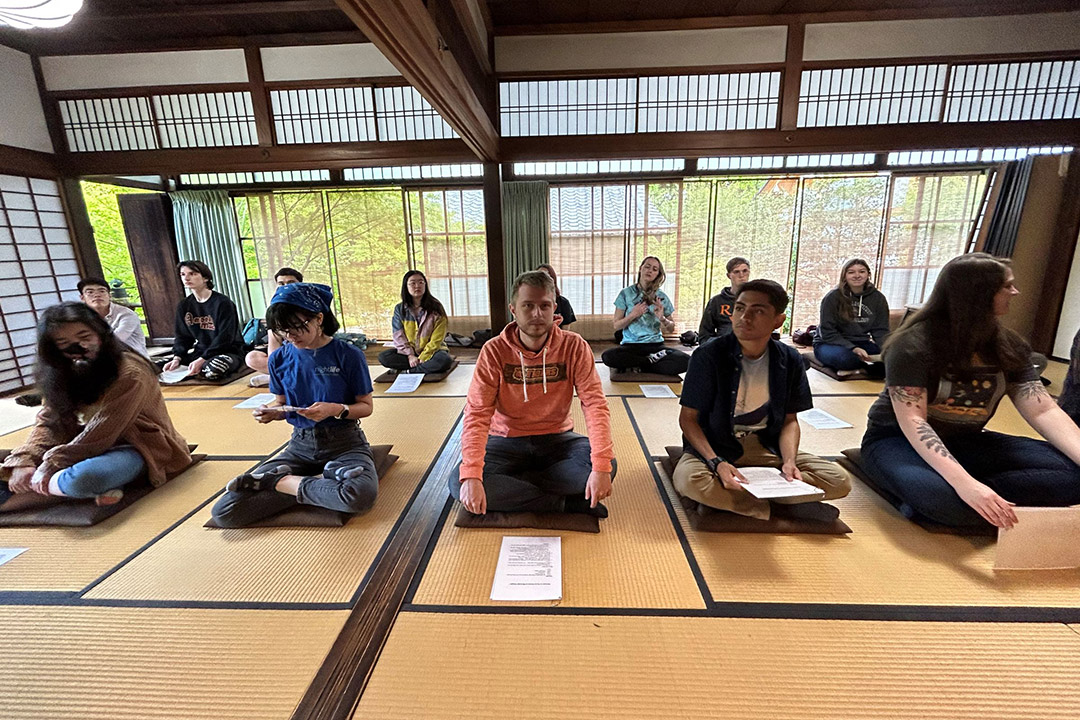 Stephen Jacobs
Stephen Jacobs, a professor in RIT's School of Interactive Games and Media (IGM), has taught study abroad courses on the German and Japanese video game industries before. He chose to create a study abroad to Japan because of the country's key role in the video game industry. This course was also led by IGM lecturer Sten McKinzie and supported by American Sign Language interpreters Shannon Smith, Hannah Smith, and Todd Thieu.
"Video games are an international industry, and it's important to have experiences like this on your résumé," said Jacobs.
Students toured the Japanese video game development studio CyberConnect2, known for its games based on the Naruto and .hack franchises, among others. At the Unreal Fest event in Tokyo, students also got to see work created using Unreal Engine and other game tools from Epic Games.
In addition to video game-related visits, the RIT group took time to experience the history and culture of Japan, making stops at shrines, temples, and the Tokyo Imperial Palace Gardens. They also took part in a tea ceremony and visited the Nishiki Market, the Miraikan National Museum of Emerging Science and Innovation, and the teamLab Planets immersive art installations.
As part of this year's trip, students logged their adventures in a class blog.
RIT offers some of the world's best programs for aspiring game developers in the world, according to international rankings from The Princeton Review.
Topics