Mobile library prepares for maiden voyage in College of Art and Design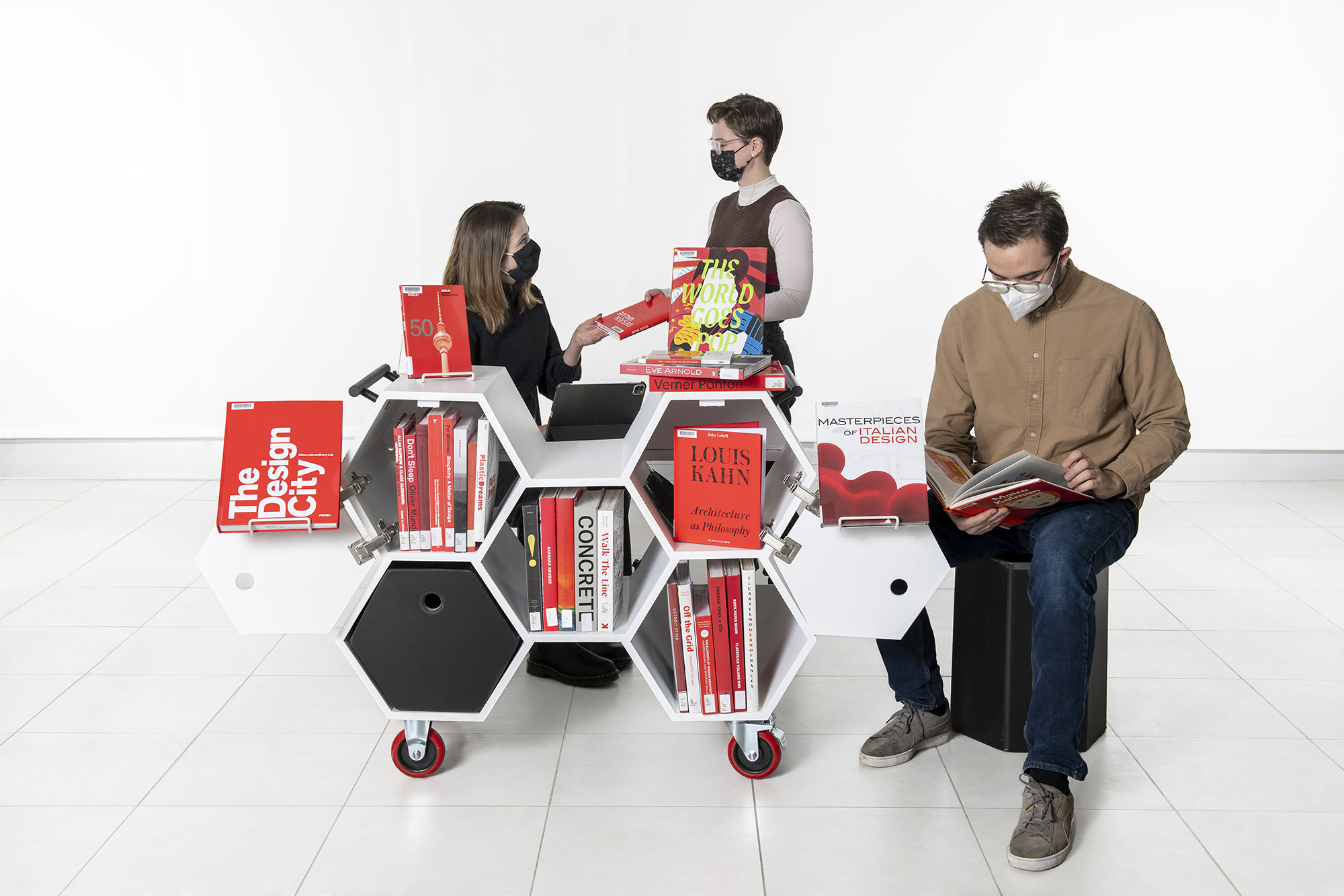 The rich visual resources housed in RIT Libraries will soon roll into the fingertips of College of Art and Design students. 
The Hexacart — a mobile library on wheels fashioned by Industrial Design students and spearheaded by Associate Professor Amos Scully in collaboration with Kari Horowicz of RIT Libraries — is set to make its maiden voyage this semester. The cart offers a curated pop-up experience to explore books, journals and electronic databases while saving a trip to the library.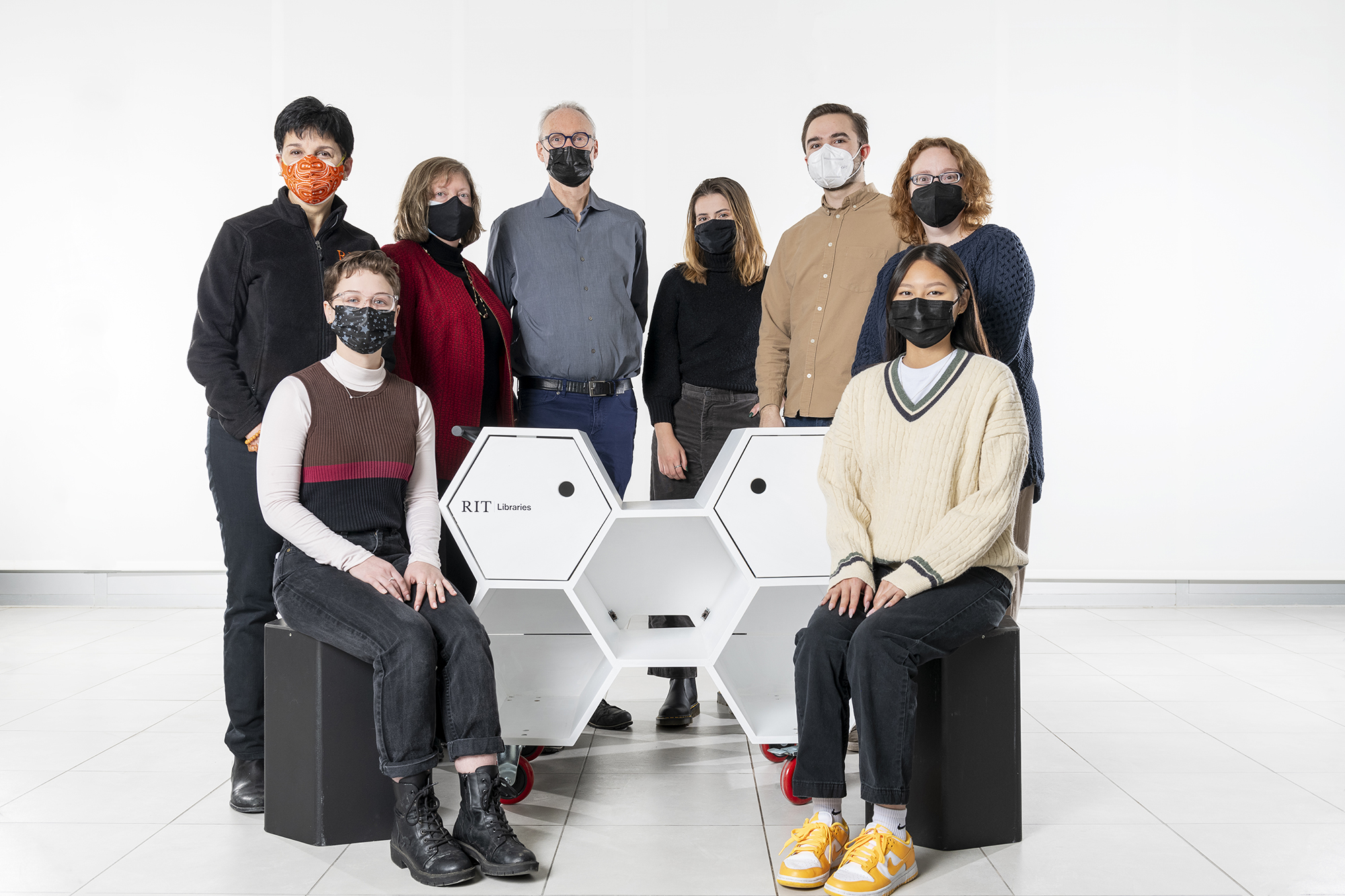 Elizabeth Lamark
Horowicz, the College of Art and Design's librarian in RIT Libraries, said the Hexacart will be set up in public areas of the college's main buildings (Booth and Gannett Halls), wielding a targeted stock of books for students to browse. It's meant to be a serendipitous survey of the inspiration sources living in RIT Libraries. 
"It really immerses and reminds everybody that we have this great library that can serve as a spark for inspiration and creativity, using books and journals to discover something new," Horowicz said. 
The cart will launch with a visit to the Industrial Design studio (Booth Hall, fourth floor) from noon to 2 p.m. Tuesday, Feb. 22. Moving forward, a schedule of upcoming stops can be found on the project's InfoGuide. 
The Hexacart's contents will be ever-changing, Horowicz said. Book selections are to be informed by each destination, catering to the interests of students in a specific route's area. A stop in the vicinity of a photography class will cue a collection of photobooks, for example.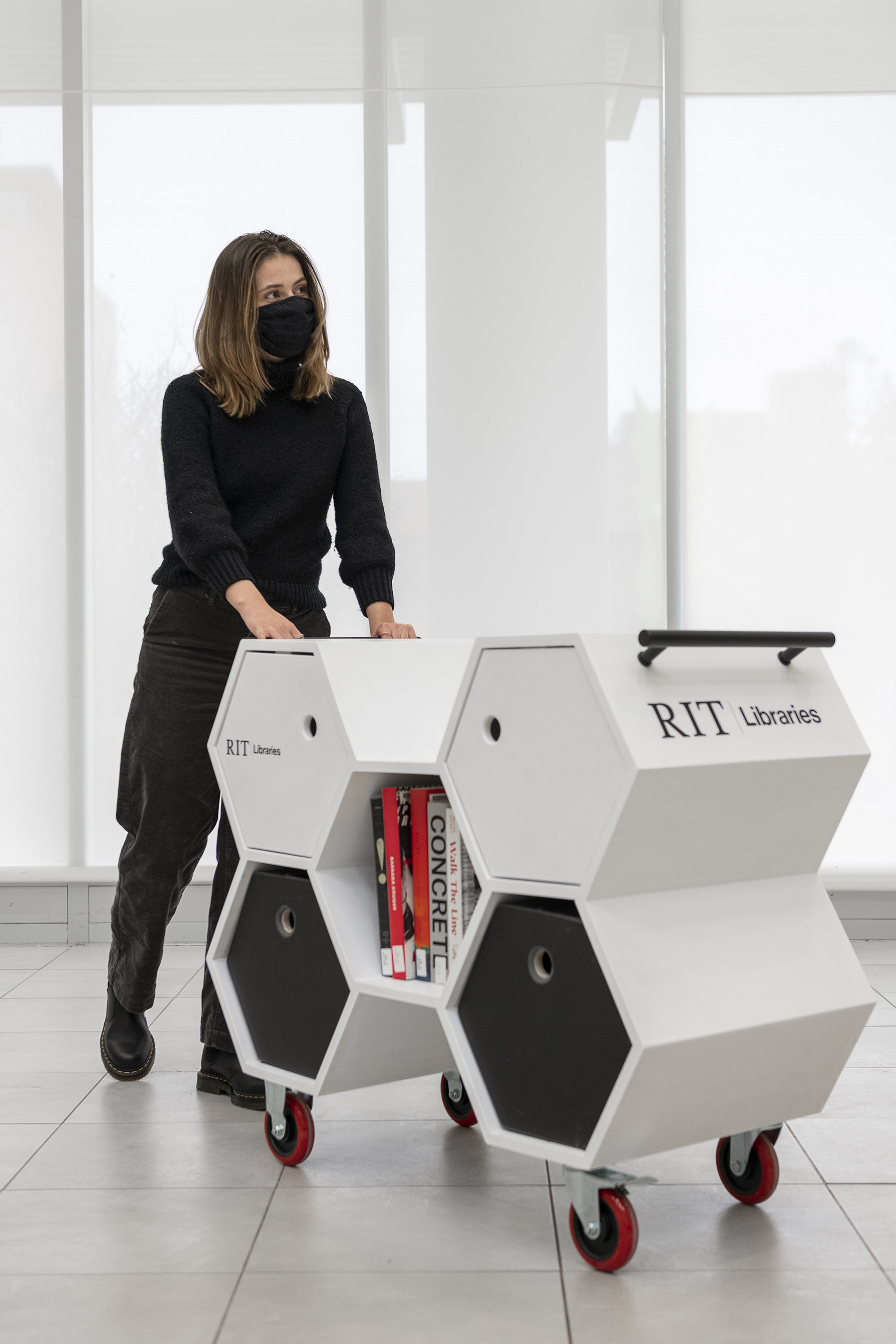 Elizabeth Lamark
The trio of Lesley Mai, Michael McNaught and Gwen Riemer — fourth-year Industrial Design students — completed independent studies to produce the Hexacart with Scully. Brynna Justice, a third-year Industrial Design student and RIT Libraries student ambassador working with Horowicz, along with Industrial Design MFA student Xiuyu Shi were also key contributors to the final build out.
"The goal is to attract intrigue from members of the College of Art and Design community," McNaught said. "The library has some amazing resources for art and design students that I wish I had taken advantage of sooner."
Riemer said function was a top priority with the design. 
"With the Hexacart we aimed to build in anything the librarian would need," Riemer said. "Display space, seating, storage and a checkout area all in one, so the librarian has access to everything they need no matter the area they have set up in. 
"It's been really cool to have the resources to bring our idea to life and it's even better than we had imagined it could be."
After observing the initial versions of a pop-up experience to promote RIT Libraries with books on card tables, Scully pitched to Horowicz the idea of a student project with a design-build of a mobile library cart with storage and hauling capabilities.
The project gave the students real-world parameters of designing for user experience on the campus they inhabit. Students had to balance the strong visual display with practical collapsing and transport through buildings and across the campus. The winning design would go on to build a piece leaving a lasting presence at RIT.
Four student teams in Scully's fall 2019 Sophomore ID Studio worked with Horowicz and then-RIT Libraries student ambassador Erica Boyd '20 (Graphic Design) as they developed and pitched their concepts. The winning Hexacart design was selected for build and implementation.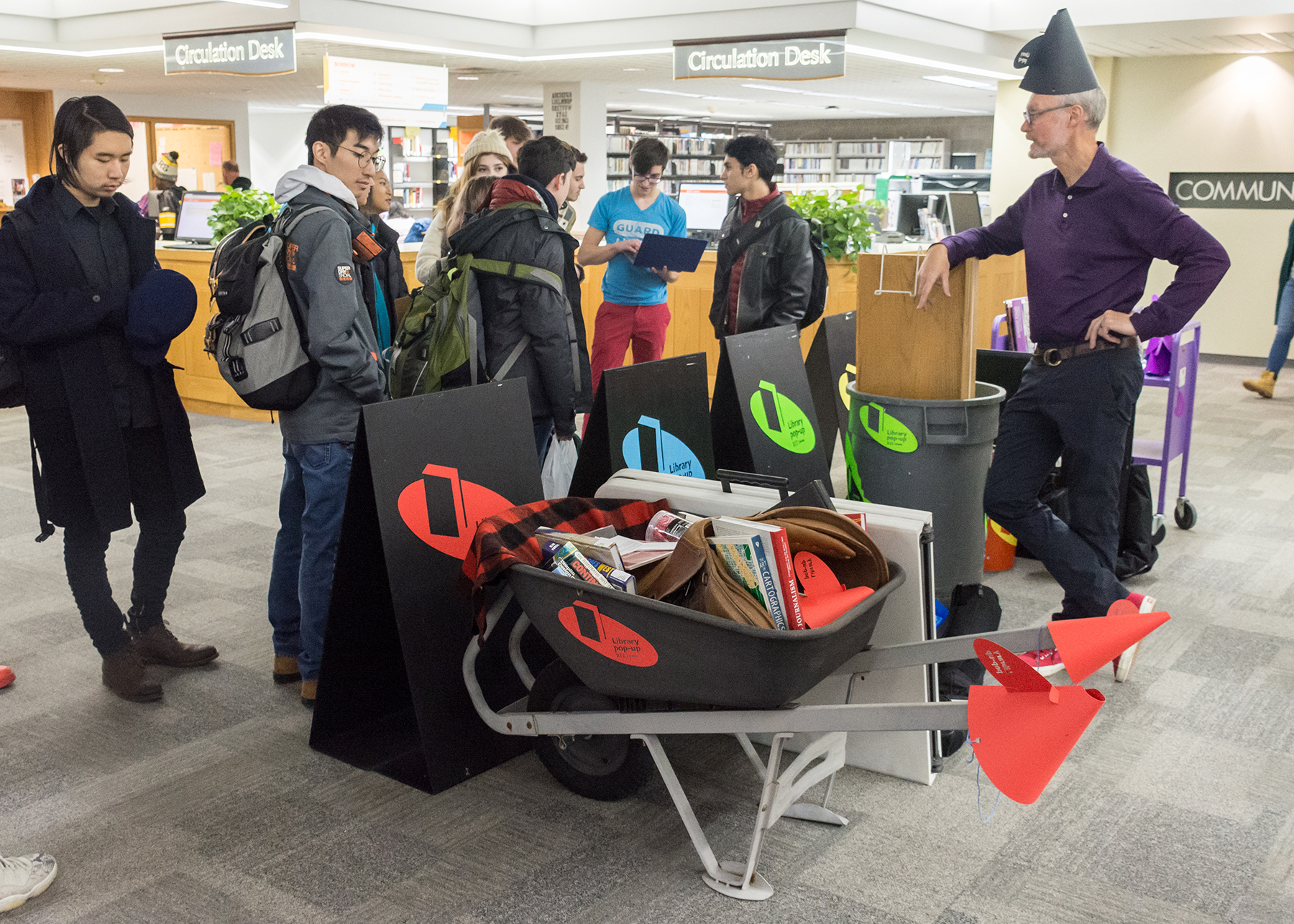 Courtesy of RIT Libraries
The Hexacart has a noticeable visual presence, yet travels efficiently thanks to its collapsible design. With five large, hexagonal storage compartments and ample surface space, it can transport and showcase a range of physical research materials that capture the attention of students, faculty and staff passing by.
"The use of hexagons is a striking visual element, but it also makes the cart much stronger than if we had made a rectangular wooden box of the same size," McNaught said. "It's an aesthetic design choice that also serves a pragmatic function."
The students' design also features stools stored in compartments that pull out to provide an inviting footprint with a work space for an attending library ambassador. 
"The design makes a little community around the Hexacart," Horowicz said. "It fosters a sense of sitting, chatting and dialogue."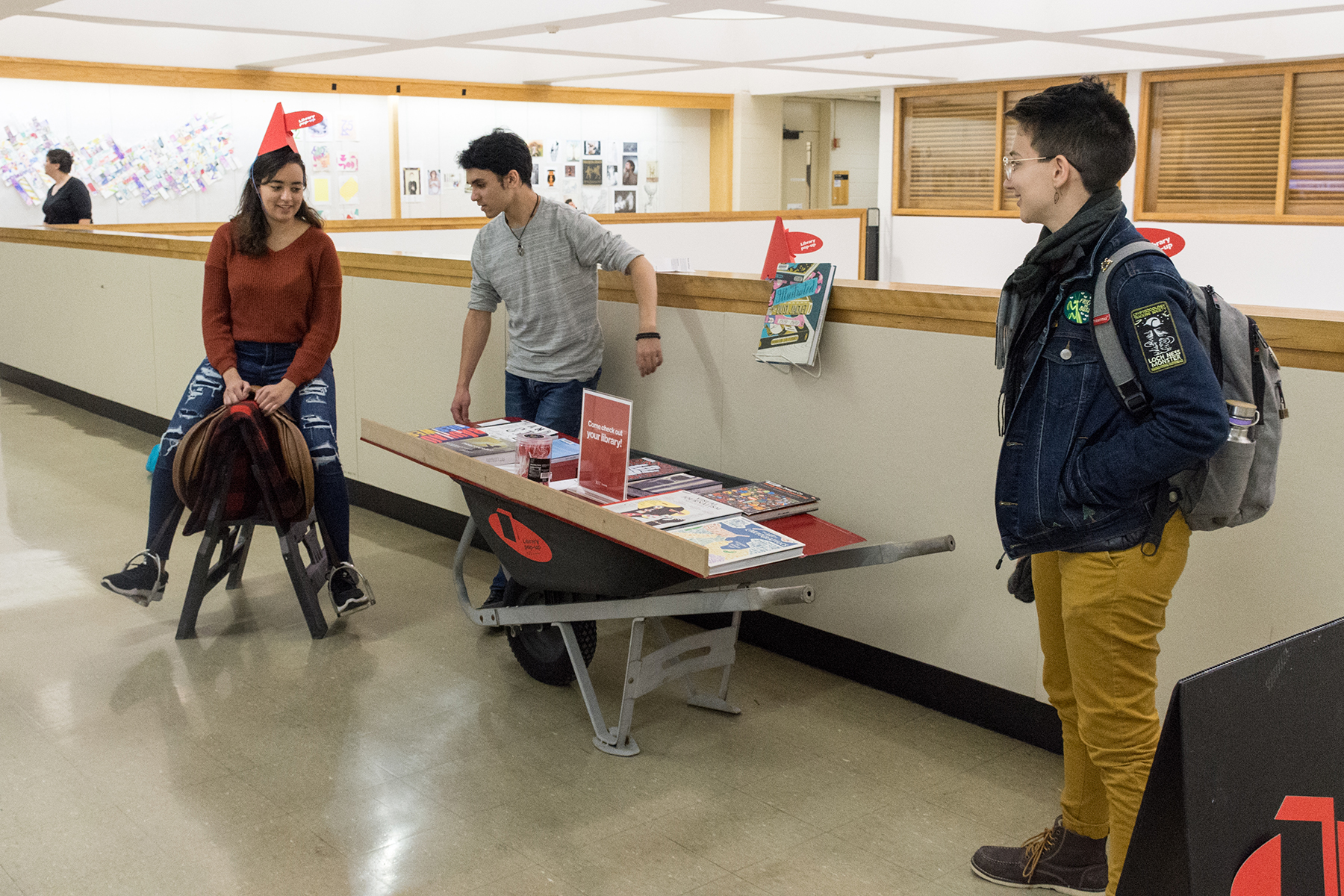 Courtesy of RIT Libraries