Researchers explore how embracing AI can create new opportunities for traditional artisans
Researchers work with Guatemalan artisans to create art in collaboration with generative AI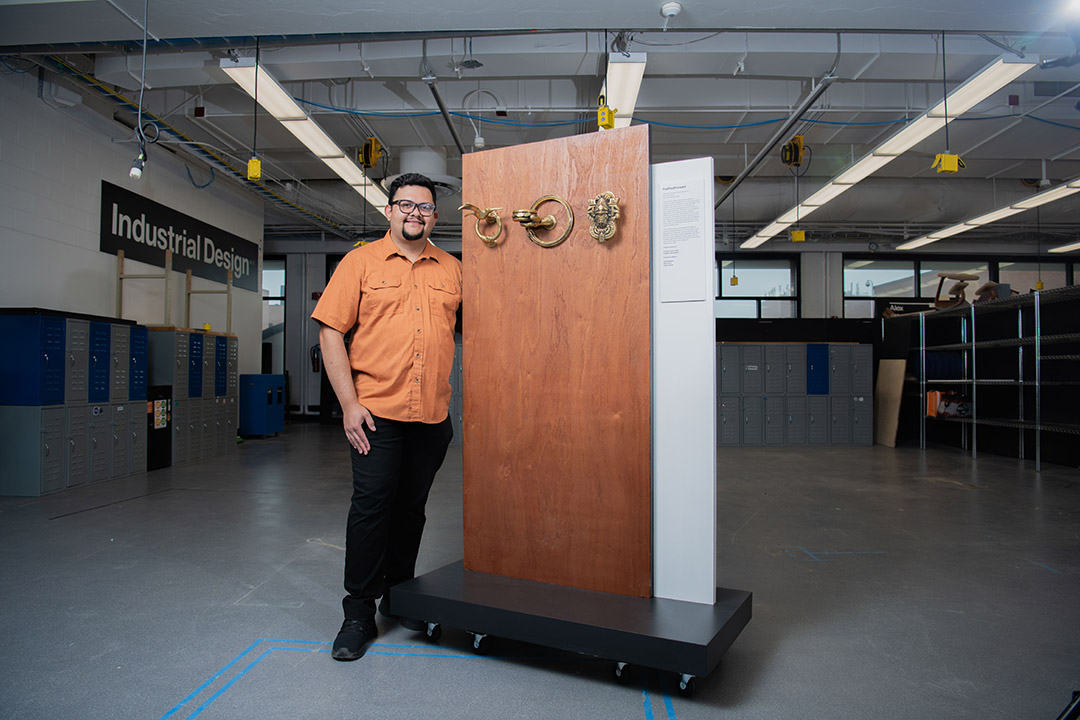 Many creators are hesitant to embrace artificial intelligence (AI) as part of the artistic process. Opting to dive in head first, industrial designers Juan Noguera and Paolo Cardini are interested in the new technology's potential to provide more autonomy for traditional artisans across the globe.
Noguera and Cardini recently worked with a group of Guatemalan artisans— Christa Dieguez, Dany Tinoco, and Carlos Cabrera— to create a set of sand cast bronze door knockers in collaboration with generative AI tools. The sculptures are on display in RIT's Bevier Gallery through Sept. 30.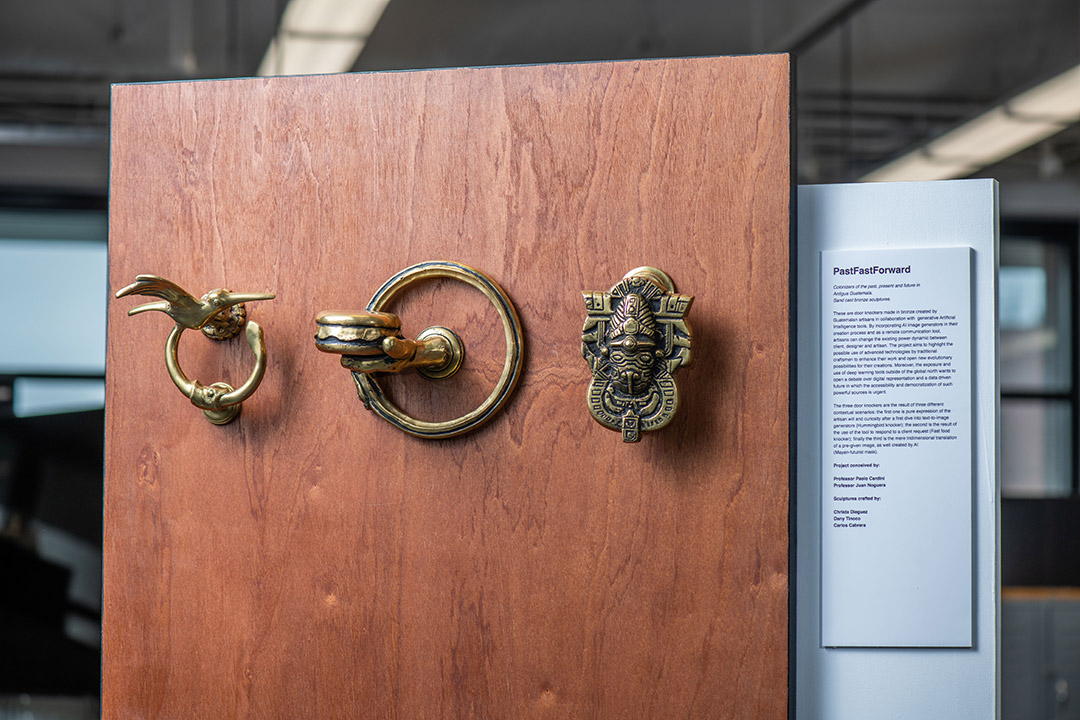 Nate Tangeman/RIT
Noguera, assistant professor in RIT's School of Design, said the idea began with the question of whether incorporating AI image generators in the creation process could change the existing power dynamic between clients, designers, and artisans.
"Often designers will come to an artisan with an idea and ask them to create it, but the artisan tends to be nameless in the process and designers are credited with the final product," said Noguera. "We are trying to experiment with AI to see if it could possibly be a tool that can help break that colonialist cycle and that power hierarchy."
Noguera and Cardini worked remotely with the artisans, based in Antigua, to teach them how to use DALL-E, a text-to-image model developed by OpenAI. After learning to navigate the tool, the artisans created a series of images to support the art concept for the door knockers, which they later fabricated by hand. The group chose to create door knockers because it is a specialty of Dieguez, Tinoco, and Cabrera's family business, which has operated using traditional methods for generations.
Rather than looking toward a future where AI replaces artists, Noguera and Cardini see a future where AI is embraced as a new, accessible tool for the design process.
"The barrier of entry for using these technologies is really low, and it's getting lower. In my mind, using AI can free up a designer's time to think about the more critical things, like making the right decisions to make things sustainable or finding the right experience for users," said Noguera.
While some may reject the addition of AI to their artistic tool kit, Cardini, a professor at Rhode Island School of Design, emphasizes that embracing the new tool doesn't mean the role of the designer or artist is removed.
"The physical sensibility of the material is still very much in the hands of human beings. When a digital image is transformed into a physical entity, it is passing through the hands of an artisan. There is a modification, evolution, and a personal touch that goes into it. That, for me, is the fascinating part about the future," said Cardini. 
Prior to being displayed in RIT's Bevier Gallery, the door knockers were showcased at the 2023 Bogota Design Festival in Colombia. This project was funded, in part, by Rochester Institute of Technology and Rhode Island School of Design.
Topics