June 28, 2022
by Felícia Swartzenberg
RIT Croatia launches a new media design program, accepting students for fall 2022
Students in the program will earn both American and Croatian degrees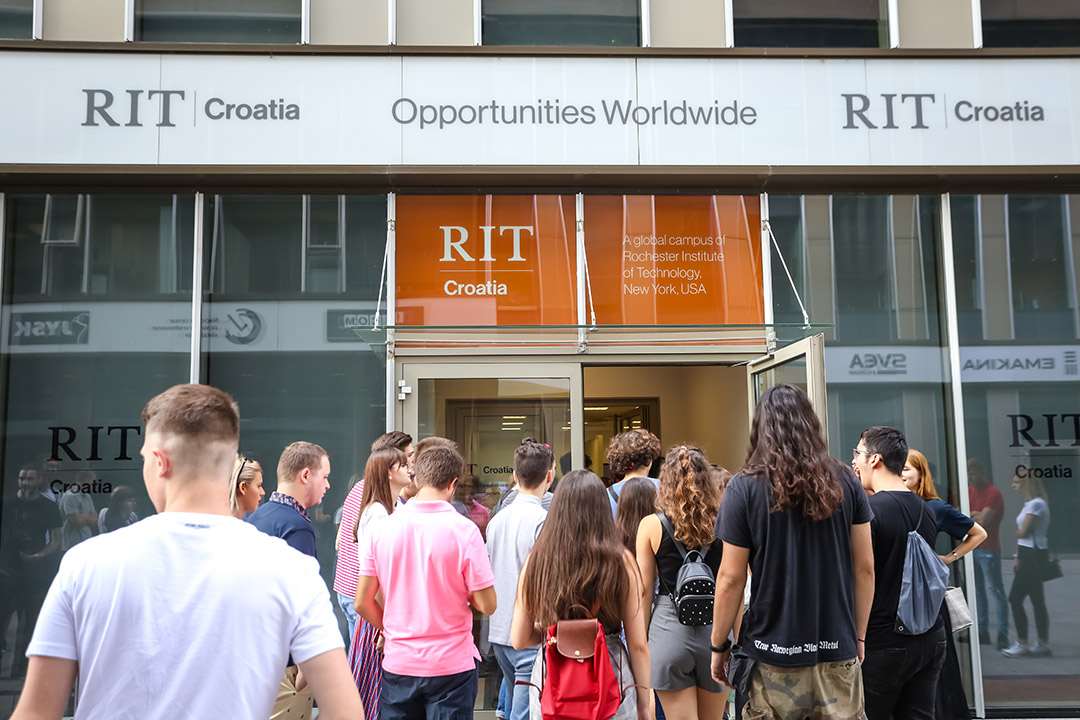 Rochester Institute of Technology has launched a Bachelor of Fine Arts degree in new media design at its RIT Croatia Zagreb campus. Enrollment is currently underway and the first cohort of students will begin its studies in the multidisciplinary degree program this fall.
"Our RIT new media design faculty are excited and eager to be a part of the program's expansion to RIT Croatia. With a unique curriculum and a 20-year history of experiential learning, new media design will bring new academic and professional opportunities for students interested in the convergence of creativity, design, and technology," said Adam Smith, associate professor and undergraduate director of new media design at RIT's Rochester campus. "As part of our core design program in the United States, new media design Croatia will have the international support to create an incredible pathway for students to have successful careers in Europe and beyond."
Crafted to address the current and future needs of the fast-growing digital media market, this four-year undergraduate degree program integrates art, design communication, computing, and technology, and prepares students for the jobs of the future. Students in the program will earn both an American and Croatian degree.
"Every day, millions of people consume digital content on various platforms—from smartphones and tablets, to smart TVs and wearables, VR, and gaming systems. As the trend of immersing ourselves in interactive digital experiences continues to grow, the market needs experts who will design and present content on digital media, so that users can effectively communicate, get information, or be entertained," said Ante Poljičak, new media design area head at RIT Croatia. "This program creates those experts."
The need for experts in this field was expressed by renowned Croatian companies in the digital media industry that will participate in RIT Croatia's cooperative education program. Through co-ops, students will gain valuable work experience that will also help them prepare to work in positions such as UI/UX designers, digital product designers, graphic designers, app designers, visual designers, and others. Additionally, students will gain a good foundation for further career development in the film industry, video game industry, and other emerging industries.
"New media design belongs to a group of multidisciplinary, transformative RIT programs designed as a response to the challenges and needs of the modern global economy. The quality of American education and the multidisciplinary approach to education will create new professionals who will know how to develop new creative solutions for all who consume digital content. They will also be able to start developing their career in the fast-growing digital industry during their studies," said Don Hudspeth, president and dean of RIT Croatia.
This degree is the first international BFA program at the RIT Croatia Zagreb campus, a development which comes at a critical moment in time, according to Todd Jokl, dean of RIT's College of Art and Design. Designated as a New Economy Major, this forward-thinking program will provide students with skills that will help them excel in a multidisciplinary, dynamic modern economy.
"We are living in an interconnected world that spans time zones, cultures, and multinational work environments. The launch of our new media design program in Croatia is a game changer for our students and our faculty," said Jokl. "RIT's College of Art and Design is a world-class leader in art and design with some of the highest-rated programs and student outcomes in the United States. Our presence in RIT Croatia will extend our brand and realize tremendous new opportunities for our students, faculty, and the professional field, alike."
More information about the new program is available on the RIT Croatia website.
Topics