RIT offers Unreal Engine Foundations Professional Certificate program on edX
Learn interactive 3D skills and earn a professional certificate with new edX program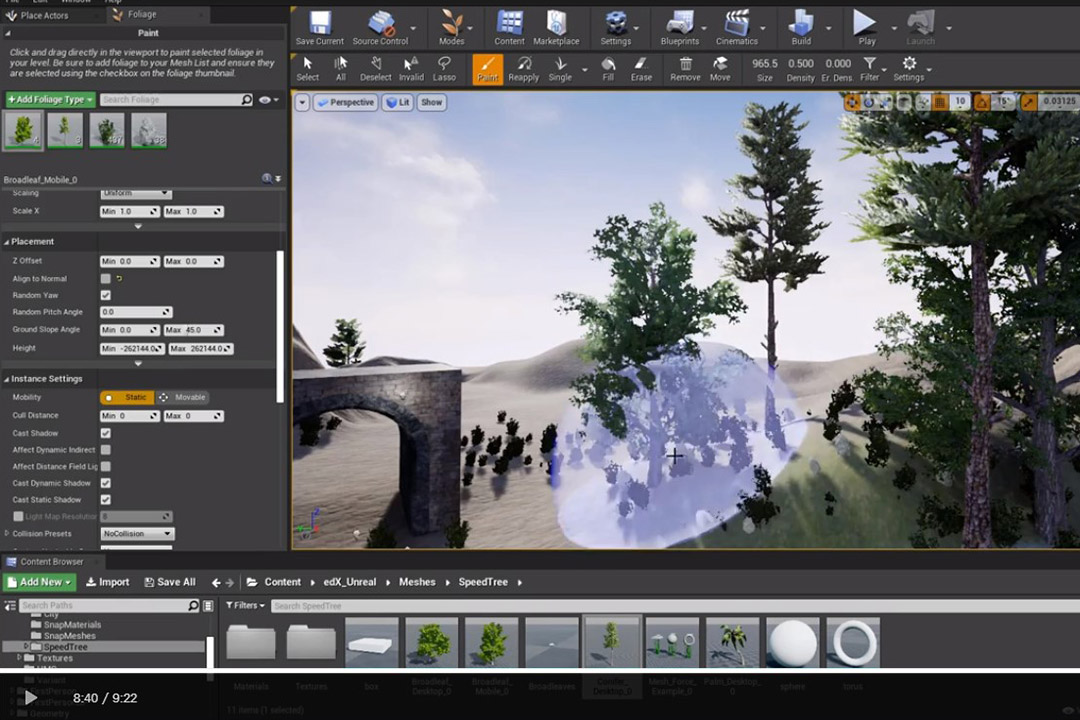 Professionals interested in learning how to use Unreal Engine to create interactive 3D can now do it online with Rochester Institute of Technology's Unreal Engine Foundations Professional Certificate program on edX.
Jobs that require real-time and interactive 3D skills are growing 601 percent faster than the job market overall, according to a Burning Glass report. With an RITx professional certificate, learners can showcase their newly earned skills to employers.
Registration is now open for the three offerings in the RITx Unreal Engine Foundations Professional Certificate program. The offerings are self-paced and cover about 16 weeks of material.
The offerings will provide learners with a foundation of skills for using the real-time engine and editor Unreal Engine, made by Epic Games. These offerings were developed and are facilitated by Shaun Foster, associate professor of 3D digital design in RIT's College of Art and Design.
"Real-time interactive 3D provides multiple ways of designing, learning, visualizing, and exploring content," said Foster. "Ultimately, the goal is to provide learners with a foundational skill-set they can use to accelerate and go deeper and combine with existing skill-sets, because Unreal has so many overlaps with other disciplines."
Real-time 3D has applications in many fields, including games, industrial design, architecture, automotive, engineering, construction, virtual reality, augmented reality, extended reality (XR) for IT, design and media, film and television, and manufacturing and production.
The Professional Certificate program consists of offerings in:
Getting Started with Unreal Engine (open Aug. 25, 2020 to April 27, 2021)
Unreal Engine Interactive 3D: Blueprints, Animation, Audio, & Environments (open Sept. 22, 2020 to May 25, 2021)
Unreal Engine Interactive 3D: Sequencer-Cinematography, Interfaces, Visual Effects, Pipelines, and Production (open Oct. 20, 2020 to May 25, 2021)
As part of the first offering, learners get to create a playable interactive simulation. Throughout the program, learners will also cover key areas for learning about the engine interface, lighting, materials, post processing, blueprint visual programming, cinematography with the sequencer, simulations, user interface (UMG), audio, AI (basics), physics simulations, a visual effects overview, and performance profiling and publishing.
Within each offering, learners will have access to videos from the instructor, readings, and will interact with other learners around the globe using discussion boards.
Foster developed the program with collaboration and support from RIT Online and an Epic MegaGrant.
The offerings in this program may be audited for free. For a fee, the program also allows learners to earn a verified Unreal Engine Foundations Professional Certificate upon successful completion of all the offerings.
RIT offers free and reduced-cost education as part of our partnership with edX, the leading nonprofit online learning platform founded by Harvard and MIT. These RITx offerings are massive open online courses (MOOCs), containing high-quality curriculum developed by RIT faculty and instructors.
The Professional Certificate programs on edX are a series of in-demand offerings designed to build or advance critical skills for working professionals. Created by industry leaders and top universities, Professional Certificate programs offer a flexible, affordable way to develop the essential skills and actionable knowledge needed for today's top jobs.
More details and enrollment information are available on the RITx's Unreal Engine Foundations Professional Certificate program with edX webpage.