RIT professor directs, produces episodes featuring John Lithgow, Angela Bassett for acclaimed series
School of Film and Animation's Amy Adrion is creative mind behind two Storyline Online web videos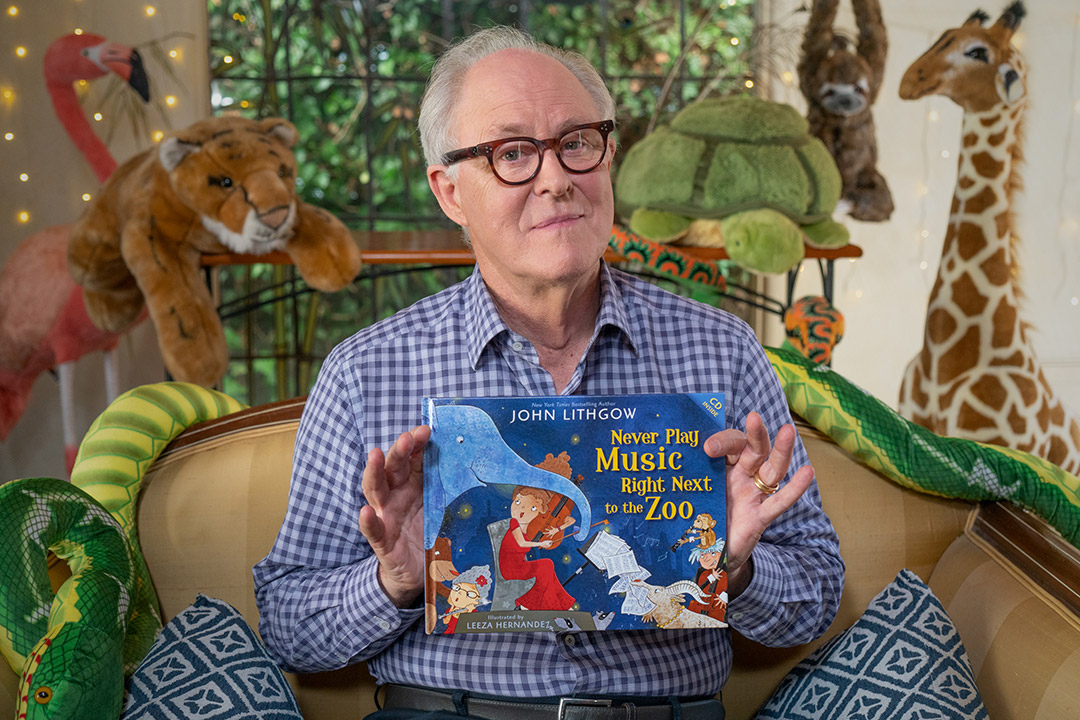 A College of Art and Design faculty member—whose work has screened at South by Southwest, Sundance, and Tribeca film festivals—recently directed and produced videos for an online streaming series featuring actors reading children's books brought to life through animation.
Amy Adrion, who joined RIT's School of Film and Animation (SOFA) as an assistant professor earlier this fall, served as both director and producer of an episode for Storyline Online featuring actor John Lithgow that came out Dec. 6. The episode was a performance reading of the book Never Play Music Right Next to the Zoo, written by and featuring actor and Rochester native Lithgow.
Adrion collaborated on the project with a number of SOFA professors and students, including Assistant Professor Meghdad Asadilari, who served as animation director and lead animator; graduate student Yuting Shao, animation assistant; and Lecturer Don Casper, who performed the color correction.
In addition to Lithgow, readers of the Daytime Emmy-nominated and award-winning children's literacy series have included Oprah Winfrey, Chris Pine, Kristen Bell, Rita Moreno, Viola Davis, Kevin Costner, Lily Tomlin, Sarah Silverman, Betty White, Wanda Sykes, and dozens more.
"I previously directed and produced an episode in May 2020, where Angela Bassett read the book Trombone Shorty, written by New Orleans Jazz musician Troy 'Trombone Shorty' Andrews," Adrion said.
The opportunity to direct episodes for the series came about after Adrion screened her feature film, Half the Picture, at the South by Southwest Film Festival in 2018. Rochelle Rose, a representative from the Screen Actors Guild (SAG), approached her about booking screenings of the film for SAG members in Los Angeles and New York City.  
Months later, Adrion's kindergartner told her about watching videos in school, leading her to the discovery of Storyline Online.
"I saw Rochelle Rose's name in the credits and realized it was produced by the SAG-AFTRA Foundation," she recalled. "I sent Rochelle an email saying, 'my son and I love Storyline Online, great work!' and she asked if I'd ever consider directing an episode."
Cut to March 2020, right before production shut down at the start of the pandemic, when Adrion directed Bassett's reading of Trombone Shorty. After production resumed in September, the SAG-AFTRA Foundation hired Adrion to direct Lithgow's reading, which was shot in Los Angeles and released earlier this week.
"Being at RIT, I've met so many talented professors and students," Adrion said. "I'm thrilled with how it came out."
Storyline Online receives more than 140 million views annually from all over the world. Teachers use the series in their classrooms, and doctors and nurses play Storyline Online in children's hospitals
In addition to top film festivals, Adrion's work has been broadcast on MTV, PBS, and Starz. Her background includes fiction and documentary filmmaking, and live TV production.
Adrion's debut feature, Half the Picture—a documentary celebrating the groundbreaking work of women and non-binary film directors—has garnered numerous awards, including at Sundance London and the Lighthouse International Film Festival. She also won a Directors Guild of America Award for her narrative short Shoegazer, which was executive produced by Miranda July. 
Adrion was a visiting assistant professor in RIT's School of Film and Animation last academic year.
Topics