RIT professor has patent pending for color test target from U.S. Patent Office
Christye Sisson's prototype designed for use in retinal fundus cameras to standardize color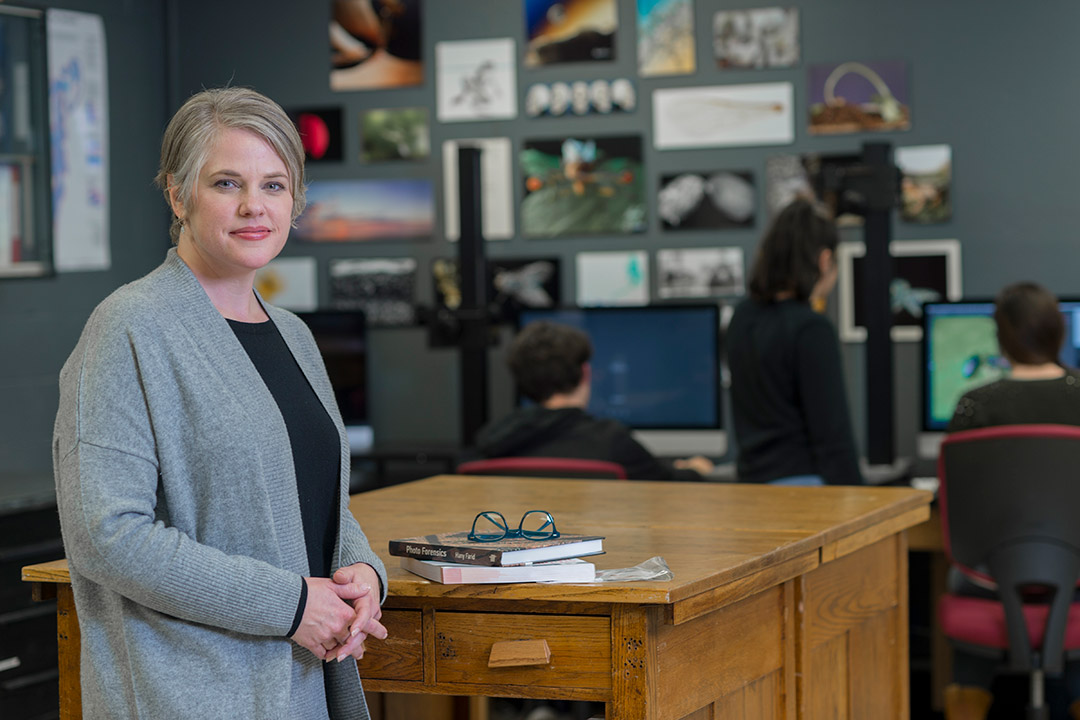 Elizabeth Lamark
After a decade of research, Christye Sisson, director and professor of photographic sciences in RIT's School of Photographic Arts and Sciences (SPAS), has a patent pending for the creation of a color test target using representative retinal colors designed for use in a model eye for fundus camera calibration.
A fundus camera is used to photograph the retina in support of documenting and diagnosing retinal disorders and diseases in ophthalmology. Fundus photography involves photographing the rear of an eye—also known as the retina or fundus. Fundus cameras consist of a low-powered microscope, coupled with a camera and flash in order to photograph this area of the eye, focusing in on the "red eye" reflection sometimes seen in regular photographs.
According to Sisson '94 (biomedical photographic communications) '02 (information technology), while such cameras are regulated medical devices by the U.S. Food and Drug Administration "they don't currently have an industry standard image calibration or color standard that all fundus cameras must use or meet."
Her patent is designed to provide a device that contains a standardized specialty "palette" (retina specific colors) that is designed to be used in a model eye to generate color profiles for fundus cameras that are both manufacturer-specific and industry-standard.
"The goal is to bring all fundus imaging systems into greater levels of color and image agreement, so that the images can be reasonably compared to one another for clinical trial and diagnostic purposes, including automated disease detection," Sisson observed. 
She has been researching the color test target for the last 10 years along with students and faculty from both SPAS and RIT's College of Science.  
Sisson noted that while the pandemic put the testing of the final prototype in the clinical environment on hold "our hope is to gather more clinical data to refine the software-profile generation side."
"That work will hopefully get underway soon," she said.
According to William Bond, director of intellectual property in RIT's Research office, RIT has 65 patents pending and 112 issued and in force.
Topics