RIT students start semester with encouragement and precautions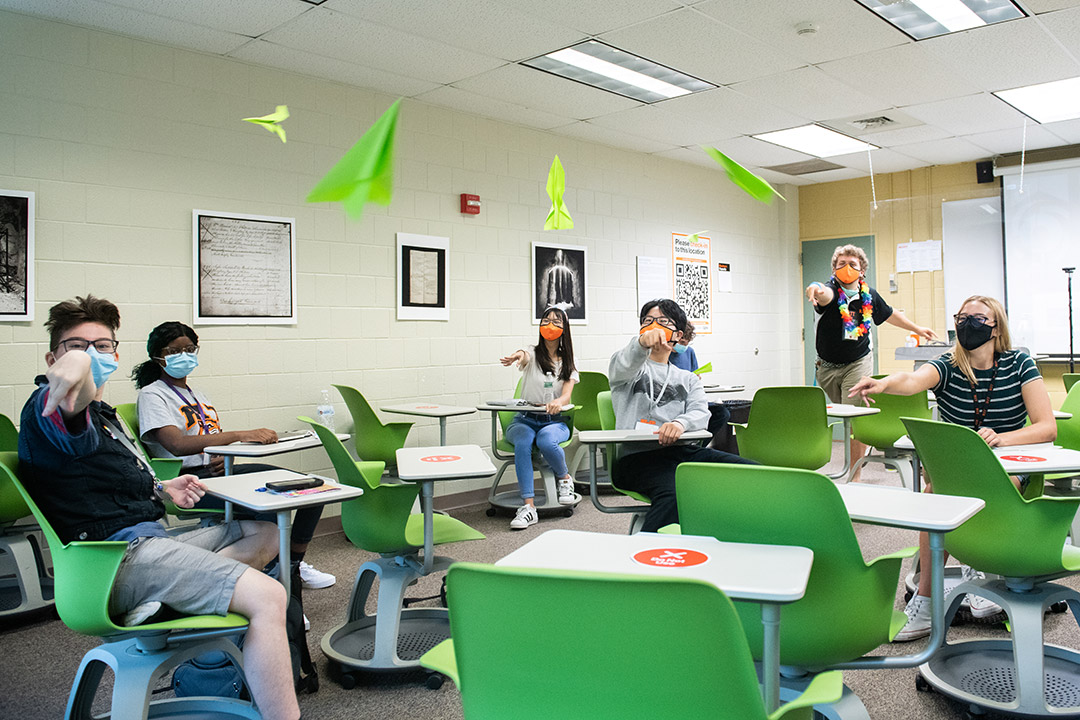 Rochester Institute of Technology welcomes a record number of first-year students today as classes begin in a semester that will look like no other due to the COVID-19 pandemic.
This year's entering class has more females and more African-American, Latino-American and Native American students than any previous first-year class. And similar to past years, the freshman class is has high academic qualifications.
The new students were welcomed Tuesday afternoon during an online convocation that featured several speakers, livestreamed without an audience from Ingle Auditorium.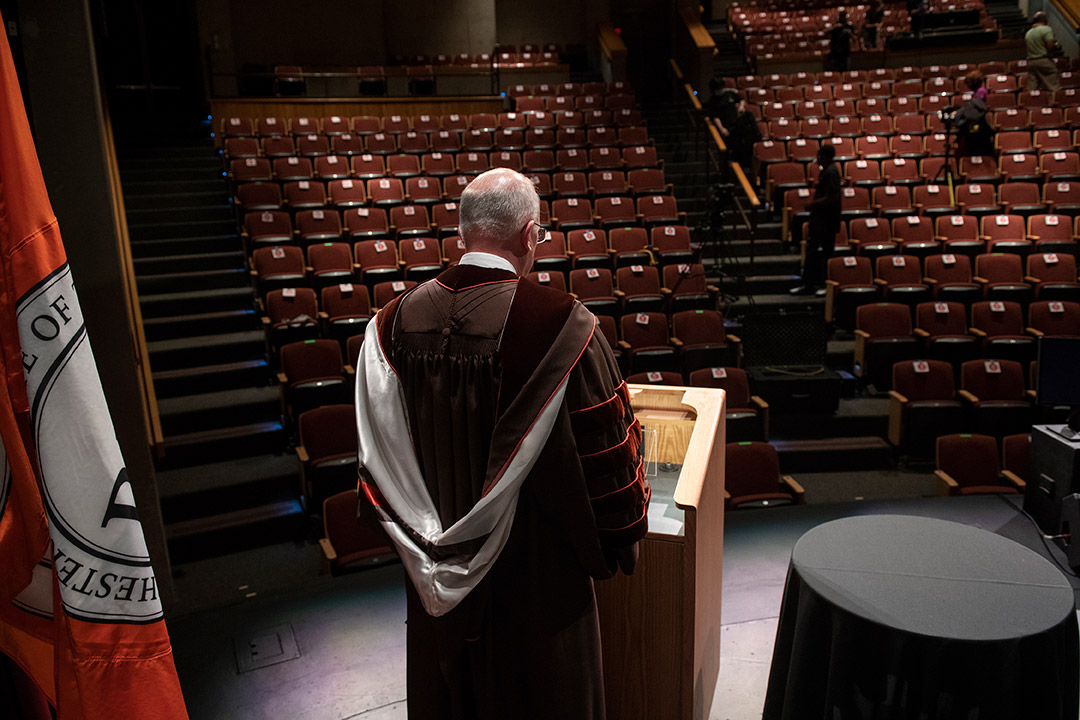 A. Sue Weisler
"As with so many other things this fall, this is not our usual welcome event," said Ellen Granberg, RIT's provost and senior vice president for Academic Affairs. Granberg noted the absence of the traditional Tiger Walk, during hundreds of faculty and staff line walkways and cheer on the new students as they would enter the Gordon Field House and Activities Center.
"You would be sitting together as the incoming class of 2024/25, surrounded by your family and friends," Granberg said. "The fact that we can't celebrate as we normally would doesn't by any means dampen our excitement and anticipation for what's ahead for you and the journey you are beginning. We have been working hard for months to help you start your education at RIT in a safe and healthy way."
Students this semester will see smaller classes to accommodate physical distancing, more online options for classes and clubs, more outdoor activities, and websites to order food and to track how busy eating areas are. Combination refrigerators-freezer-microwaves were put into all residence hall rooms, and there are additional hand sanitizing stations. Everyone on campus—students, faculty, and staff—are required to wear masks in public spaces, including classrooms.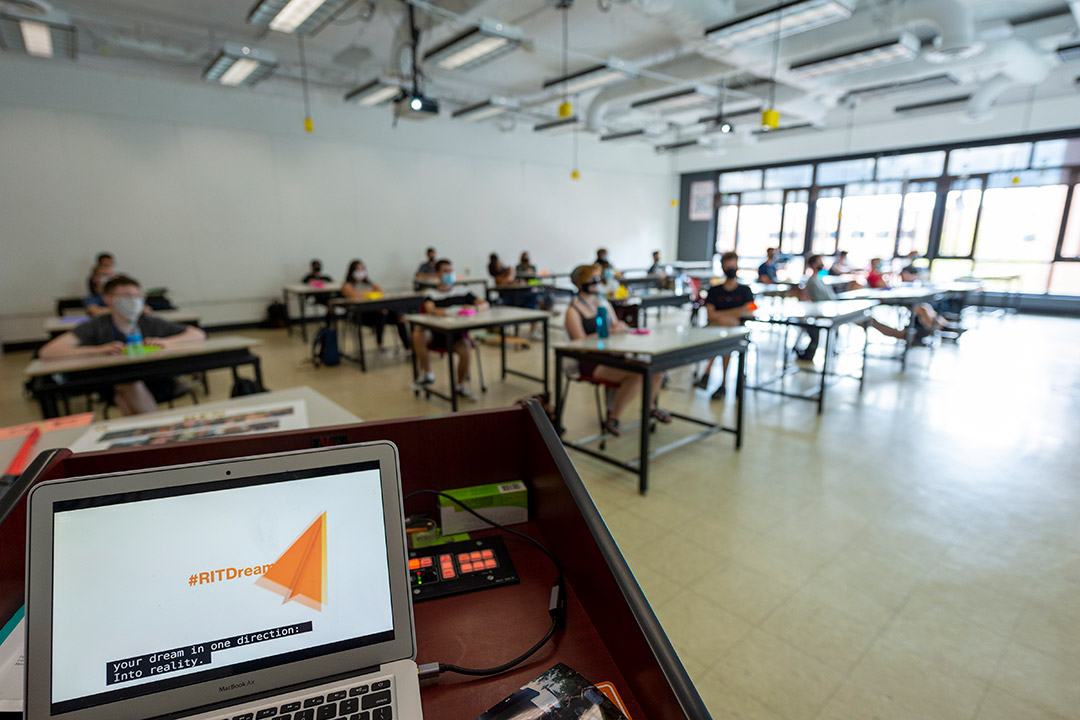 Elizabeth Lamark
New students received their orientation over several days, either totally online or in a combination of in-person and online sessions.
"Your path to RIT has no doubt been full of successes to celebrate, along with trials and tribulations," RIT President David Munson told the new students. "In addition to the usual challenges, your world has been turned upside down by a pandemic! We are living in truly historic times. You and your classmates already are special in persevering through such a daunting period."
Munson said the health and safety of RIT's students, faculty, staff, and visitors remains the most important consideration. RIT is also committed to ensuring continued delivery of high-quality educational and research experiences and providing a residential campus experience that is uniquely RIT.
"We acknowledge that what we are about to undertake, operating a campus safely during a pandemic, will be challenging," Munson said. "But, by working together and following our safety guideline and procedures, we believe that we can be successful. A successful semester will require every member of RIT to work together and do their part. We all have a role to play. Protect yourself. Protect others. It is imperative that we be safe, which requires being smart."
Sandra Johnson, senior vice president for Student Affairs, welcomed the students "to this dynamic community of learners. Each of you brings with you a wide range of ambitions, expectations, passions, goals, and dreams. We do not expect—nor do we want—for you to be alike. I want to encourage you to embrace the dreams you brought to RIT and be sure to leave room to add new ones over the next few years. You will nurture those dreams in your classes, as a member of a club, organization, athletic team, or in late night conversations with your peers the hallways of the residence halls—with appropriate physical distancing!"
Student Government President Shine DeHarder, who donned the traditional orange blazer worn by her predecessors, told the students it felt like yesterday that she was in their shoes.
"I remember thinking how obnoxious the bright orange blazer looked," she said. "I never would have pictured myself standing up here in my own orange blazer, but that's the thing about RIT. There are opportunities in every building, hallway, and tunnel, some of which you might not find until you've been here a couple years, but all of them are worth seeking out."
Joshua Thorson, assistant professor in the School of Photographic Arts and Sciences in the College of Art and Design, and last spring's recipient of the Richard and Virginia Eisenhart Provost's Award for Excellence in Teaching, told students to take advantage of all the opportunities college has to offer, including connecting with faculty and fellow students.
"College is a place to build character and community. It is a place to build attention. It is a place to listen and learn," Thorson said. "If we listen to each other and be committed to that, let ourselves be vulnerable, learn from each other, take care of ourselves and others, we can persevere together during this time, and we will prevail. And, maybe even change the world in the process."
Video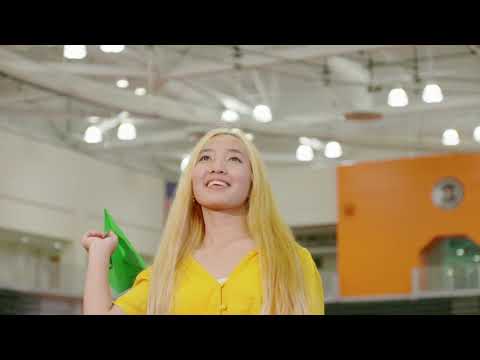 Topics