June 10, 2021
by Shelly Meyer
Bob Barbato, Saunders College professor and former department chair, retires from RIT after 42 years
The management professor taught courses at many of RIT's international campuses and programs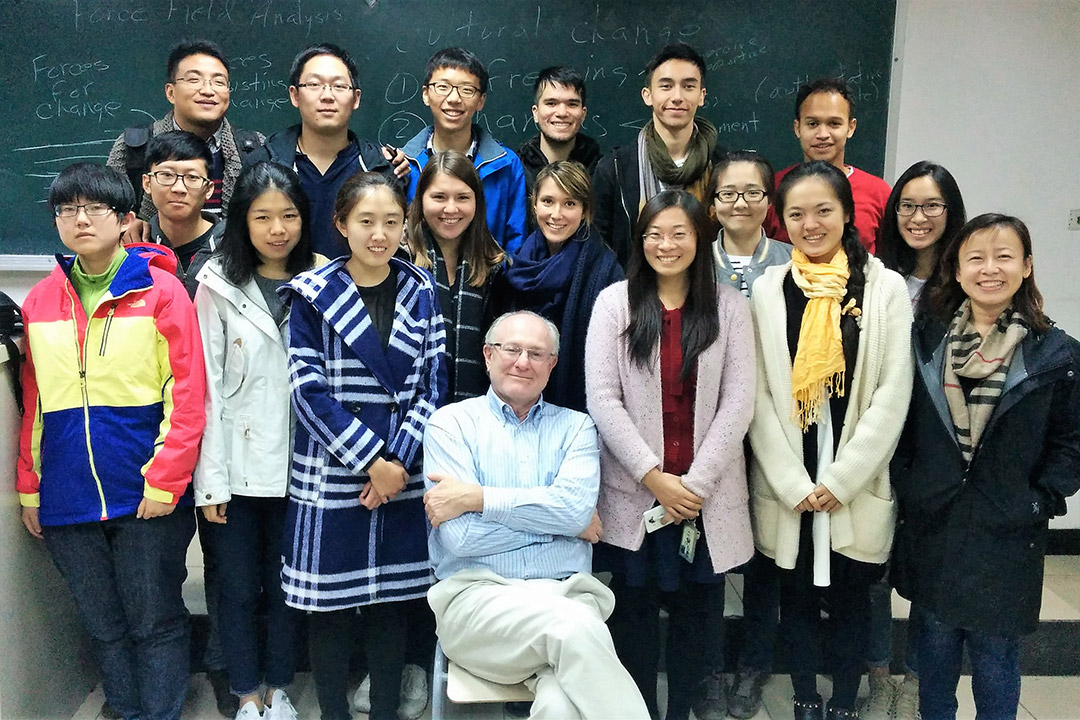 Professor Bob Barbato has retired after 42 years at RIT. A professor and former chair in the department of management in Saunders College of Business, Barbato joined RIT in 1979. Since then, he has taught courses in leadership, entrepreneurship, and business ethics in more than seven countries–first taking his wife and kids with him to Ethiopia on a Fulbright scholarship, and then to RIT's international campuses in Kosovo, Zagreb, Dubrovnik, Beijing, and Dubai.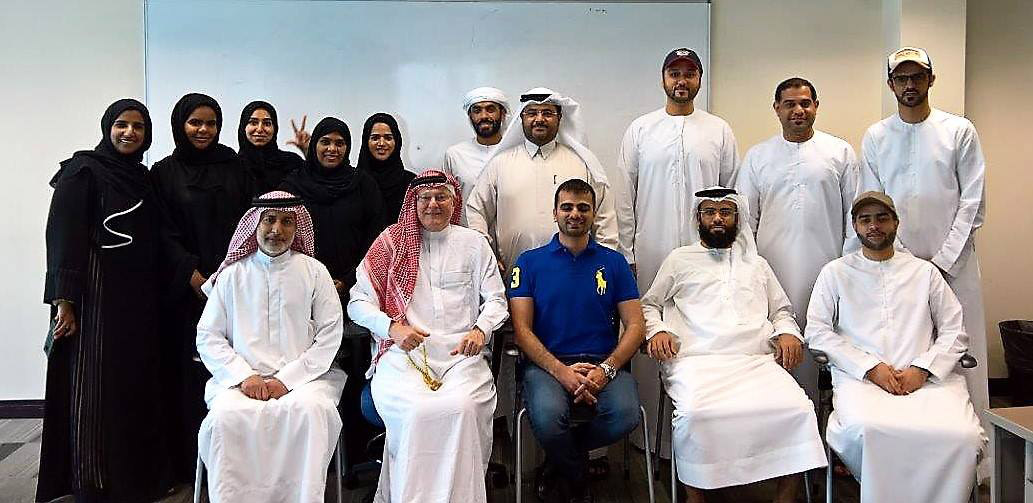 During his time at RIT, Barbato was known to go above-and-beyond for his students, particularly those he met while teaching abroad. In 1989, while teaching in Ethiopia, Barbato was able to help one student secure a scholarship to pursue an MBA at RIT. He then invited the student and his wife to live with his family in their Rochester home. Recently, when the couple was in danger of being deported, Barbato stepped in to help them once again.  
"I flew to Washington to testify on their behalf," he said. "Happily, they were both awarded citizenship, and they now live and work in Virginia where they raised their two beautiful children. Our families are very close and all four of them attended the weddings of both my daughters."
Again in 2009, while teaching in Kosovo at one of RIT's international campuses, Barbato helped three of his students secure scholarships to move to Rochester and enroll in RIT's MBA program. All three of them lived with him and his wife, Linda Barbato, in their home for several months.  
"They are all doing great. One is studying for her Ph.D. in Germany; another has gone on to earn her Ph.D. and has accepted a position to teach at RIT Kosovo. The third met a young man while they were both students in my class in Rochester. One thing led to another, and a few years later Linda and I were proud guests at their wedding in Canandaigua. They are now both working in Rochester and living in Pittsford with their young son."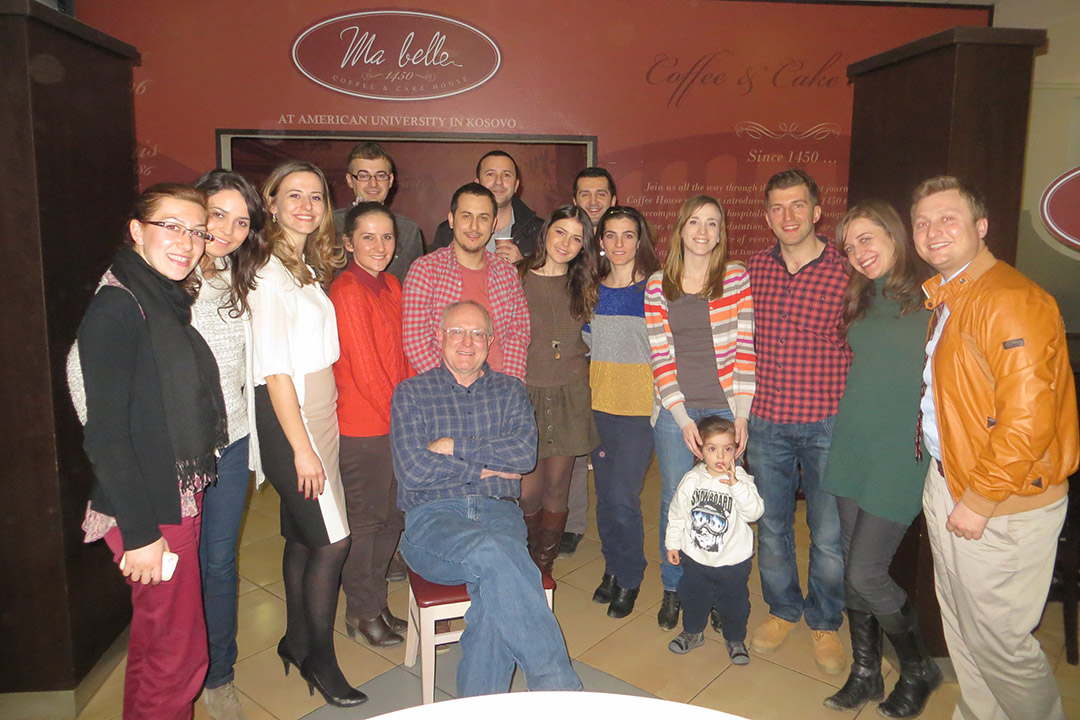 This pattern of hosting and welcoming others into his home isn't atypical. Barbato and his wife often host parties and gatherings for Saunders faculty and staff in their home. Barbato was also known to give tours of the Rochester area to prospective Saunders faculty to sell them on moving to upstate New York.
Barbato's long and distinguished career earned him many accolades including the Eisenhart Award for Outstanding Teaching in 2005–RIT's highest honor for tenured faculty, and the Provost Award for Excellence in Faculty Mentoring in 2013. He was also named one of the Paul and Francena Miller Chairs in International Education in 2018.
Barbato answered a few questions about his time at RIT and plans for retirement.
What was it like teaching abroad?
In 1989 I received a Fulbright to teach and do research in Ethiopia—a communist country fighting a civil war and ruled by a military dictator, or as my wife described it: the vacation capital of the world. Our daughters were 7 and 1 at the time, and it was a challenging experience for all of us. We were not allowed to travel, although I did manage to make it up north for a few days with a couple of my Ethiopian buddies to see the source of the Blue Nile, the birthplace of humanity according to legend. 
By the end of our stay, the rebels had gained control of most of the country and were nearing the capital, so the embassy required us to call in every day to inform them of our location in case we needed to be evacuated. We knew everything would be fine, however, because the embassy gave us a turkey for Thanksgiving. You develop very close relationships with other expats in that situation, and we invited several families over to our apartment for a semi-traditional Thanksgiving dinner. We are still in touch with some good friends from England who took us under their wing when we first arrived. Shortly after we left, the government fell and the dictator fled the country. 
I have also taught at many of our international campuses and programs, including in Prague, Kosovo, Zagreb, Dubrovnik, Beijing, and Dubai. Teaching overseas has been very rewarding; you learn and grow so much, and I always experienced a feeling of renewal. It was also nice to come home and get the sense that your colleagues really did miss you.
What are some of your favorite memories from your time here at RIT?
My students and my colleagues will always be my favorite memories. We often gather at our house for parties and celebrations and I'm sure that will continue. Probably my favorite memory was organizing the March Madness office pool for Saunders College. We are high rollers, so the cost to participate was $2. I believe a healthy culture needs irony, so I made sure that every round of the tournament included an update on who was leading as well as a satirical report on life in the college of business. Of course, my favorite targets were the dean and associate dean.
I also enjoyed my role as tour guide whenever we recruited faculty. The itinerary always included an hour before dinner during which I would introduce them to the main attractions of the city and suburbs; a challenging job during the winter months. Several faculty still remind me of the adventures we had during those tours.
What are your plans for retirement?
My wife and I both play golf, and that can be the equivalent of a full-time job. We'll keep our house here, but we are also building a house in one of those gated retirement communities in Rancho Mirage to be closer to our daughters who both live in California. I guess I'll have to bone up on my pickleball and bridge. We now have a grandchild with more on the way, and my wife's large family lives in California, so we expect to have lots of visitors, and all my colleagues and former students are invited!