November 18, 2022
by Rich Kiley
Saunders College department chair brings ardor for hospitality and research to RIT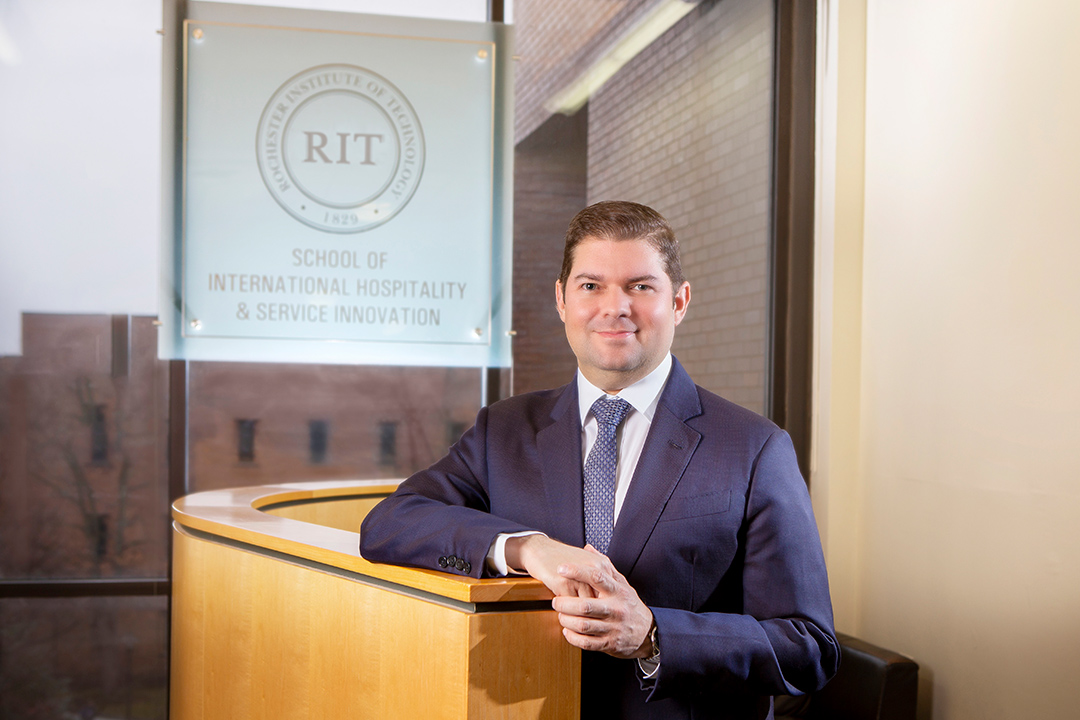 As a teenager growing up, Edwin N. Torres remembers traveling and becoming "fascinated by the possibility of hoteliers transforming a place into an experience."
"I was curious how developers and operators created an environment where employees could deliver exceptional service in a unique physical setting," Torres recalled.
That curiosity later developed into a passion, which Torres brought to RIT in July when he became chair and associate professor for the Department of International Hospitality and Service Innovation (IHIS) at Saunders College of Business. He arrived on campus after serving on the faculty at the University of Central Florida, Rosen College of Hospitality Management.
In addition to his passion for hospitality, Torres brought an ardor for research to Saunders College.
"My research has spanned customer attitudes and emotions with an emphasis on customer delight and even outrage," he said. "I've also studied service quality and electronic word-of-mouth. On the human resource side, I've studied asynchronous video interviews, cyber incivility, and occupational health in the hotel industry."
Torres also has garnered vast industry experience, including hotel and restaurant management roles as well as consultancies to a large number of organizations. Published in numerous top-tier journals in the fields of management, marketing, hospitality, leisure, and tourism, he has garnered thousands of citations throughout his career.
A textbook Torres co-authored, Customer service marketing: Managing the customer experience, publishes next month and covers all major aspects of customer service, including the physical environment (servicescape), customer experiences, and cross-cultural guest interactions, among a wide range of areas.  
Future research topics will include exploring the interplay of work and vacation for remote workers, also known as "workation," Torres said.
"I'm also studying the preparedness and best practices of hotels and other hospitality organizations in the United States to receive international visitors," he added. Torres also will continue to closely study consumer behavior with the aim of developing a guide to consumers becoming better customers across the hospitality and tourism industries.
Altogether, he is using his vast teaching, research, and hospitality experiences to further differentiate IHSI against competitive programs.
"Our program ensures that students are exposed to comprehensive experiences inside and outside of the classroom," Torres observed. "In addition to all the major hospitality conferences, expositions, and events across the country, we offer them the opportunity to study at our hospitality program in Croatia, which combines the same curriculum as RIT's with a vastly different European hospitality experience."
"As a hospitality program within an institute of technology, we want to ensure that our students are exposed to the key developments that will shape customer experience for years to come," he added.
The hospitality program also will continue to enhance its strong legacy of student placement in managerial positions and progression into senior roles, the department chair said, while leveraging Saunders College's vast alumni network—one of its many recognized strengths.
"We're working with our advancement partners to create alumni events in cities where more of our alumni reside," he said.
Since his arrival at RIT last July, Torres has collaborated with faculty and staff to expand the college's community college outreach, launched a social media marketing campaign, developed a summer camp experience for prospective students, and partnered with area high school programs on hospitality management coursework.
In addition to developing a minor titled "Hospitality as Real Estate" in response to the exploding hospitality opportunities around short-term homestays and experiences, Torres is working with IHSI faculty and staff to reposition the college's food and beverage minor to focus more on the sales, marketing, and distribution of beverages and the creation of experiences surrounding beverages.
"We're relaunching the program next year as beverage management," he said.
While the hospitality field is not without its challenges, including labor shortages across industries, Torres sees a bright future for a field of study that is constantly evolving and redefining the customer experience.
"I see a greater customization of the experience as service providers use data to get to know their customers better," he said, "along with the application of hospitality and customer service concepts into industries that are not traditionally part of the hospitality sector, particularly healthcare."
Topics