September 30, 2022
by Rich Kiley
Saunders College will honor Gueldenpfennigs with Cornerstone of Philanthropy Award
Alumni family, longtime RIT supporters behind inspiring success of REDCOM Laboratories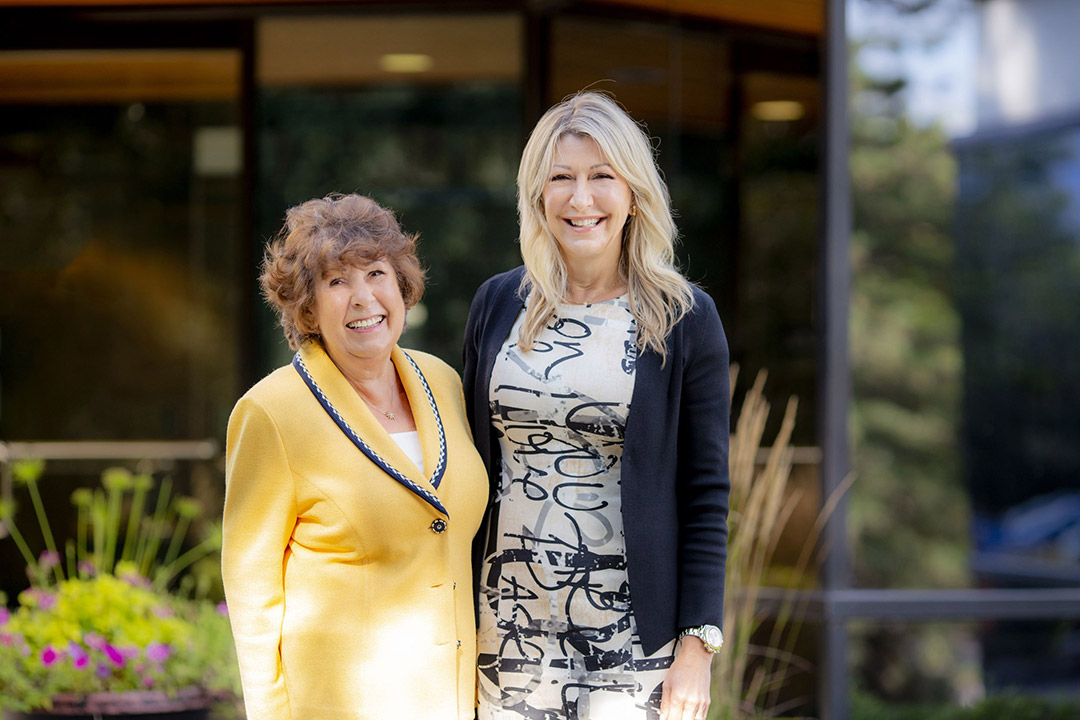 Saunders College of Business at Rochester Institute of Technology will honor the Gueldenpfennig family for their dedication as alumni and longtime RIT supporters—who turned REDCOM Laboratories Inc. into one of the world's leading suppliers of secure and reliable communications solutions—with the 2022 Phil Saunders Cornerstone of Philanthropy Award during this year's Brick City Homecoming & Family Weekend.
Klaus Gueldenpfennig (posthumously) '74 MS (electrical engineering), '77 (MBA); Brigitte Gueldenpfennig '81 (MBA); and Dinah Gueldenpfennig Weisberg '97 MS (software development and management), '03 (EMBA) will receive the award as part of Saunders College's Recommence program honoring nine alumni altogether. The ceremony will take place at 9 a.m. Saturday, Oct. 15, inside the Gene Polisseni Center on the RIT campus.
The Phil Saunders Cornerstone of Philanthropy Award is presented annually to a graduate, faculty, staff, or friend of the business college who exemplifies a groundbreaking spirit and gives selflessly to Saunders College and RIT through philanthropic support.
This year, the Gueldenpfennigs will be recognized for their significant impact on Saunders College of Business students, alumni, faculty, staff, and the RIT community at large.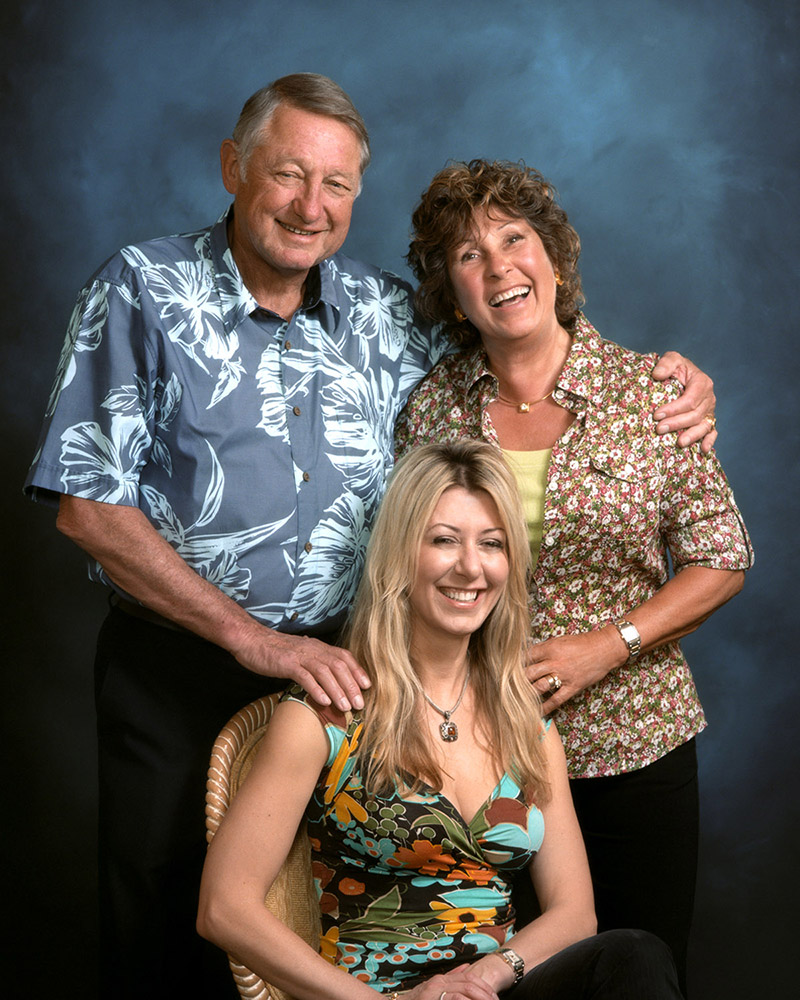 "We're very humbled by this award," Brigitte Gueldenpfennig said. "We've long been admirers of RIT, particularly for its relevant education and hands-on applied learning."
"We're honored to receive this award as a recognition of the years of collaboration that we've enjoyed with RIT and Saunders College, not only as individuals, but also as a company," Weisberg observed.
"RIT is very near and dear to our hearts," she added. "This was a big surprise to us."
REDCOM is a true small business success story. The company, founded by Klaus and Brigitte Gueldenpfennig in 1978, specializes in the development of advanced communications solutions with a focus on security, reliability, and interoperability. Located in Victor, N.Y., REDCOM's customer base in this country and in far-flung corners of the globe includes all branches of the military, numerous government agencies, private networks, integrators, and commercial telecom carriers. The company is widely recognized as a workplace emphasizing teamwork and empowerment.
"Our Recommence ceremony during Brick City Weekend is our annual celebration of Saunders College's most significant supporters, and certainly Klaus, Brigitte, and Dinah belong in that category," said Saunders College Dean Jacqueline Mozrall. "Their impact at RIT has been immense, giving back personally, professionally, and philanthropically."
The Gueldenpfennig family and REDCOM have made significant equipment and financial gifts to the university and RIT's Saunders College of Business, including to the multimillion dollar expansion and renovation project at Max Lowenthal Hall. The project, expected to be completed in early 2024, will nearly double the building's footprint and will offer cutting-edge teaching and learning spaces, opportunities for innovative research, state-of-the-art event and collaboration spaces, as well as renovations to existing spaces.
The gifts are part of Transforming RIT: The Campaign for Greatness, which is RIT's $1 billion fundraising effort, the largest in university history. The blended campaign seeks support from a variety of investors, including alumni and friends, government and corporate partners, and research foundations and agencies. The campaign has raised more than $922 million to date.
An innovative thinker and visionary who emigrated to the U.S. from Germany in 1965, Klaus Gueldenpfennig—who passed away last September at 85—carved a significant niche in an industry dominated by far bigger players.
Weisberg now serves as REDCOM's president and CEO and was appointed to the RIT Board of Trustees in 2019. In her spare time, she races cars on well-known tracks throughout the country. Racing challenges drivers to make fast decisions and hone risk-taking skills, she believes.
"A sign in my office says, 'Look where you want to go,'" said Weisberg, a reference to racing.
Brigitte, who served as the company's chief financial officer before retiring, attributed REDCOM's success to "perseverance and unrelenting optimism."
"Klaus's optimism would rub off on you," said Brigitte, who still comes into the office regularly.
"He would have been delighted by this recognition from Saunders College," Weisberg said. "Humbled, but delighted."
Among a multitude of accolades Klaus and Brigitte received throughout their careers were the NRS Award in 2014, the highest honor given by RIT's Nathaniel Rochester Society; the Distinguished Alumni Award from Saunders College in 1988; and the Herbert W. Vanden Brul Entrepreneurial Award in 1990, given annually to successful individuals who developed a business that improved the Rochester economy or who changed the course of an existing business.
In addition to serving on RIT's Board of Trustees, Klaus served on several board subcommittees, including Enrollment Management and Career Services, Buildings and Grounds, and Finance. He was also a member of the Kate Gleason College of Engineering's Center for Quality and Applied Statistics Council. Brigitte and Dinah also have both served at various times on the Saunders College Dean's Advisory Board.
While she and her mother share laughs about having "some of the same professors at Saunders 22 years apart," Weisberg said, both women appreciated the academic rigor RIT provided in helping them to attain their success.
"We feel we've gotten so much from RIT and that's why we've wanted to give back," Weisberg said. "RIT is very much ingrained in our lives. We're a family-owned business and the university has played a very important part for all of us."
Topics