Research team awarded grant from NIST to develop new standards-based educational modules
New work includes topics in smart energy grid security, sustainability and infrastructure resiliency to climate change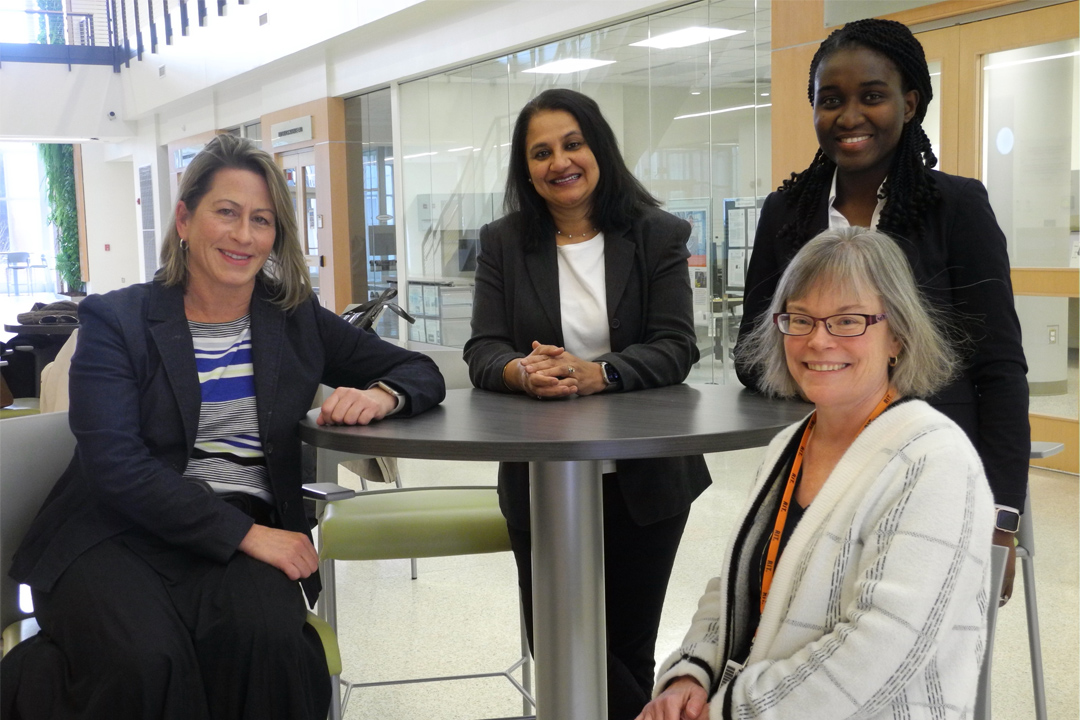 A team of researchers from Rochester Institute of Technology was recently awarded a grant to develop curricular modules on infrastructure improvement and resilience that introduce students to public and private sector standards, including industry standards—the benchmarks and generally accepted requirements for performing industry product development and operations as well as risk mitigation.
Industry standards, as concepts, are not often taught in undergraduate coursework. This is changing as the National Institute of Standards and Technology (NIST) has sought university faculty to bridge concepts with applications to help prepare students for careers in fields as varied as construction management to medical device design.
"We are focusing on expanding student capacity and understanding in how to implement national and international documentary standards in their chosen field," said Lisa Greenwood, assistant professor in RIT's College of Engineering Technology. RIT received funding to develop "Standards Education for Infrastructure Improvement and Resilience." It is the third competitive award received from the national organization's standards services program by Greenwood, and members of the team. "This is a way to enhance standards literacy in young professionals while preparing them with valuable competencies as they enter the workforce."
RIT's modules will emphasize infrastructure resiliency and environmental sustainability, and be available to use in undergraduate and graduate courses. Formats will vary—including case studies and simulation exercises that can be used in face-to-face and online courses. All can be integrated into degree programs in construction management, environmental sustainability, health and safety, and computing security at RIT, as well as smart grid and architectural engineering curriculum at partnering institutions. Eventually, module materials will be made available to other universities.
Content will address national trends and challenges related to climate change and infrastructure protections. It will also recognize demands made on communities, and industries, in the face of catastrophic events such as hurricanes and wildfires, as well as legacy pollution. Knowledge about standards is highly useful and practical, coming at a time when the U.S. is emphasizing enhancements and improvements to critical infrastructure through President Biden's Build Back Better and Infrastructure Investment and Jobs Act initiatives.
"It is very important for the students to understand the existence of the standards," said Sumita Mishra, professor of computing security in RIT's Golisano College of Computing and Information Sciences. "The learning curve should not be that steep. Students want to see things that are adoptable, not just at RIT, but outside the university and they want their efforts to be more far-reaching."
The modules will have reach as they are being piloted simultaneously at George Washington University and Penn State University. Both universities will provide feedback to RIT researchers before materials are made available externally.
Modules could supplement courses such as cybersecurity programming and risk management, as well as introduction to civil engineering, principles of construction leadership and management, sustainable building design and construction, risk management for information security, and solid and hazardous waste management.
Greenwood has more than 20 years of experience in environmental and occupational health and safety management, was principal investigator on previous RIT grants. Along with Mishra, she will be joined by Jennifer Schneider, professor and Eugene Fram Chair in Applied Critical Thinking at RIT, and Yewande Abraham, assistant professor in CET's Civil Engineering Technology, Environmental Management and Safety Department.
Topics