RIT awarded grant to develop curriculum modules
Educational materials aim to prepare civil engineering technology and environmental health and safety management students for industry careers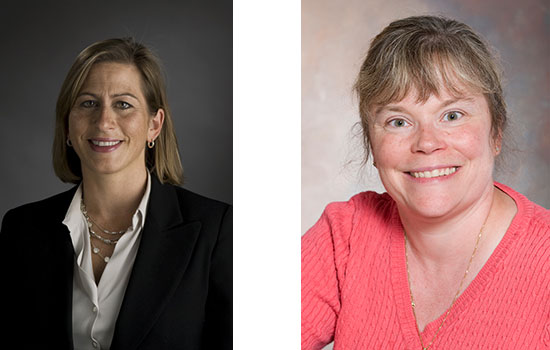 Rochester Institute of Technology was awarded nearly $75,000 from the U.S. Commerce Department's National Institute of Standards and Technology (NIST) to develop standards educational modules for the university's College of Applied Science and Technology.
The award for "Standards-based curriculum and capacity-building across risk prevention management system domains: health, safety, environmental and community sustainable development," will enable graduates to apply risk management strategies in a variety of organizations and industries, said Lisa Greenwood, lecturer in the environmental sustainability, health and safety program, and one of the faculty developing the modules.
"These standards are pretty important in industry; they are widely used, and several have recently undergone revision. This is an opportunity to give our students very current knowledge that they can put into place immediately in the workplace," said Greenwood. "In the area of risk management, some organizations tend to be very reactive, where you are dealing with environmental, health and safety incidents and impacts after they happen and putting out fires, so to speak. Management system standards enable organizations to be more proactive and to have a structure and process in place to identify and address environmental, health, safety and sustainability issues before they become a problem."
Standards education, a professional skill set using systems thinking to manage processes, particularly useful in the mitigation of operational risk such as safety, environmental impact and sustainable communities, said Jennifer Schneider, professor of civil engineering technology/environmental management and safety. The new modules will be incorporated into CAST's environmental sustainability, health and safety, civil engineering technology undergraduate programs, its environmental health and safety management graduate program, and available to other RIT programs. Graduates trained in standards can make an immediate impact in companies.
"A lot of smaller corporations and communities don't have a full time person to manage risks of all sorts, so they get it done through frameworks such as this, through management systems. It is becoming the method to really move the organizational needle in our complex world," Schneider explained.
Schneider is principal investigator for the project and also serves as the Eugene H. Fram Chair in Applied Critical Thinking at RIT. She and Greenwood are involved on committees for the U.S. Technical Advisory Group, a key national standards organization. Greenwood represents RIT on its environmental management committee; Schneider serves on the new community sustainability group. Both faculty are part of a multidisciplinary team developing the educational modules that includes Todd Dunn, associate professor and department chair, Joseph Rosenbeck, professor and graduate program chair, and Maureen Valentine, professor, all part of the civil engineering technology/environmental management and safety department. Modules will be available by the start of the 2017 academic year.
NIST provides industry, academia, government, with more than 1,300 Standard Reference Materials—data and information such as calibration standards for measuring equipment and procedures, and quality control benchmarks for industrial processes.
Topics