K-12's Army Educational Outreach Program connects students with research opportunities nationwide
Students worked at Army Cyber Institute as part of national apprenticeship and fellowship program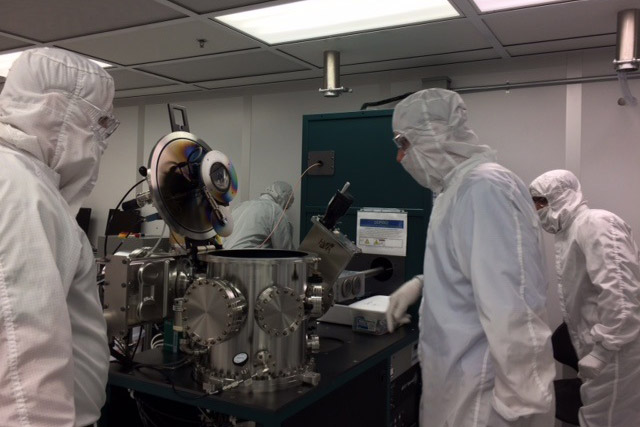 For 2022 game design and development graduate Emily Nack and current computing and information sciences Ph.D. student Lalitha Donga, their internships last summer at the Army Cyber Institute (ACI) at West Point were pivotal moments in their career trajectories. For Donga, who is from Sacramento, Calif., the experience has confirmed her desire to focus on security during her studies, and it has encouraged Nack, who is from Elizaville, N.Y., to pivot from her undergraduate studies to potentially pursuing further education in computer science. At ACI, they helped build the Internet of Things Research Lab, where Nack continues to work.
The K-12 University Center at RIT coordinates efforts like these to connect students with similar experiences. The center runs the Apprenticeships and Fellowships division of the Army Educational Outreach Program (AEOP). AEOP is a national set of programs run by a consortium of organizations, and the Apprenticeships and Fellowships division is one of many branches. The Apprenticeships and Fellowships division helps high school students through post-doctoral students find positions at research labs and centers affiliated with the U.S. Army and with universities across the U.S. Students do not need any prior or future affiliation with the military to participate in these opportunities.
This division of AEOP came to RIT largely because of Donna Burnette, executive director of the K-12 University Center. Prior to her work at RIT, Burnette led the AEOP consortium at Virginia Tech. When she came to RIT and saw that the Apprenticeships program would be open for new leadership, she jumped at the chance.
"I know AEOP very well and I know the impact specifically of apprenticeships really fits with RIT's co-op model. We're really into experiential education," Burnette said. The program later grew to incorporate a Fellowships program when AEOP was awarded special funding for this purpose from the Department of Defense National Defense Education Program.
Donga learned about this internship opportunity when ACI presented at a seminar related to her scholarship, and Nack discovered it through an RIT professor who knew people who already worked at ACI. Both were pleased with their experiences.
"There's an ever-growing network of physical objects connected over the Internet. Our job was to create a scalable network and configure IoT (Internet of Things) devices, allowing us to collect network and sensor data for visualization and artificial intelligence/machine learning algorithms," Nack said. The two explained further that their work focused on preventing hacking of these devices.
"A lot of the IoT devices we worked with in the lab are used by many people in their day-to-day lives," Donga said. "It was interesting to learn more about them and how we can make them more secure."
Burnette clarifies that the mission of the K-12 University Center is more wide-ranging than the name might imply. "RIT is trying to provide a continuum of experiences that spark interest and then give opportunities to hone those skills over time, from sparking at the bottom, to creating this diverse net to capture that talent, to giving hands-on experiences as we get people all the way up to post-docs. I would say that instead of K-12, we're probably more of a K-to-Career Center."
Burnette also emphasized that the program has a focus on mentorship and connection.
Nack said, "This is personally one of the best places that I've ever worked. Everyone at ACI is extremely supportive and extremely helpful, and they just want you to learn."
"I didn't know what to expect at all when I came, and it ended up being a lot different than I expected," Donga said. "I was able to get involved with multiple projects and learn so many new things. I also met a lot of new people that I was happy to have met. And I loved working with Emily."
"This is the dream team!" Nack added.
As a result of their work at ACI's Internet of Things Research Lab, Nack and Donga have received scholarships to attend the Women in Cybersecurity (WiCyS) 2023 conference in Denver.
Topics