TEDxRITKosovo: RIT Kosovo Students hosted an Inspirational Showcase of Xpression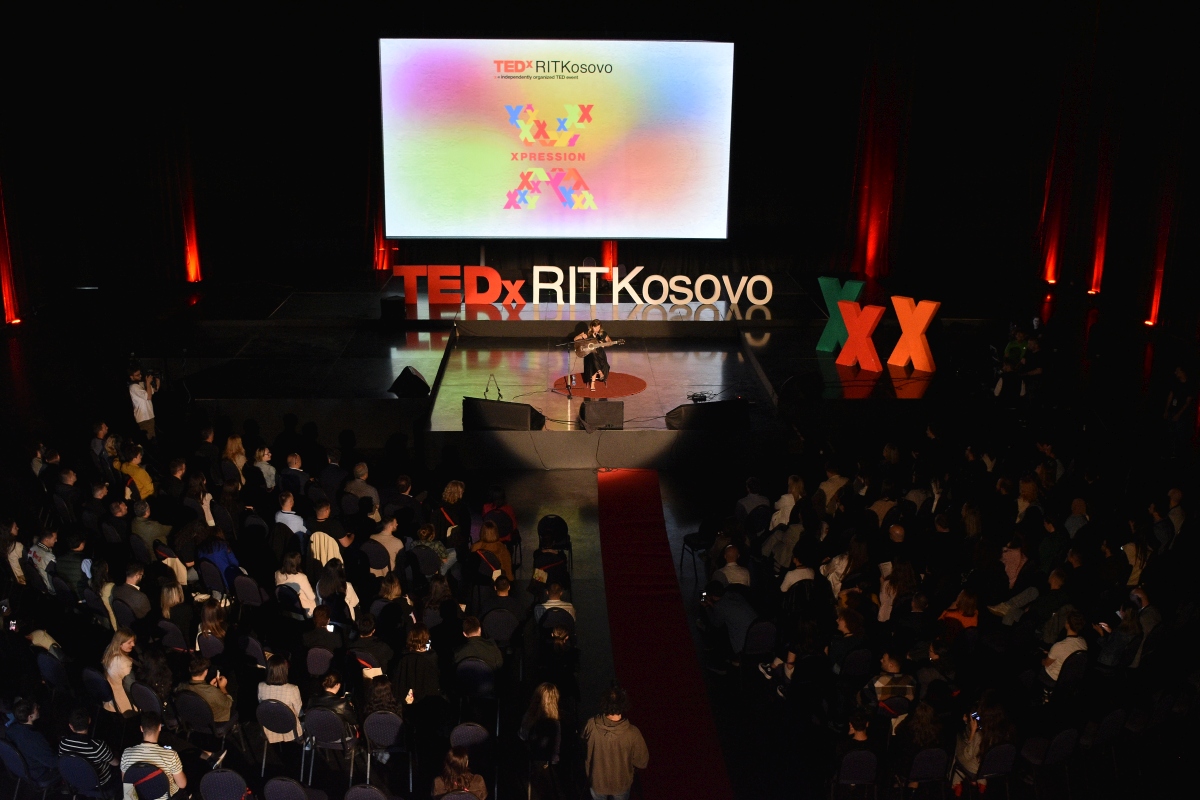 In a momentous celebration of innovation, resilience, and profound human connection, RIT Kosovo students organized the highly successful TEDxRITKosovo event on June 13th, 2023, at the AMC Hall in Prishtina. With the resounding theme of "Xpression," this captivating event unfolded as a beacon of inspiration, leaving a lasting impact on attendees and setting the stage for transformative ideas worth spreading.
Under the thought-provoking theme of Xpression, TEDxRITKosovo embraced the power of self-expression and encouraged participants to break free from societal constraints. The event delved into a diverse range of disciplines, captivating audiences with captivating talks that explored the realms of natural sciences, applied sciences, and motivational stories of personal growth. By embracing Xpression, TEDxRITKosovo became a catalyst for unleashing creativity and encouraging individuals to share their unique stories, experiences, and ideas in an authentic and engaging manner.
Throughout the event, an array of inspiring speakers took the stage to share their insights, experiences, and thought-provoking ideas. They illuminated the audience with their expertise, leaving an indelible mark on the collective consciousness of those in attendance.
The line of speakers in this event featured speakers of all fields including Vjollca Robelli-Mripa, Adriatik Kelmendi, Dea Luma, Labentine Shala, Ismet Sijarina, and Zana Tabaku. From exploring the profound impact of music on cultural identity to challenging the delicate balance between understanding and believing, the speakers unveiled captivating stories that harmonized heritage, fostered open-mindedness, and highlighted the transformative power of inclusivity. Additionally, they delved into the realm of sustainable fashion, ignited the imagination through the five senses, and showcased the potential of technology to drive positive change and foster connections.
TEDxRITKosovo's thought-provoking talks inspired attendees to embrace their unique perspectives, experiences, and ideas. The event's success extended far beyond the confines of the AMC Hall, creating ripples of positive change throughout the community. By encouraging individuals to think outside the box, TEDxRITKosovo empowered new generations of courageous and innovative minds to overcome environmental and social constraints. The event acted as a voice for the community, fostering a sense of belonging and inspiring others to share their stories and experiences.
TEDxRITKosovo stands as a testament to the passion and dedication of the RIT Kosovo students who organized this remarkable event. As the echoes of TEDxRITKosovo continue to reverberate, they serve as a reminder that by daring to be vulnerable and expressing our truths, we can create ripples of positive change that extend far beyond ourselves.
Topics