RIT alumni 'futurists' discuss blend of technology, the arts, and design at Imagine RIT symposium
Four industry experts talk about the role of AI, the benefits of diversity in thought, and the creative process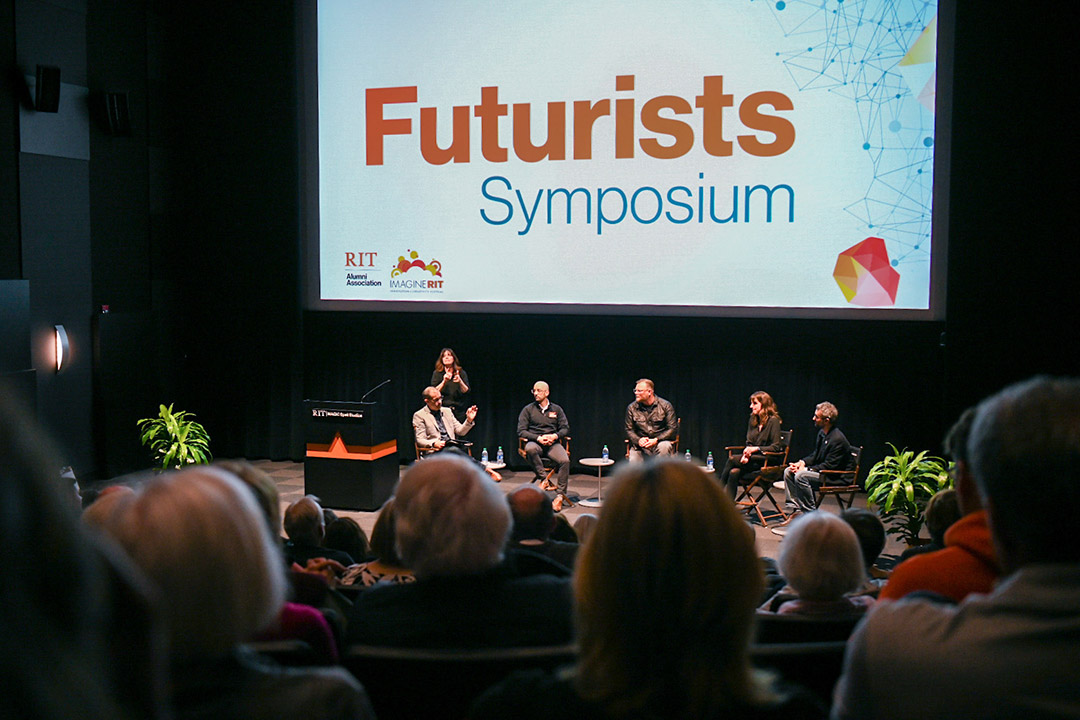 RIT alumna Christine Ramage is grateful that higher education provided her with strong technical fundamentals that helped her launch a highly successful career. As director of photography for Paramount+, she blends technology, the arts, and design daily to create masterful photos that bring images to life for multiple formats.
Ramage '95 (professional photographic illustration) spoke as part of the Futurists Symposium, a collection of RIT alumni tapped to present an insider's look into the future of industry as it relates to technology, the arts, and design. The symposium was held during the April 29 Imagine RIT: Creativity and Innovation Festival.
Joining Ramage were Luiz Freitas '07 (economics), vice president of experience personalization at Fidelity Investments; Josh Klenert '96 (graphic design), chief design officer at Bakkt; and Dmitriy Bekker '07 BS/MS (computer engineering), an embedded systems engineer for the Johns Hopkins Applied Physics Laboratory. The event was kicked off by RIT President David Munson and moderated by WXXI "Connections" host Evan Dawson.
"We all talk about the future and how technology changes our culture and expectations," said Dawson, as he introduced the presenters. "But now the future feels a lot closer."
Ramage, who believes that "a good photo will always be a good photo," is an expert in visual storytelling and said that her adaptive skills have matched the arc of the technology evolution.
"Through the use of technology, we are able to take our photos and adapt them to use a hundred million ways."
In his presentation, Freitas talked about artificial intelligence's "breakout moment" and encouraged the audience to dabble in the technology. He also said that his work in creating experiences that resonate with core audiences is being impacted greatly by AI, and there are no signs of it slowing down.
"As technologists, we need to learn how to work with AI and adapt to it, or someone else will," he said. "RIT students are now the closest to this technology evolution and they will be the ones who will most understand the ethical, technical, and creative implications."
Klenert began his presentation talking about his early days as art director for RIT's Reporter magazine. A love of magazines fueled his future work as a graphic designer for several high-profile brands, driving change for new digital platforms. Collaborating with a diverse team utilizing a variety of unique skills continues to grow the company, according to Klenert, especially as it delves deeper into the fledgling cryptocurrency industry.
"I'm a believer that life is all about the journey, not the destination," he said. "Change is the only constant, and I'm thankful for the opportunities I have to lead transformation and make brands relevant. My job is to build platforms that will be there for the future."
Bekker, who was the onboard image processing lead for NASA's Double Asteroid Redirection Test mission, talked about the importance of co-ops and internships, which helped fine tune his professional direction. He also mentioned that in the field of engineering, AI and machine learning present tremendous opportunities for the future.
"There is a lot of positive change that I see in STEM fields," said Bekker. "And there is a benefit for creativity in these fields. We are always looking forward to attracting new and diverse talent."
Added Klenert, "RIT is great at so many things, and the beauty of RIT is that a panel of experts in a wide range of subjects like this is possible."
Topics