RIT brings more technology into new language lab
Inauguration celebration planned Nov. 15 in Eastman Hall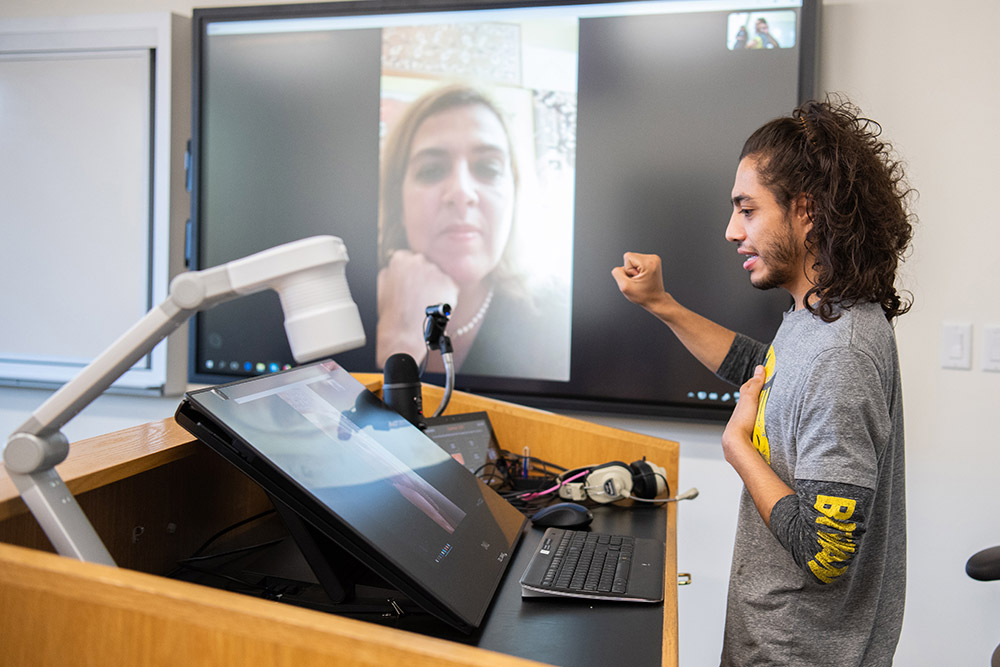 A new classroom lab, complete with wireless headphones, large touch-screen monitors and retractable computers that can be lowered into desks to improve visibility, has opened in Rochester Institute of Technology's Department of Modern Languages and Cultures.
"We are hoping to use this space to join technology and languages and create an ideal environment for language learning as well as to foster innovation," said Modern Language Technology Specialist Kévin Le Blévec, who teaches French.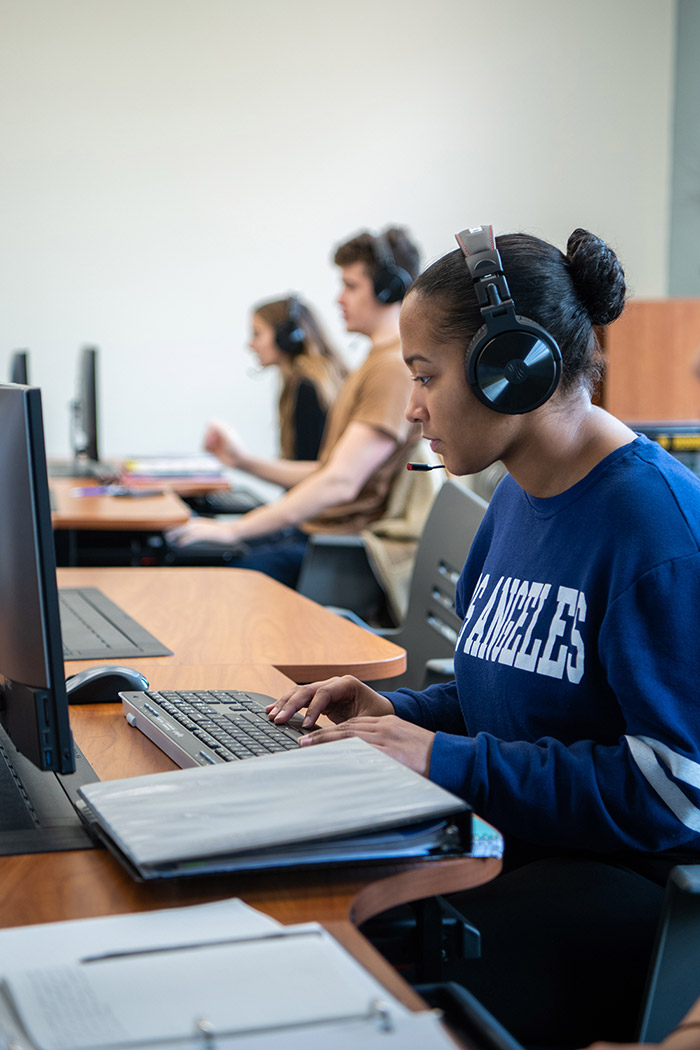 Gabrielle Plucknette-DeVito
The lab allows students to work on their comprehension at their own pace by listening to foreign words being spoken on videos. Using wireless headsets and microphones, they can record their pronunciation of words at their desks and submit their recordings to be graded after class has ended.
Everyone is invited to an inauguration celebration planned for the lab, which is in Eastman Hall, room 3263, from 2 to 3 p.m. on Nov. 15.
The lab, developed as a result of recommendations received by faculty and students, replaces a classroom which featured clusters of students seated in circles, never facing the same direction.
"Some of the main concerns we had was the line-of-sight was terrible in a traditional classroom," Le Blévec said. "You couldn't see bodies, you couldn't hear anything. And we wanted something more friendly for our deaf and hard-of-hearing students. Now, when computers fold into the desks, there is better communication, allowing students to collaborate."
The two large interactive screens offer options of hands-on vocabulary exercises such as matching words with drawings, annotations of digital documents and allowing sentences to be displayed and corrected by the swipe of a finger.
The new lab also features a large monitor which hangs from the ceiling and faces the teacher – or a sign language interpreter – when they stand in front of the class, so they don't have to look behind them to reference something on the board.
Le Blévec said the space is being used by various foreign language classes with up to 20 students once a week, but will also be used as a teaching and research facility as well as an open lab space for students.
"Our goal is to support language learning and teaching with innovative tools," he said.
Students are already benefitting from the high-tech classroom.
Elisabetta D'Amanda, principal lecturer and coordinator of the department's Italian program, recently had a Skype call during class with Federica Milano, who is linguistic director of the A Door to Italy Institute, which is RIT's Italy work abroad agency. Milano agreed to help the students become more conversational in Italian while she sat in her living room in Genova, Italy.
"Ciao!" Milano said smiling, waving to the class.
Students took turns speaking with her in Italian, introducing themselves, talking about the languages they speak, the weather and their interests.
"This is a remarkable improvement in the new lab for sound and image," D'Amanda said.
D'Amanda also used the technology to go over a worksheet with her students, as a camera projected it from the lectern to two large touch-screen monitors against the wall.
Next, guest linguistics professor Joelle Carota used the interactive boards to display a map of Italy and explained where different dialects and languages are spoken in the country. Later, a video was shown with natives speaking various phrases in Italian and English.
"We are delighted to see professors designing new technology-related activities and students engaging in independent work in the lab," Le Blévec said. "Our first graduate from applied modern languages and cultures was even able to beta test his Chinese pronunciation app in the lab."