How to Ace an Interview: Tips from a Human Resources Insider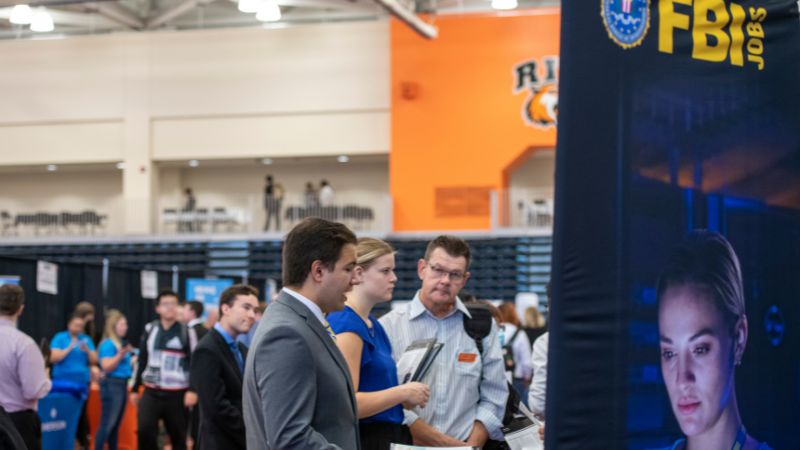 by Adam Histed, (criminal justice '00), Vice President of Total Rewards and HR Systems at BWX Technologies
I graduated from RIT with my undergraduate degree in Criminal Justice in 2000. Never would I have imagined at the time that I would ultimately spend my professional career in the field of Human Resources. Although many times we may wish otherwise, life is not predictable and our career paths may take many interesting twists and turns over time. I have now spent more than two decades working in the Human Resources field, and have had the opportunity to live in many exciting places both in the U.S. and overseas. 
I am frequently asked, "How did you end up in human resources with a degree in criminal justice?" Jokingly, I respond, "That is a long and winding-road story, but at the end of the day, my criminal justice degree has served me quite well in my career field." It truly has.
As human resources professionals, we have a myriad of laws, regulations and statutes with which to comply. We frequently engage in investigations when there are claims of inappropriate employee behaviors. And many times, we have to adjudicate investigatory findings to determine appropriate disciplinary actions to take, up to and including discontinuation of employment. However, being a human resources professional is generally not focused on the more serious side of the employer-employee relationship.
We also are focused on assisting employees with developing their talent and skills to create an enriching career. We identify methods and actions that can be instituted to ensure employees remain fully engaged at work. And, we design and implement total rewards programs that address employee pay and non-pay specific needs. Ultimately, people are the heart of every organization, and the recruitment and selection of talent is a critical exercise to ensure that the organization flourishes. 
As I reflected on this, I thought I would share with you some tips to assist you the next time you interview with an organization. Frankly, my tips are not the be-all-and-end-all imperatives for acing an interview, but rather are the result of twenty years of observation as to, in my opinion, what sets certain job candidates apart from others. Hopefully, you find these tips helpful.
First Impressions Are Everything: No. I am not talking about the moment you walk in the door to begin your interview. I am talking about your resume. That is your first impression. While it is true that your resume can speak volumes about your education and accomplishments, it equally speaks volumes about your attention to detail. One of the greatest concerns for a Human Resources professional when performing an initial review of a resume is finding spelling and grammatical errors; run-on sentences; inappropriate use of punctuation; and inconsistent formatting of the resume itself. 

We are all human, and imperfect, and it is all too easy to make these types of inadvertent mistakes on your resume. So, I would recommend doing two things before you send your resume anywhere. First, read your entire resume out loud to yourself. Usually, you will be able to identify issues more easily when doing so, than simply staring at the page you wrote. Second, and I cannot stress this enough whether you are talking about a resume or some other written document, find someone you trust and ask them to be "an extra set of eyes" that will provide candid feedback and offer suggestions to improve your resume.
 
Research the Organization with Whom You are Interviewing: Typically, when I am interviewing a job candidate, one of my first questions is "So, tell me what you know about ABC Corporation?" When I hear either "crickets" or "well…um," it potentially tells me two things about the candidate. First, they likely didn't prepare for the interview. Second, they are likely focused on landing a "job" versus finding an organization that has a mission that is aligned with their personal interests and career aspirations.

Human Resources professionals and hiring managers are keen to find job candidates that have an inherent interest in their organization. Why? Because we are all a part of a team, and we depend on each other to advance the mission of the organization. We want to find others who care about our mission, and want to be a part of it. These days, performing some basic research about an organization is fairly easy. Here are some recommendations:
 

Most organizations with whom you will be interviewing have a website. Scan through the site. Pay particular attention to any press releases that have been posted. They can be highly informative about activities in which the organization has been involved with recently.
 
If you are interviewing with a not-for-profit organization, read their most recent annual report. Also, search for their Form 990 filing at www.irs.gov. Both documents will give you insight into the organization's activities and financial management.
 
Likewise, if you are interviewing with a publicly-traded organization (meaning they have stock listed on a major exchange), access and read their most recent annual report on their Investor Relations webpage; read their last four quarterly earnings reports; and listen to their most recent quarterly earnings release analyst call. This will provide a wealth of information about the successes and challenges the organization is facing.

Long and short, an ideal candidate will synthesize the information available to them about the organization with which they are interviewing and provide insightful connections between the successes and/or challenges that organization is experiencing, and the value they could bring to the role. 

If we go back to my original question, "So, tell me what you know about ABC Corporation?" A response I would find to be most ideal would be: "ABC Corporation is an organization that is mission driven to find cures for common cancers. This is a mission that is aligned with my education and career interests. In fact, I listened to your last quarterly earnings call, and your CEO, Ms. Smith, was asked about the greatest challenge that ABC is faced with at the moment. She replied that finding research scientists that specialize in mRNA technology is the single greatest challenge with accelerating cancer vaccine development. I feel my background, given my undergraduate research in cancer, genetics and therapeutics, along with my work experience at XYZ Corporation centered on the same, may be able to help with that challenge and advance the mission of ABC."
 

Celebrate Your Past Mistakes: This may seem like an odd recommendation, but trust me, it helps. While HR professionals and hiring managers alike are very interested in your past successes, we are also interested to know about mistakes you have made in the past, what you learned from the mistakes, and perhaps most importantly, how you avoid making similar mistakes in the future. I frequently ask candidates about past mistakes, and all too often, they have no readily available examples to speak to. I believe that many times, candidates may be uncomfortable showing vulnerability and imperfection during an interview, but that is exactly what I want to see. It shows me that the candidate is honest, introspective, thoughtful, and willing to learn from the past in order to be improved in the future.
 
Brevity is Key: To quote George David, the former CEO of United Technologies Corporation (a company for which I worked for several years), "Speak by the word, not by the pound."

During an interview, you should answer those questions posed to you completely and succinctly. Nothing can be more distracting to an interviewer than a candidate who is so eager to sell their capabilities that they stumble into a long, rambling answer that fails to "get to the point."

Human Resources professionals typically develop interviewing guides for hiring managers and others involved with the candidate selection process. These guides generally contain questions that are behavioral-based such as "Tell me about a time when you experienced an irate customer. How did you handle the situation, and what was the outcome?" Behavioral-based interviewing is centered on the fact that past success is the best predictor of future success. As such, interviewers should assess candidates based on concrete examples of behaviors they have exhibited in the past. The STAR method for responding to behavioral-based interviewing questions is designed to help you keep your responses complete and succinct:
 

Explain the Situation or Task
 
Illustrate the Action(s) you took to address the situation or task
 
Describe the Result of the action(s) taken

Before heading into an interview, find a friend and have them ask you some behavioral-based questions to practice the STAR method. It's a sure-fire way to perform well during an interview.
 

It's Not "All About the Money": Avoid, at all cost, personally raising the topic of compensation during an interview. This is an immediate turn-off for interviewers, and it sends an implicit message that "pay" is the reason you are seeking a new job versus the "career opportunity" itself.

Of course, if you are asked by an interviewer what your compensation expectations are, answer honestly and realistically. If you are currently a student, the RIT Career Services organization provides access to pay benchmark data for many co-op and full time roles, by education level and discipline, to help you get an understanding of an appropriate market-rate of pay.

If you are currently employed, use your network to find a Human Resources professional that may be able to help you access pay benchmark data. Relying on data housed on certain voluntary pay disclosure websites is not always the best path, as many times the available data may not be as accurate as one would hope. In any case, you will have a chance to candidly discuss pay at the time an offer of employment is made. At that time, it is absolutely reasonable and expected that you ask questions and address any concerns you may have with the offered compensation package.
 
---
About the Author
Adam Histed BS '00 (criminal justice) serves on the College of Liberal Arts National Council, a group of distinguished professionals whose industry experiences and expertise help shape the College's offerings for the workplace of tomorrow. He is vice president of Total Rewards and HR Systems at BWX Technologies, where he oversees global executive and non-executive compensation and benefits programs, employee data systems and tools, global mobility, and rewards and recognition.
After graduating with a bachelor's degree from RIT, he earned masters' degrees in both criminal justice and human resources from Michigan State University. In 2006, Histed completed the HR Executive Program at the University of Michigan's Ross School of Business and in 2008 he completed the UTC Emerging Leaders program at the University of Virginia's Darden School of Business.
---
Preparing for a job interview? 
RIT Career Services and Co-Ops offers invaluable career-launching support and expertise, including additional guidance for practicing and preparing for your a job interview. One-to-one support is available from Career Service Coordinators with focused expertise on the College of Liberal Arts areas of study and careers. Find a coordinator here. > 
---