RIT well represented at 2023 Rochester Fringe Festival
More than 500 eclectic performances and displays planned Sept. 12-23 in Rochester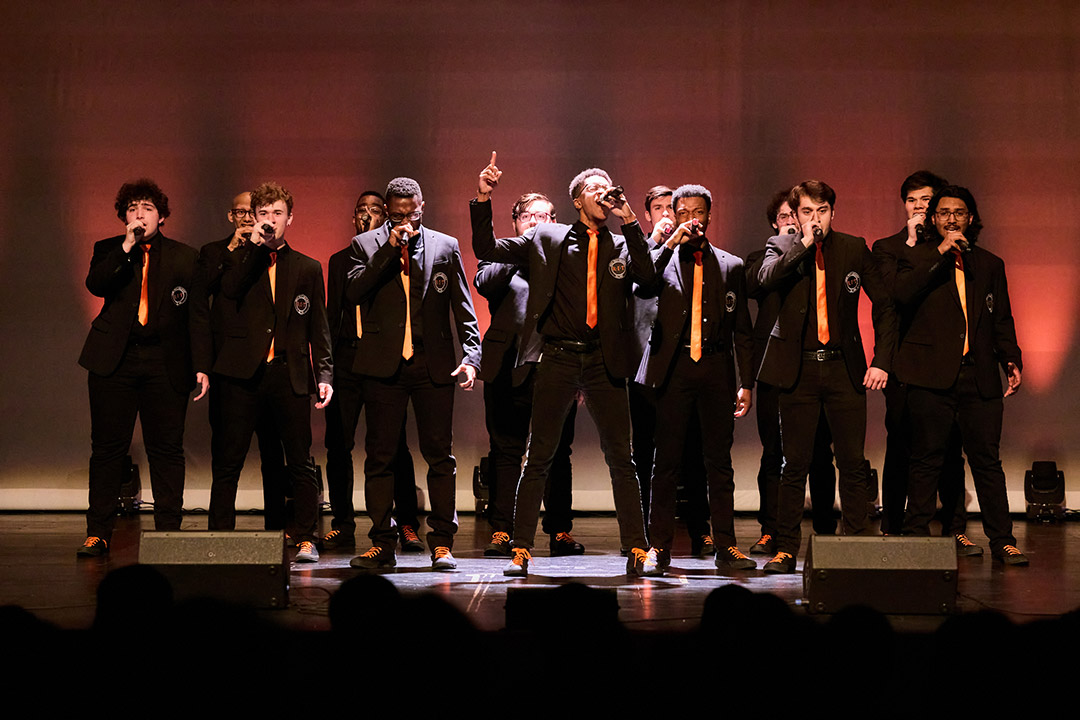 Rochester Institute of Technology students, faculty, and staff will contribute music, dance, comedy, poetry, photojournalism, and more during the 12th annual Rochester Fringe Festival, which begins Tuesday, Sept. 12, and runs through Sept. 23 in downtown Rochester.
More than 500 eclectic performances are planned during the 12-day festival. And 118 events are free, including all of the 37 RIT performances and exhibits, most of which will be held at Little Theatre #1, 240 East Ave.
Festival headliners include comedian Tig Notaro, who was a guest at last year's RIT Brick City Homecoming and Family Weekend; circus act Circolombia from South America; and from France, aerialist hot-air ballooning act Cirque Inestremiste at Parcel 5.
Free shuttlebus service to and from campus is being provided for RIT students wanting to attend the weekend events at the festival.
RIT also is a major educational sponsor of the community collaborative event. The festival will take place in more than 30 venues in and around downtown Rochester, featuring world-renowned performers as well as up-and-comers.
Rochester's Fringe Festival is the largest multi-genre arts festival in New York state and is renowned among the world's more than 300 fringe festivals for its large-scale, outdoor, free-to-the-public performances.
"Nancy and I look forward to seeing the creative talents found in our campus community shared with the greater Rochester community," said RIT President David Munson. "This festival, which embraces creativity in all forms, helps us showcase the variety of talent we have at RIT. We're proud RIT has supported Rochester's Fringe Festival since its inception."
"For more than a decade now, RIT students, faculty, staff, and alumni have been able to share their talents with the Rochester community," said Lynn Rowoth, associate vice president for community relations and special events. "We're grateful the Fringe Festival provides the opportunity to bring people together to enjoy the arts in a wide range of venues."
Go to the Government and Community Relations website for more details on the RIT offerings at this year's Fringe Festival.
The following will be presented at the Little Theatre, 240 East Ave.
(* denotes interpreted; CC denotes captioned)
Friday, Sept. 15:
Poetry of Tarot: A Reading Inspired by Tarot Images, 5:45-6:30 p.m. Adjunct faculty member Sean Watson will use the complex and meaningful imagery of tarot cards to inspire poetry, collective storytelling, and human connection.
*Inspired, CC, 6:40-7:40 p.m. Raina, once the only deaf and disabled person in film school, reunites with her ex and former teaching assistant, Sebastian, for dinner. On their date, it becomes clear that their college romance—and its sudden end—inspired the people they've become and the actions they take. Their love was never normal. It was special. The event includes a panel discussion with the film's Deaf production team about how they navigated creating a film with spoken dialogue, and about the importance of authentic representation.
The Mid-Century Modern Jazz Quartet, 8:05 to 9 p.m. The Mid-Century Modern Jazz Quartet plays straight-ahead jazz from the design period known as Mid-Century Modern, roughly the 1940s through '60s. The MCMJQ features Al Biles on trumpet and flugelhorn, Chuck Dye on 7-string guitar, Bruce Goldman on upright bass, and Steve Gates on drums. Their repertoire includes Miles, Monk, Gershwin, Golson, Porter, Shorter, Silver, Rollins, Jobim, and Ellington. They've played together in various overlapping groups for years, but this quartet is special.
See this Show Now, 9:40-10:30 p.m. RIT faculty from across the institute perform songs grounded in cultural significance and inspiration. Performances of works with Latin American, Afro-Caribbean, and Appalachian influences inform the showcase of talent in this one-hour show. This performance exhibits the spirit of community through folk, pop, and instrumental works that express the heritage and roots of this group of friends.
Saturday, Sept. 16:
*Reise of Jerald, 10-10:45 a.m. Jerald J. Creer retells the story of his journey called "Reise." Jerald is a Deaf storyteller, actor, and dancer with a history of theater background in dance, acting, and music. He was trained in various performing arts classes, theaters, and associations, and he is a social media influencer creating content through sign language. This is an opportunity to experience Jerald as a choreographer and director.
Desert Rhythms Belly Dancing, 11:05-11:55 a.m. This dazzling journey with eight belly dancers, including RIT staff member Marilyn Schleyer and alumnus Bridget George, will hypnotize with swirling veils and dueling swords, and amaze with sinuous movements and dynamic choreography. Desert Rhythms has developed a unique style, fusing Turkish and American belly dance, the culmination of its 35 plus-year history.
Greatest Hits That Should Have Been, 12:25-1:25 p.m. Bill Dresnack is the only area singer/songwriter/guitarist/harmonica player/CPA/attorney/professor/cat rescuer. He writes original, derivative songs that have impressed "a lot" of people (term of art), two dogs, and a parakeet. His influences include rock, blues, country, pop, humor, Beatles, Groucho, Neil, Dylan, Stones, Dead, Petty, Motown, Muddy, Kurt, White Stripes, and many more.
A Cappella Hour: Brick City Singers, Eight Beat Measure, and Encore, 1:50-2:50 p.m. Three of RIT's a cappella groups come together for an hour of fun vocal music! Brick City Singers boldly goes where no other a cappella group goes. Eight Beat Measure raises the heat with exciting performances and powerful tunes. Encore entertains audiences with lively energy and fun-loving stage performances.
Tiger Steel Steelband Ensemble, 3:10-4 p.m. RIT's Tiger Steel steelband plays on authentic steel drums. From pulsating calypsos to American popular music, enjoy a musical journey as they share their passion for this unique musical tradition with the world.
A Latin Dance Showcase, 4:25-4:45 p.m. Join RIT's Latin Rhythm Dance Club as its performance team showcases what Latin dance is all about. From the fast-paced polyrhythmic style of Salsa to an R&B-inspired intense style of modern Bachata, and more, the dancers will bring you an exciting performance that shows the diversity of Latin rhythms, and how Latin dance continues to evolve and grow throughout the worldwide Latin dance community.
Plus One, 5:15-6 p.m. Playing a variety of covers from many musical genres, Plus One, a funk pop band, pulls its members from different majors and colleges at RIT to form a truly unique collective. Comprised of 10 members, the innovative ensemble reinterprets the classics and iconic tunes from the '60s through present day, infusing their music with a maturity beyond their years and musicianship of the highest standards.
*RIT Improv at Fringe, 6:35-7:05 p.m. RIT Improv returns for another year of silliness and fun, with a comedy show that has never been done before and will never be done again. Anything can happen as students think on their feet and create situations that have every chance of spinning out of control.
Documentary Short Films: RIT Photojournalism, CC, 7:15-8:15 p.m. This faculty-selected program presents cinematic, documentary short films created by photojournalism students from RIT's School of Photographic Arts and Sciences. Each film brings human-centered awareness to the stories of people, social issues, and events from Rochester and beyond, and are the final capstone projects for students completing their BFA degree in photography.
Musical Theatre Cabaret, 8:40-9:40 p.m. Watch RIT Performing Arts Scholars and students perform a series of musical theatre acts. Ranging from comedy to power ballads, solos to dynamic group scenes, there's something for everyone as vocalists recreate iconic musical numbers.
Sunday, Sept. 17:
*Thomas Warfield – The Way of Poetry: The Lyrical, Narrative, Rhythmic Spoken Word, 11 a.m. to noon. Warfield performs poetry he has written over the last 40 years— beginning with one of his poems from 1983 and ending with a recently composed poem from 2023. In between the spoken word storytelling, Thomas weaves in and out of dialogue with the audience in an intimate question-and-answer style format. Musical interludes from area musicians enhance this spoken word performance.
Moving Sound, 12:45-1:30 p.m. This project is based on an interactive device that seeks to enhance the creation, exploration, and the experience with sound. It acts as an extension of the dancers' bodies. Their motions will modify, create, or change the sounds from the environment where the actions are taking place. The event will consist of sound creation, dance, and live video projection.
Dear Eleanor Film and Diversity Theater, CC, 2:15-3:30 p.m. A short film for all ages, written and directed by Tina Chapman DaCosta in partnership with RIT Diversity Theater. The film is set in 1941 as Buddy, an airplane mechanic from Ohio, enrolls to serve his country as a Tuskegee Airman, but his beloved Eleanor must overcome her fears of identity discrimination to take a chance on love. Winner Best Score and nominated for Best Editing at the Diversity in Cannes Film Showcase Cannes Film Festival 2023.
 *Black Deaf Male: Who Am I? 4-5 p.m. Written and performed by Fred Michael Beam, Black Deaf Male: Who Am I? examines what it's like to exist at the intersections of several identities, and the ways his lived experiences don't always align with the labels that the rest of the world uses to define him. Standing alone on stage, Beam signs a heartfelt monologue, as we hear his signed words spoken by an off-stage interpreter. The show is a lively reminder of art's ability to place its audience in another's shoes.
*Sunshine 2.0 Variety Show, 5:30-6:30 p.m. The National Technical Institute for the Deaf Sunshine 2.0 performance involves the use of movement, sign language, physical theater, entertaining physical elements, and STEM content. This show educates students and other audiences about the Deaf experience—information that is shared through skits and short plays involving sign-mime, dance, gestures, ASL poetry, songs, and storytelling. All performances are presented in sign language and spoken English to provide full access to audiences.
Thursday, Sept. 21:
Best Films! RIT School of Film and Animation, CC, 6-10 p.m. Enjoy the animation, fiction, documentary, and experimental films made by students during the 2022-2023 academic year and selected by the faculty of RIT's famed School of Film and Animation.
Friday, Sept. 22:
*It's a Mystery, 5:45-6:35 p.m. Dangerous Signs is an award-winning ASL poetry and musical performance group. This year's show is called It's a Mystery: poems, songs, and humor held together by a light taste of an old-fashioned murder mystery whodunnit.
*Deaf, Queer and Fabulous, 7:05-8:05 p.m. A one-man multimedia show featuring signed musical performances and storytelling by RIT alumnus JPosh, on the journey of #Adulting post-college.
A Cappella Hour with RIT's Proof of Purchase, Vocal Accent, Surround Sound and Kaminari:, 8:20-9:20 p.m. Four of RIT's a cappella groups join forces for an hour of great vocal music. Surround Sound is RIT's premier Barber Shop group; Kaminari is an all-gender group that performs all genres of Japanese music; Vocal Accent is the most recent soprano/alto group; and Proof of Purchase—also known as POP—is the original all-gender group.
*Fowl Play Skitters Around, 9:35-10:35 p.m. Student-run Fowl Play Comedy Troupe practices improv, standup, and scripted comedy. All skits to be performed were written and directed by club members.
Saturday, Sept. 23:
Out of Sync, 10-10:40 a.m. Out of Sync is a tapestry of psychedelic ambient sound set to an evolving array of visuals inspired by abstract art, avant-garde film and animation, layered together and performed with a sense of improvisation and experimentation. It's a project of Rochester artist Chuck Miller, an RIT alumnus and instructor, and an evolution of his MFA work in computer graphics and design.
RITPO Chamber Music Showcase, 11:30 a.m.-12:15 p.m. Directed by Yunn-Shan Ma, young talent at the RIT Philharmonic Orchestra formed small chamber ensembles to showcase chamber music works of various instrumentation, including solos, duets, string quartet, woodwind quartet, quintet, and brass trios. These ensembles play works from standard repertoire as well as contemporary arrangements, including folk and film tunes.
Brick City Boppers Showcase, 12:50-1:20 p.m. The Brick City Boppers, RIT's swing dance club, perform in a variety of different dance styles, including Lindy Hop and Charleston. This performance features social dances, choreographed dances, and a group dance.
Chinese Dance Performance, 1:30-1:45 p.m. RIT's new dance club brings traditional Chinese dance forms to Fringe for the first time, with performances of fan dance, lion dance, and much more.
WADAIKO Performance, 2:15-3 p.m. WADAIKO Is Rochester's only taiko group, aiming to expand cultural knowledge and interest through traditional drumming shows. WADAIKO is entirely run by RIT students. Most songs performed are traditional and passed on through oral tradition, while some are more modern or contemporary pieces, taught to WADAIKO by professionals or other groups.
Velocity Performance, 3:45-4 p.m. Velocity is a student-run urban dance team at RIT that aims to foster a positive and supportive environment. The team is performing various pieces choreographed by different crew members.
Far From Home, 5-6 p.m. Travel with retired faculty member Howie Lester (two-time winner at The International Folk Music Film Festival), on Fiddle and Sarangi, playing tunes about being Far From Home; from Nepal, Ireland, Appalachia, the Blues, Eastern Europe, The Bronx and Howie's backyard. Transcend the mundane! Enter the Metaverse of Howie's absurd imagination and return refreshed and cured of tarantula bites.
Small Mallet Ensemble, 6:45-7:30 p.m. The RIT Small Mallet Ensemble is a student-led percussionist group with a focus on keyboard and mallet repertoire. They perform a collection of modern duets and ensembles.
*Bad Auditions by Bad Actors, 8-8:30 p.m. RIT Players presents Bad Auditions by Bad Actors, a relatable comedy that brings to life the chaos and absurdity of the audition process. With a blend of witty dialogue and over-the-top characters, the play takes a lighthearted approach to exploring the universal experiences of aspiring actors and the mishaps that occur when talent meets incompetence.
*RIT Drag Club Presents Fringe Drag Show, 9-10 p.m. RIT Drag Club presents: Hoe-Down! This drag show features a cast of performers and promises to be a celebration of all things glam and country: cowboy hats, boots, chaps, and glitter included. Please note, this show is for 18+ and contains adult content.
Ongoing:
"Living Room," by Arkhé. 6-9 p.m. Sept. 15; 10 a.m.-9 p.m. Sept. 16; 11 a.m.-5 p.m. Sept. 17; 6-9 p.m. Sept. 22; 10 a.m.-9 p.m. Sept. 23, all at the Little Theatre 1 Lobby. Living Room is a digitally enriched, interactive space. Visitors become impromptu collaborators by exploring a familiar and nostalgic living area. Through functional programming and AI interpretive agents, their interactions will re-program the environment itself. Anything might make the difference: shirt color, their position in the space, even their coaster preferences. Living Room is created by the Arkhé team in the new media interactive development program at RIT.
Say Cheese, CC. A one-minute advertising trailer. 6:40 p.m. Sept. 15; 1:45 p.m., 6:30 p.m., 7:10 p.m. Sept. 16; 2:10 p.m., 3:55 p.m. Sept. 17; 5:55 p.m. Sept. 21; 6:40 p.m., 7 p.m., 8:15 p.m., 9:30 p.m. Sept. 22; , 9:45 a.m., 7:55 p.m., 8:55 p.m. Sept. 23. Produced by students at RIT and RIT's National Technical Institute for the Deaf, the clip depicts a hearing college student who attempts to ask out his crush, a deaf classmate. Using his beginner American Sign Language, he tries to ask her to the movies but instead he signs a visually similar sequence which translates to "cheese." Using the universal love of the movies, the two work it out and end up on a date. The short film was awarded the grand prize in the 2022 Coca-Cola Refreshing Films program.
The following is at RIT City Art Space, 280 E. Main St., in the Sibley Building:
Peter Pincus, 1 to 9 p.m. Sept. 15, 16, 22, and 23; 1 to 5 p.m. Sept 17. Through porcelain vessels and more, Peter Pincus, assistant professor in the School of Art, blends color theory, the history of decorative arts, and cutting-edge technical experimentation in ceramics.
A complete schedule of RIT Fringe events (and notations on interpreted performances) as well as the shuttle schedule and map to and from RIT are available on the Government and Community Relations website, or contact Rowoth at 585-475-7408 or lynn.rowoth@rit.edu.
Topics