RIT receives STARS Gold rating for sustainability achievements
AASHE recognizes university's environmental successes in many key areas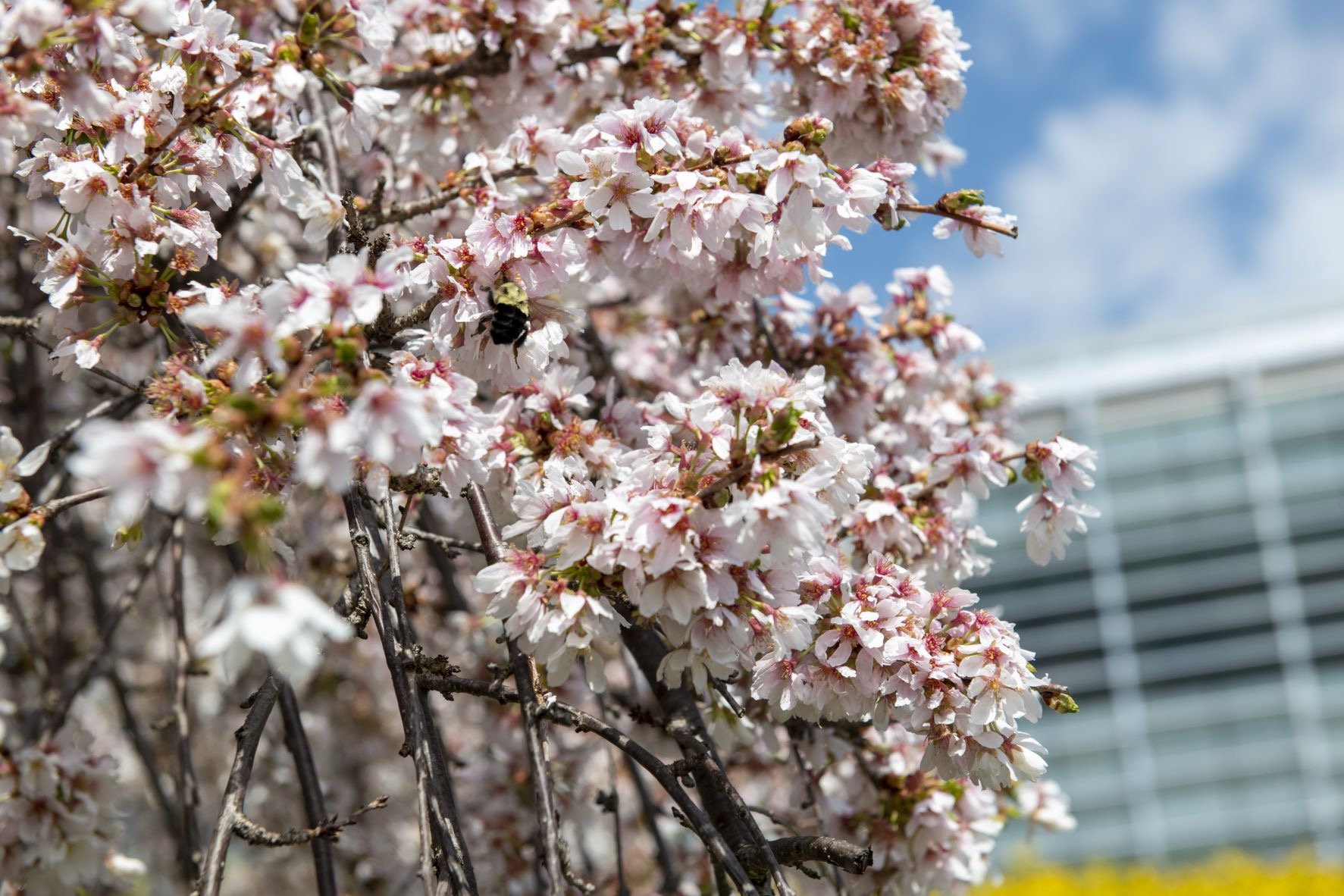 Elizabeth Lamark
As the world recognizes Earth Day 2022, Rochester Institute of Technology is celebrating a STARS Gold rating in recognition of the university's sustainability achievements from the Association for the Advancement of Sustainability in Higher Education (AASHE). Short for the Sustainability Tracking, Assessment & Rating System, STARS measures and encourages sustainability in all aspects of higher education.
The increased score—RIT achieved a STARS Silver rating in its two previous submissions dating back to 2013—is a result of improvements in many key areas, according to Enid Cardinal, senior advisor to the president for strategic planning and sustainability.
The percentage of students graduating from degree programs that have sustainability learning outcomes increased from 24 percent to 36 percent. Sustainable office and sustainable living certifications (for students living in residence halls) have been developed to increase engagement across campus as well as the inclusion of sustainability experiences in RIT 365, Cardinal noted.
In addition, RIT's solar energy use across the university's main campus and the purchase of renewable energy credits for all of the electricity the school buys were important factors in achieving its higher rating, she added.
"RIT continues to make significant strides growing our sustainability efforts and programs," Cardinal said. "While we believe that every day should be Earth Day, we are proud to celebrate our STARS Gold rating on the official day the world commemorates our planet."
With more than 900 participants in 40 countries, AASHE's STARS program is the most widely recognized framework in the world for publicly reporting comprehensive information related to a college or university's sustainability performance. Participants report achievements in five overall areas—academics, engagement, operations, planning and administration, and innovation and leadership.
"STARS was developed by the campus sustainability community to provide high standards for recognizing campus sustainability efforts," said Meghan Fay Zahniser, AASHE's executive director. "RIT has demonstrated a substantial commitment to sustainability by achieving a STARS Gold rating and is to be congratulated for their efforts."
Unlike other rating or ranking systems, the AASHE program is open to all institutions of higher education, and the criteria that determine a STARS rating are transparent and accessible to anyone. Because STARS is a program based on credits earned, it allows for both internal comparisons as well as comparisons with similar institutions.
Earth Day is an annual event on April 22 to demonstrate support for environmental protection. First held on April 22, 1970, it now includes a wide range of events coordinated globally by EarthDay.org, including one billion people in more than 193 countries. The official theme for 2022 is "Invest In Our Planet."
In honor of the 50th anniversary of Arbor Day, RIT will hold a tree planting event from 10 to 10:30 a.m. next Friday, April 29, in the bus stop in S Lot near Global Village. According to Cardinal, shovels will be on hand so people in attendance can assist with the planting. Over the last half century, the Arbor Day Foundation, founded in Nebraska in 1972, has planted and distributed nearly 500 million trees in more than 50 countries around the world.
AASHE is an association of colleges and universities that is working to create a sustainable future. The organization's mission is to empower higher education to lead the sustainability transformation.  It provides resources, professional development, and a support network to enable institutions of higher education to model and advance sustainability in everything they do—from governance and operations to education and research. For more information about AASHE, go to www.aashe.org.  For more information about the STARS program, go to stars.aashe.org.
Topics