Digital camera inventor visits graduate photography class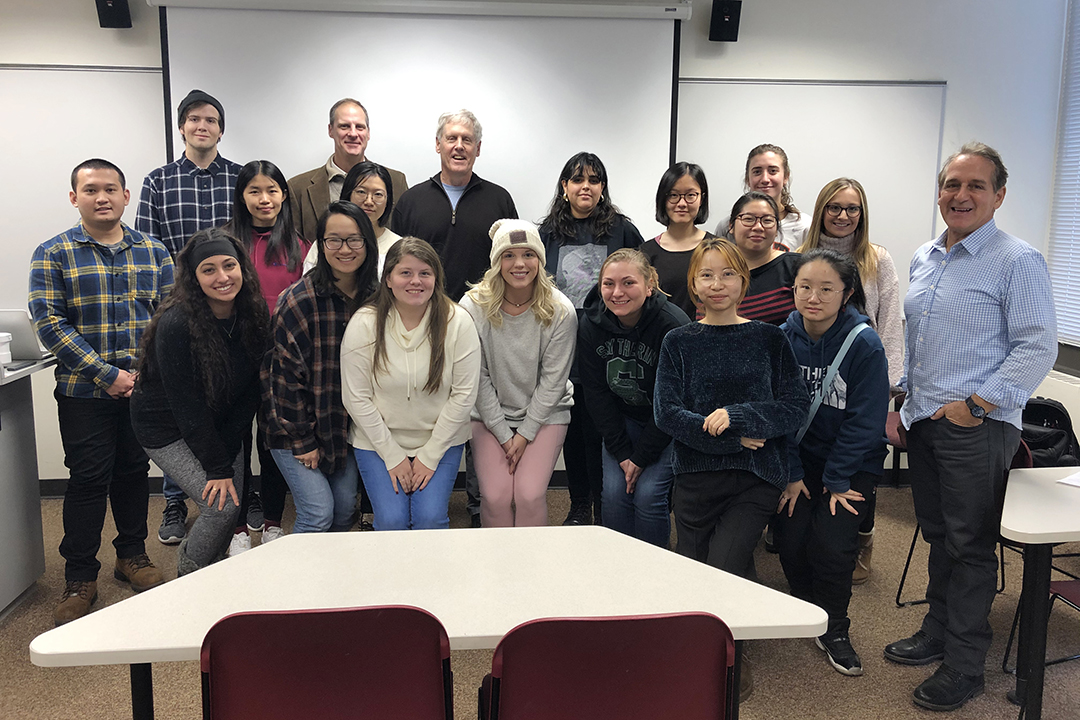 A Media Arts and Technology (MS) course focused on disruptive innovation to the photographic and graphic communications industries had a most appropriate speaker earlier in November. 
Steve Sasson, a longtime electrical engineer at Eastman Kodak Company who invented the first portable digital camera, presented on his revolutionary creation in the Industry Issues and Trends class, taught by RIT School of Photographic Arts and Sciences faculty Bob Rose and Chris Bondy. 
Sasson developed the technology in 1975, but his prototype wasn't made public until 2001. In between, the first digital camera project was kept mostly a secret from the public. The ahead-of-its-time technology was created when film photography was booming and comparatively cost-effective while digital products were expensive and "weird," according to Sasson. 
Plus, film photography produced higher quality images at that point. It would have been a big cultural change for consumers.
"I wasn't allowed to talk about any of this stuff for a long, long time, so it's really fun for me to be able to tell the story now," Sasson said at the start of his lecture. "... This was not changing the color on a camera. This was fundamentally changing the entire industry, the entire business model."
For more than an hour, Sasson engaged students with the genesis of his life-changing work in Kodak research labs — with tales of technical hurdles, applying for and receiving a patent and how CBS News used a related product he helped engineer to cover a world-famous event, showing the world the power of digital photography.  
"When technology develops, sometimes it takes a long time," Sasson said. "This story took basically my entire working life to unfold. It can take a long time, but you would be amazed at the changes that can take place."
Lynne Tseng '11 (Photographic Sciences) is a Media Arts and Technology student in the class Sasson visited. 
"It's one thing to learn about the concepts of diffusion of innovations and different theories about how to innovate in a classroom setting, but to see the impacts in a real situation brings the concepts to reality," she said. "Steve Sasson's talk helped us understand that to find success and passion in a career, we need to look for companies that have an eye toward the future while supporting ideas and innovation from within.​"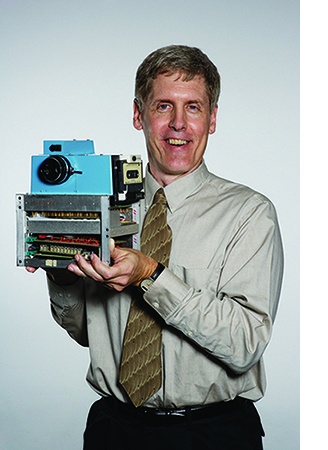 When Sasson first snapped a photo with his digital camera prototype in 1975, it was black and white. In 1986, it was capable of shooting in color; and in 1995, Kodak released its first commercial digital camera. 
A turning point in pushing the technology to market occurred during the 1989 Tiananmen Square protests in Beijing, China. 
Sasson did much of the technical work on a transceiver system that could rapidly transmit compressed image data from one location to another via a phone line to display a photo on the receiving end. With conventional communication channels in China shut down during the protests, CBS News used the two transceiver devices it purchased from Kodak for the first time. As a result, CBS was able to broadcast dramatic photos of the events that other networks had no means of disseminating in real time. 
A subsequent CBS News feature on the new technology referred to it as a "magic box" and "godsend." Sasson said the product enabled Kodak to later pursue digital photography. 
Today, of course, the initial questions of electronic storage and image quality and processing that surrounded digital photography have been answered. Sasson's work at Kodak transformed photography and propelled it into the digital age. 
In the early days of his research, even when film photography was cheaper and higher quality, Sasson answered critics with the optimism of a forward-thinking innovator.
"I don't know I just think things are going to get better for this stuff," he would say in response to why go digital. "It was a vision statement."
Nikita Fox, a fourth-year Advertising Photography student in the class, said it was an honor having Sasson in to share his experience making the first digital camera.
"It was a great opportunity and it matched the coursework perfectly," Fox said. "We've been talking about how new, disruptive technology changes the market and how fast it can be adopted by consumers. The digital camera is something that anyone with a smartphone owns, but in 1975 when it was invented, no one ever thought that it would be the product of choice over film. Steve Sasson was the best possible speaker that we could have had since his invention changed the world as we know it."