Game on: Video game with ties to RIT ready for primetime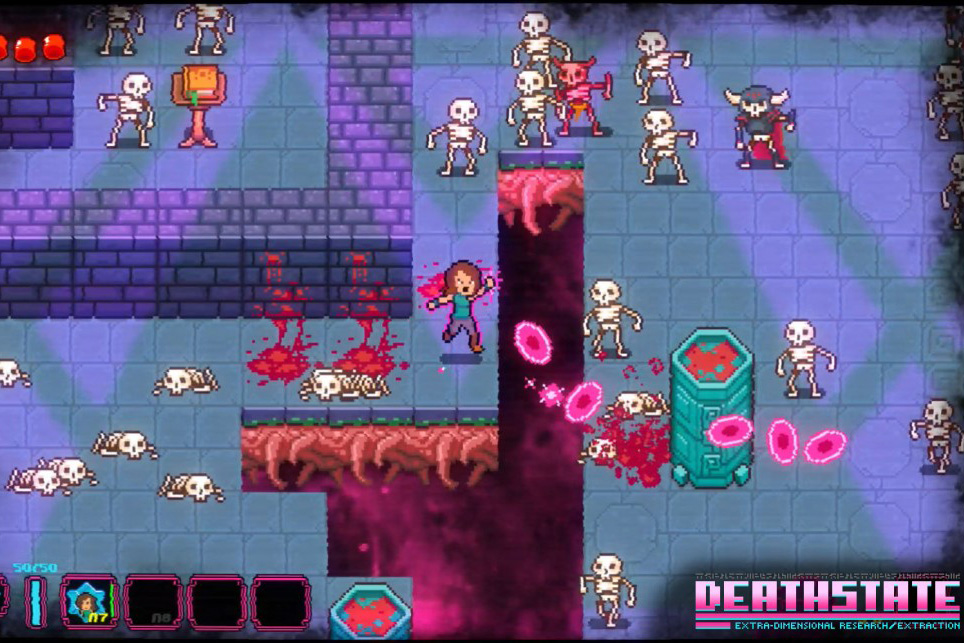 Workinman, a video game company co-owned by RIT School of Design professor Jason Arena and RIT new media design alumnus Keith McCullough (2002), will soon see one of its featured games released on PlayStation 4.
"Deathstate: Abyssal Edition," a transdimensional, roguelike, bullet-hell shooter, is set to be launched on the PlayStation Network on April 25 for $9.99. A host of RIT College of Art and Design and Golisano College of Computing and Information Sciences alumni and faculty had a hand in either the game's creation or its design and growth.
Deathstate, which was co-created by CAD alumni Matt Leffler and Pete Lazarski, has been available on online gaming platform Steam since 2015 and it is now ready for expansion.
Arena, McCullough, Leffler (illustration; 2009) and Lazarski (graphic design; 2005) are just a few of the many with RIT ties who contributed to the development of the RPG and its upcoming debut on PS4. Bread Machine Games also helped developed Deathstate.
The CAD and GCCIS graduates who also played a role in making Deathstate what it is today include Rob Adams (computer science; 2016), Justin Dambra (game design and development; 2013), Kathryn Defeo (illustration; 2010), Matt Porter (illustration; 2008) and Devin Strehle (game design and development; 2011).
The upgraded edition of the game has an abundance of features that were not part of the initial launch on Steam, including more than a year's worth of new planes and new bosses and relics.  
Topics