Production student exhibits video installation at Ann Arbor Film Festival
A trio of 32-inch screens cycles through videos at a slot-machine pace, revealing the installation as an impressive demonstration of technology, the arts and design. 
"Amalgamate," a three-channel video sculpture inspired by exquisite corpses and mix-and-match toys like Potato Head, was devised by Alexandra McDonald '22 production option (film and animation BFA). Her project was accepted into the Ann Arbor Film Festival, where she exhibited and delivered a presentation about the work March 22-27.
The Academy Award-qualifying festival, which took place in the Michigan Theater, is considered one of the premier venues to showcase experimental films like McDonald's.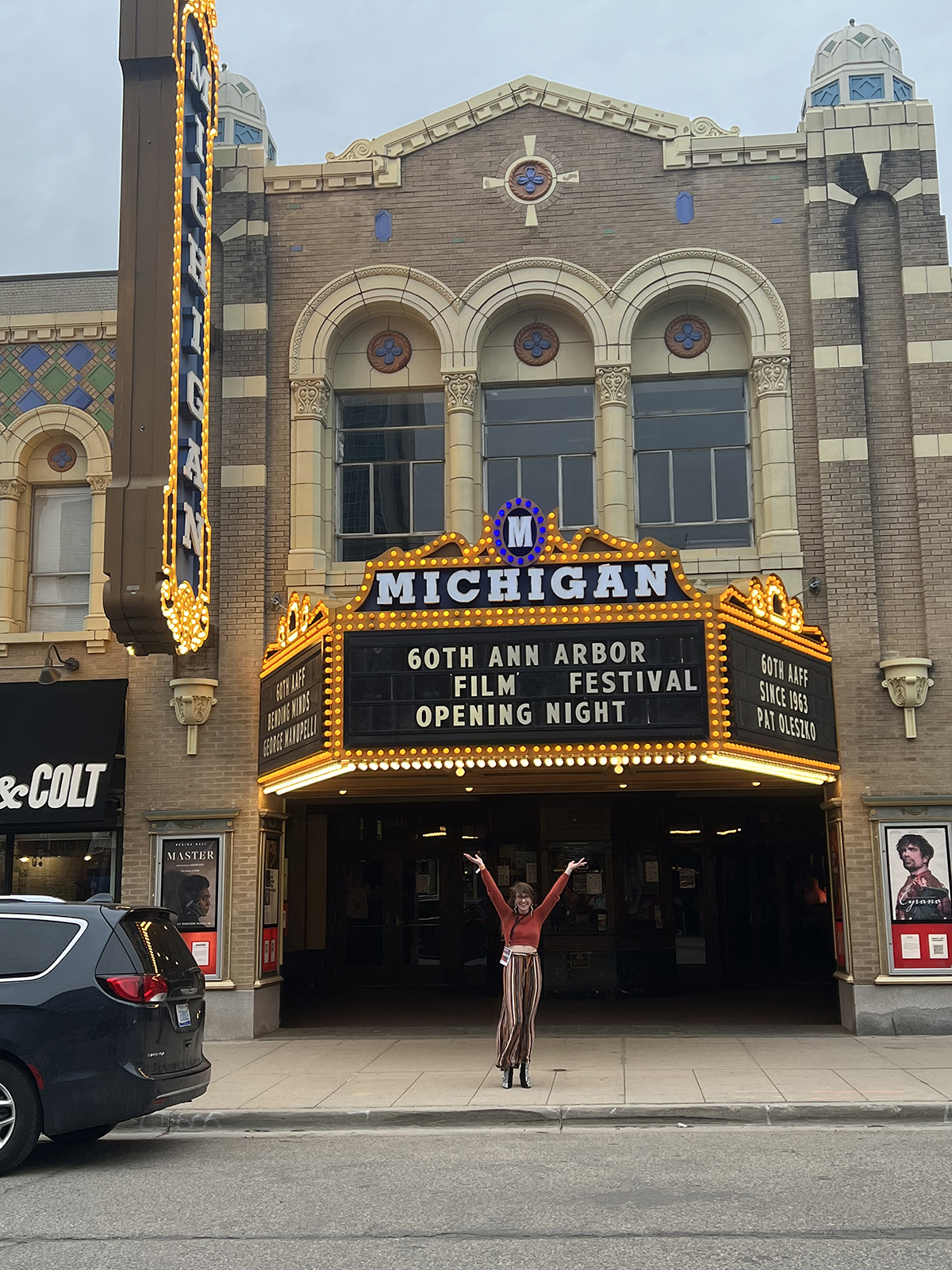 McDonald, who estimated she was the only undergraduate student exhibiting, was able to network with professional filmmakers and other artists from the U.S., England, Germany, Japan and beyond. 
"There were a lot of like-minded individuals (at the festival)," said McDonald, from Seekonk, Mass. "It's mostly people who are in the experimental cinema world and community. People would look at my project and just kind of get it. They would understand different themes I was thinking about when I made it. But it was also cool hearing what people took away from it that I may not have intended."
"Amalgamate" segments the human body into changeable pieces through three TV monitors stacked vertically to display thoughtfully-produced videos of self-expression from a vast collection.
The top screen possesses distinctly different videos of McDonald's face, the middle one is a video assortment of her torso in different outfits and the bottom presents videos of McDonald's legs. Users activate each with the press of a button, which signals the random selection of a video in a slot machine-like manner. The end result of the interactive piece is a life-sized, mix-and-match version of McDonald.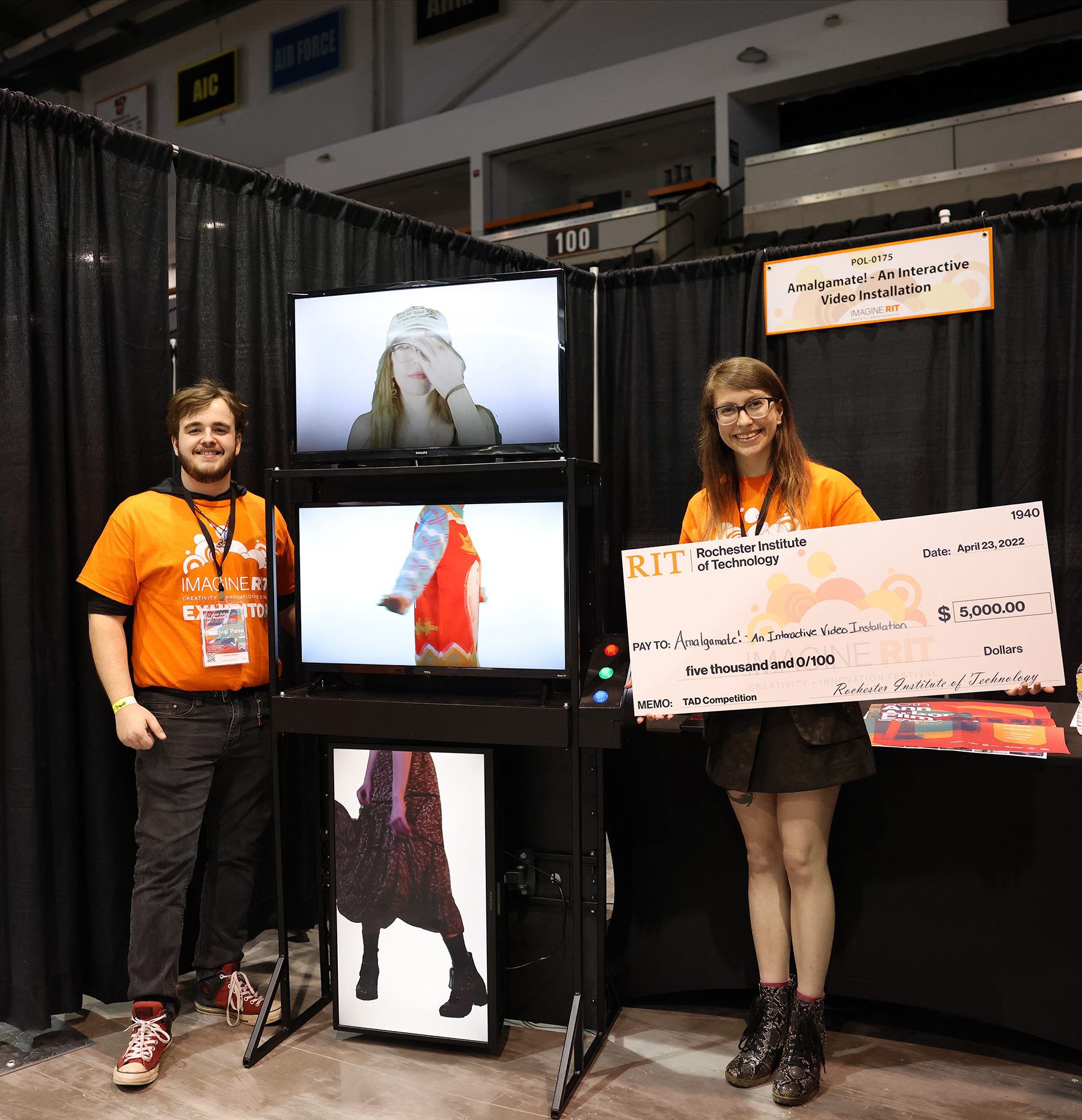 Jesse Wolfe '22
"Amalgamate" was also exhibited at Imagine RIT: Creativity and Innovation Festival and was named a winner in the Technology, the Arts and Design competition (pushing the boundaries of visual communications and imaging category).
A crew of fellow students worked with McDonald to film her for the videos. Production student Johnny Gates, a director of photography for the project, and Eric Bernard, a software engineer friend from high school who handled the installation's programming needs, accompanied McDonald at the festival. 
McDonald was introduced to the world of experimental film in Lecturer Christine Banna's Radical Cinema Workshop class. McDonald, whose other film work focuses on screenwriting and documentary, quickly discovered an appetite for exploring a non-traditional form of film. 
"As soon as Christine taught us everything that experimental cinema can be, I knew I wanted to make a video installation," she said. "I wanted to have a big project that isn't meant to be screened in a traditional sense. I just fell in love with the workflow, the process and the outcomes. Now I hope to do more of them."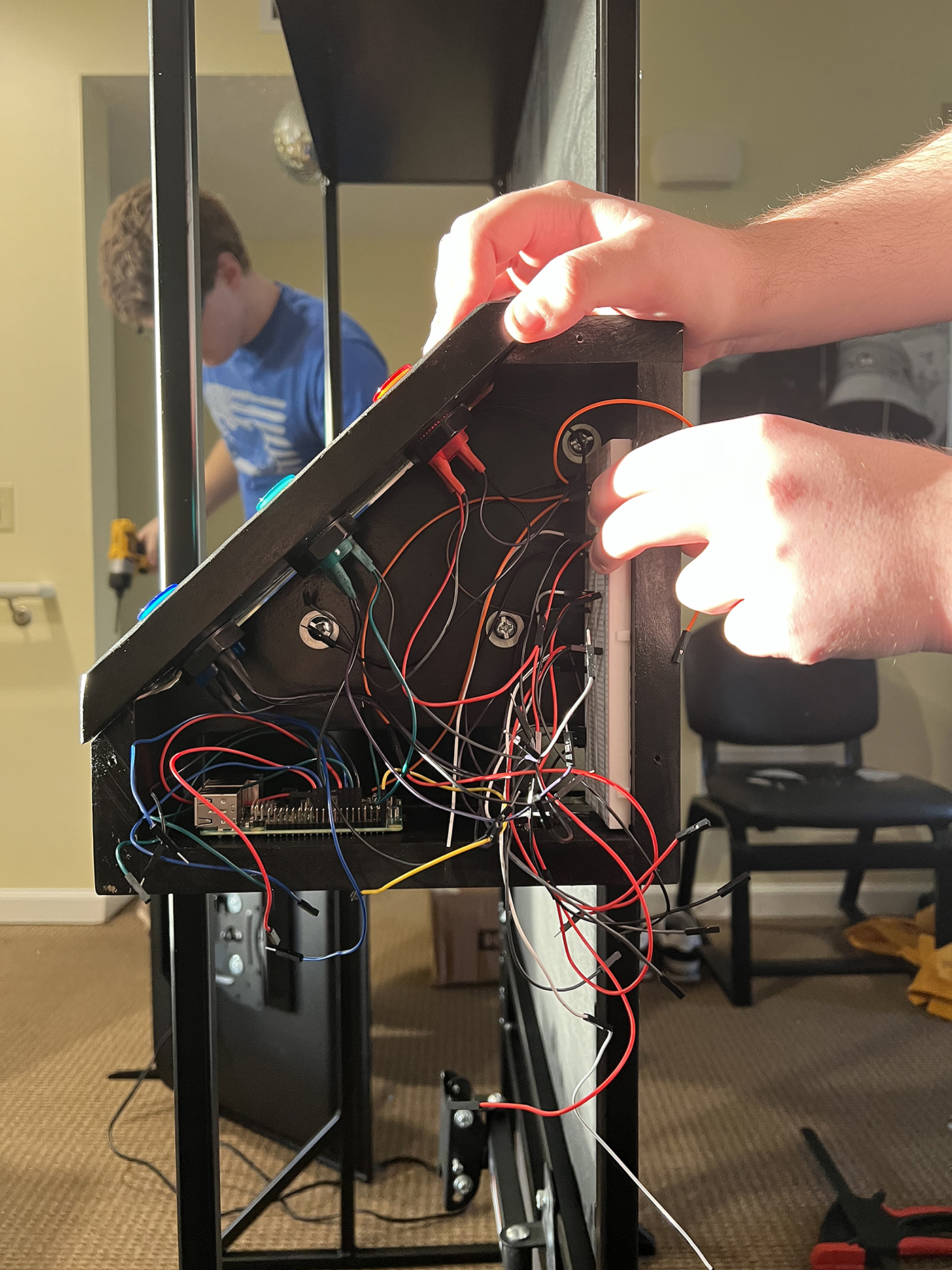 In the making of "Amalgamate," McDonald had the benefit of consulting with friends in the School of Film and Animation's motion picture science program, which informed some of her technological decisions.
Those conversations are emblematic of her choice to attend RIT. She has been able to collaborate with peers from various disciplines, work on films incorporating virtual production technology that is found at almost no other U.S. university and earn a political science minor.
"I wanted that cross-pollination, and RIT was a really good fit for that," she said. "In a lot of ways I don't think I would have come up with ('Amalgamate') had I been somewhere other than RIT."
Additionally, McDonald's political science studies have helped shape her filmmaking. For her capstone, she wrote a feature script and filmed a proof of concept about the first woman to run for president, Victoria Woodhull, in 1872. 
McDonald said it's been a "privilege" to work with the high-end film equipment and cutting-edge resources she has had access to while at RIT.
"It's been rewarding to see how the program has grown, and how I have grown with it," McDonald said.
After graduating in May, McDonald aims to pursue filmmaking work as well as opportunities to leverage her skill set in design and marketing. Prior to RIT, she studied graphic communications at Tri-County Regional Vocational Technical High School and led marketing, design and video efforts as a student employee for RIT's Parent and Family Programs the last three years.
Topics