RIT art disciplines demonstrate necessity to create in a time of pandemic
School of Art faculty, students, and staff combine creativity and innovation to make success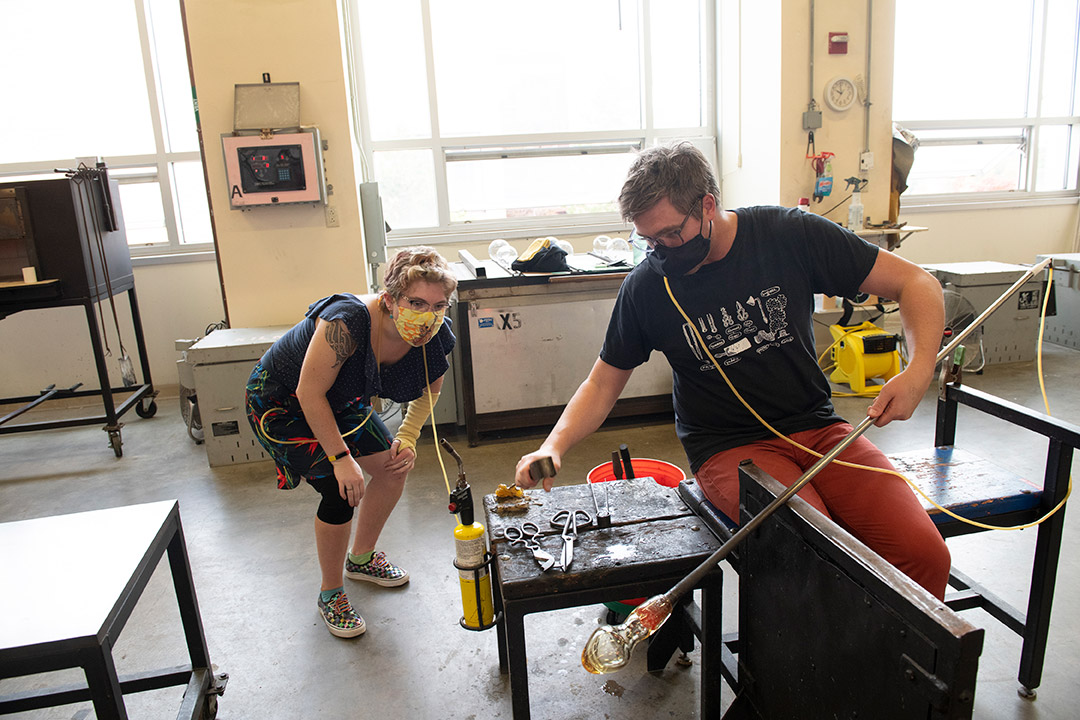 A quick scroll through Facebook and Twitter feeds today and it easy to see that the world longs for the emotional, intellectual, and creative comfort that all the arts bring into people's lives.
And while all educators are contending with new challenges of teaching in the middle of a pandemic, teaching in the arts—a traditionally hands-on process—represents unique challenges.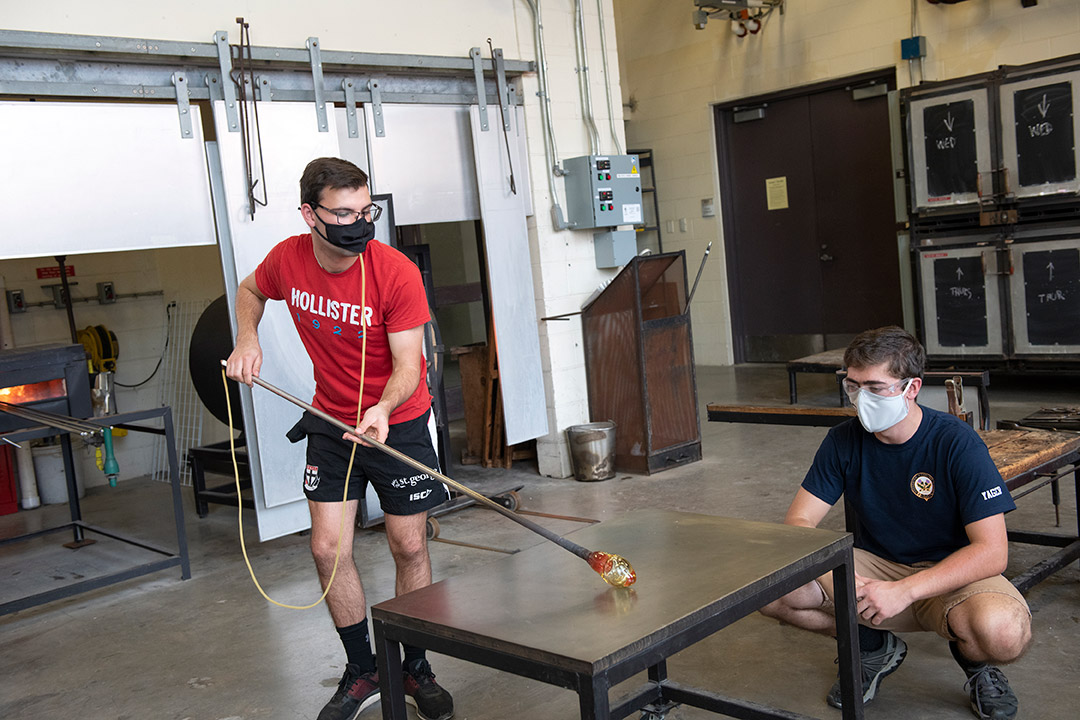 A. Sue Weisler
"It's certainly a different paradigm for the studio-based teaching-learning experience—and not without a lot of extra time and effort to keep things on track—but it's working out well," said David Schnuckel '08 (glass), an assistant professor and alumnus of the program he now teaches in the School for American Crafts within the College of Art and Design.
Schnuckel and Suzanne Peck, a lecturer in the School of Art, began to proactively strategize over the summer how to configure multiple aspects of their classes. "A colossal piece of the puzzle was getting Brendan Miller, our studio technician, to help oversee and advise our planning with the utmost of sensitivity to new issues of health and safety in studio as they related to COVID-19."
Among the changes for students in his molten glass practice class was removing non-essential equipment and rearranging certain studios to increase space and "reinventing" glass blowing methods that have been around for millennia.
"We created new systems of disinfecting tools before, during, and after our work periods," he said. "Now that we're blowing glass, we've created systems that designate one blow pipe and one blow hose to each student for the semester—whereas before we would have a community stash of pipes that students would share."
Other changes include the implementation of an online studio reservation system to ensure physical distancing and adapting to the blended model combining a hands-on studio course with virtual learning activities asynchronously.
"The studio is a sanctuary for folks like us, and being back within it gives us a renewed sense of purpose," Schnuckel said.
According to Emily Glass, a senior lecturer in the School of Art, her students have successfully adapted to creating paintings both inside and outside of the classroom.
"The class is set up as A/B split synchronous modality, where students are painting in their newly created home studios and in the campus painting studio," Glass said.
By implementing this schedule, "students who prefer to paint primarily in person have more in-person class days," Glass added. Meanwhile, for students working primarily at home, feedback is provided through synchronous Zoom classes and virtual office hours.
Glass noted that the most significant change is that many of her students are now staging still life and figure painting set-ups in their home studios, "offering an authentic look into home spaces in their paintings."
Paintings based on one's living environment may become a permanent part of future classes, she noted, because of the strength of the connection between the painter and the space, "giving new life to traditional foundation painting themes."
"The painters have been very receptive and adaptive to their new learning environment and home painting context," Glass said. "The paintings have been fantastic so far and I look forward to what the rest of the semester holds for creative work and learning."
In comparison to traditional class settings, there are advantages with virtual synchronous classes, according to Chad Grohman '94 (illustration), an assistant professor of illustration.
"Punctuality and deadlines are being met more consistently," he said. "Sketch reviews and critiques of final art are more focused. Even technique demonstrations have felt more focused among students in all my classes. A big part of illustration deals with email communication. Online synchronous is a good mode to work in and reflects the industry they are getting ready for."
Grohman said he chose the online synchronous mode because he "felt it would allow for the most consistency and ease of communication with students."
"Using MyCourses and Zoom have provided some powerful communication tools that will continue after we return to the classroom," he said.
"Illustration is a profession where isolation is part of the process," Grohman added. "We render alone for the most part. While students are still rendering in the inherent isolation of illustration, they are in more small group discussions and use the chat box in Zoom to connect, reflecting familiar social communication."
In addition to incorporating more instructional videos and slideshows into his teaching methods to combat "Zoom fatigue," Grohman has started a podcast that features interviews with professional illustrators, art directors, and alumni from the illustration program at RIT to introduce his students to working illustrators and people from the creative community around the country.
"As creative studios also change with the pandemic, they will benefit from our students' adaptability and familiarity of the new standards," he said. "We're in a time of transition and are learning how the world works with what it has."
Topics